China, Japan and South Korea reaffirm climate action pledges
By JIANG XUEQING in Nagoya, Japan | China Daily Global | Updated: 2023-11-06 09:23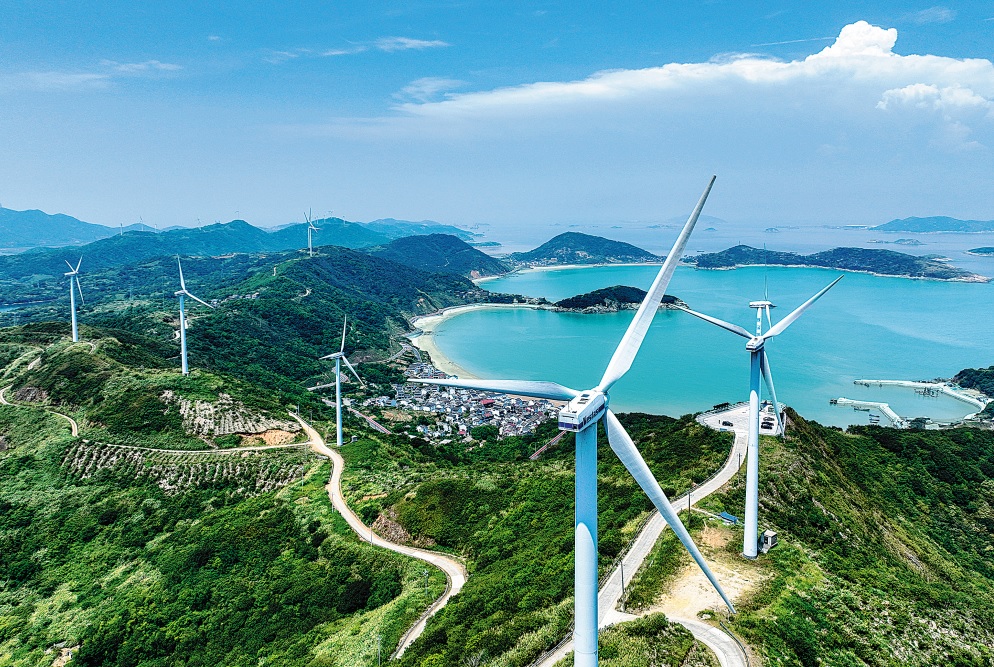 Trilateral collaboration on environmental protection intensifies amid global crises
Environment ministers of China, Japan and South Korea have reaffirmed their commitments to strengthening measures to tackle climate change, biodiversity loss and environmental pollution.
At the 24th Tripartite Environment Ministers Meeting, also known as TEMM24, held in Nagoya, Japan, from Friday to Saturday, the ministers discussed recent progress in environmental policies in each country and how they could work more closely together.
In a joint communique the ministers said they were willing to continue to explore possible "Trilateral+X "collaboration in areas such as climate change and marine environmental protection to support accelerated implementation of the United Nations 2030 Agenda for Sustainable Development.
The countries said they remain committed to multilateralism and are willing to encourage close collaboration at upcoming major regional and global environmental conferences.
Huang Runqiu, China's minister of ecology and environment, said that for more than 20 years China has supported TEMM, one of the trilateral ministerial-level consultative mechanisms.
"We would like to enhance the effectiveness of cooperation between China, Japan, and South Korea, as well as collaboration under the ASEAN Plus Three mechanism and other regional mechanisms, engage in environmental information exchange and experience-sharing with more countries, and share the achievements of trilateral environmental cooperation with more partners, making greater contributions to sustainable development in East Asia and even a larger region."
Extreme weather such as high temperatures, heavy rainfall and super typhoons has become the norm, and the three countries need to pool their collective wisdom to tackle the various challenges, said South Korea's Minister of Environment Han Wha-jin.
They must all recognize their responsibility regarding climate and the environment and continue to maintain collaborative relationships, taking a leading role in mitigating climate and environmental crises in Northeast Asia and globally, Han said.
Since TEMM was first held in Seoul in 1999 the mechanism has promoted environmental collaboration among the three countries, said Japan's Minister of the Environment Shintaro Ito.
The world faces crises such as climate change, biodiversity loss and plastic pollution, and it is crucial for the three countries to strengthen their environmental collaboration, he said.
Ito said he hopes that through TEMM the three countries can effectively share carbon reduction policies and technologies so that global greenhouse gas emissions reach their peak by 2025.
In the field of biodiversity, China, Japan and South Korea continue to exchange information and share the latest updates on invasive alien species through expert meetings. Collaboration among the three countries is advancing in various areas, including the development of invasive species prevention and control technologies and joint research on on-site control methods, Ito said.
In terms of marine environment protection, Huang said, China focuses on regulating the discharge of pollutants into the sea, continuously strengthening marine environmental management.
Responsible manner
"The ocean is a common property of humanity. The disposal of nuclear-contaminated water is crucial for the global marine ecosystem and public health. Japan should faithfully fulfill its international obligations and engage in full consultations with relevant stakeholders, including neighboring countries, to handle nuclear-contaminated water in a scientific and responsible manner.
"We also call for the prompt establishment of a long-term international monitoring mechanism with the participation of Japan, neighboring countries and other stakeholders to effectively protect the global marine environment."
Huang made the remarks after Ito said Japan has found that the radioactive water from the crippled Fukushima nuclear power plant, treated by the Advanced Liquid Processing System, has had no impact on people or the environment, based on the results of monitoring. Japan will ensure objective, transparent and credible monitoring, Ito said.
South Koreans are deeply concerned about the discharge of nuclear-contaminated water into the Pacific Ocean and are very anxious about it, Han said when she met Ito.
"We requested the Japanese government to adhere to a scientific approach in handling nuclear-contaminated water in accordance with international standards to prevent any harm to human health," she said. "We also urged it to provide all information accurately and transparently to the international community."