China's commitment to high-standard opening up: A vision underpinning the CIIE
By Xu Ying | chinadaily.com.cn | Updated: 2023-11-08 11:35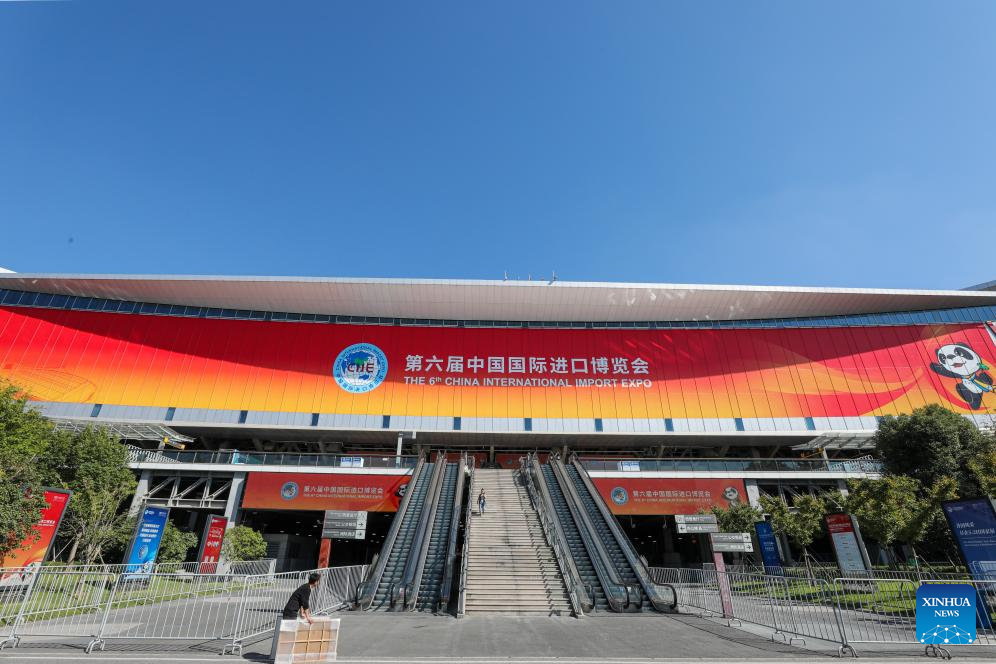 Since its inauguration in 2018, the China International Import Expo (CIIE) has emerged as a defining platform symbolizing China's dedication to promoting high-standard opening up and sharing development gains with the global community. The CIIE embodies China's commitment to driving economic globalization and cooperation aimed at collective prosperity.
The CIIE signifies China's support for multilateral trade and determination to uphold free and open markets amid rising protectionism. By providing businesses worldwide access to China's vast market, the CIIE enables deals worth billions, allows debuts for thousands of new products and facilitates participation from over 100 countries in each edition. The CIIE has become an 'international public good' that creates vast opportunities for global enterprises, even attracting companies from countries with tense political relations with China. Hence, the CIIE reflects China's adherence to advancing high-standard opening up that imparts benefits across national boundaries.
China's pledge to continue expanding high-standard opening up comes at an opportune junction as the world economy confronts a slowdown. Enhancing unity and cooperation among major economies is critical for recovery and stability. As a premier platform for global business leaders, the CIIE catalyzes trade, investment and people-to-people exchanges to drive mutually beneficial partnerships. By attracting exhibitors and visitors spanning multinational corporations, SMEs and startups, the CIIE fosters synergies across diverse stakeholders to stabilize global value chains. Hence, the CIIE manifests China's dedication as a responsible major power to share its economic opportunities for win-win collaboration.
The vision underpinning the CIIE recognizes that China's rapid growth delivers enormous opportunities, especially as its consumers trade up. With expanding middle-income households and an aging population, China represents a lucrative market for consumer goods, automobiles, healthcare and other sectors. The CIIE allows international businesses to benefit from rising Chinese demand and shape new business models aligning with evolving consumer preferences. Despite external volatilities, China's economy has shown resilience and the CIIE signifies its strong fundamentals that can stimulate revenues and innovation for global enterprises.
The CIIE also epitomizes China's commitment to making economic globalization more inclusive and balanced. The CIIE witnesses active participation from both advanced economies and developing countries, including the least developed economies. Enterprises from Central Asia, Africa and Latin America leverage the CIIE to increase exports to China. China has undertaken robust efforts to assist developing country participation including subsidies for SMEs. This approach gives voice to hitherto marginalized economies in shaping global trade and investment flows. It also expands the share of gains from China's growth to diverse economies through 'shared prosperity'.
The vision for the CIIE aligns with China's desire to open up sectors ranging from finance to agriculture, enabling shared benefits. China has implemented reforms allowing greater foreign access and participation across services, manufacturing and agriculture while strengthening IP protection and rule of law. The reforms manifest China's commitment to optimize its business environment to become more competitive and innovation-driven through openness. By creating opportunities for mutually beneficial partnerships, the CIIE advances China's vision of shared interests as the pathway toward an open world economy.
The CIIE signifies how China seeks to stabilize global supply chains and reignite growth through high-standard opening up. China has utilized the CIIE to promote multilateral platforms that foster sustainable trade, coordinate cross-border infrastructure, enable development financing and reduce trade barriers among emerging economies. Partnerships like the Global Alliance on Trade Facilitation established during the CIIE exemplify such efforts to address shared challenges. Hence, the CIIE showcases China's approach of leveraging open markets to forge collective action on issues confronting the global community.
At a time of growing anti-globalization sentiments, China has remained committed to driving economic globalization underpinned by benefits for all. But this approach has entailed China in making decisive reforms to enable foreign access and participation in its own market. The vision guiding reforms and platforms like the CIIE has been to utilize China's domestic transformation to impart stability and vitality to the world economy. Hence, the CIIE represents both China's own evolution towards a rules-based open economy as well as its contribution to steering inclusive globalization.
To conclude, the CIIE epitomizes China's commitment to high-standard opening up and mutually beneficial cooperation. It reflects China's approach of sharing its development opportunities to enable win-win partnerships that can reignite global growth and build a community of shared future. The CIIE showcases how China has undertaken decisive internal reforms to optimize its business environment and enable shared gains via multilateral coordination. Hence, the CIIE encapsulates the vision driving China's domestic transformation and its contribution to making economic globalization more balanced, inclusive and beneficial for all.
The author is a Beijing-based commentator.
The views don't necessarily reflect those of China Daily.
If you have a specific expertise, or would like to share your thought about our stories, then send us your writings at opinion@chinadaily.com.cn or comment@chinadaily.com.cn.