China slams 'groundless' accusations by G7 bloc
By Mo Jingxi | China Daily | Updated: 2023-11-11 08:25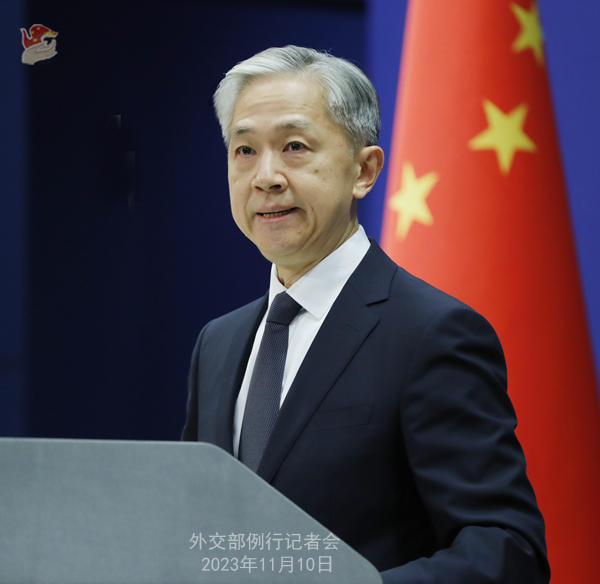 China's Foreign Ministry on Friday rejected Group of Seven nations' accusations of Beijing distorting the global economy and resorting to economic coercion, saying that it is the G7 which has exerted state powers to suppress specific companies and undermined the stability of global industrial and supply chains.
Speaking at a regular news conference in Beijing on Friday, ministry spokesman Wang Wenbin said it is actually the G7 countries that added more than 10,000 entities and individuals globally on sanction lists, and politicized and weaponized economic and trade issues.
Wang was referring to a joint statement issued after the bloc's foreign ministers' meeting that ended on Wednesday.
The statement also made groundless accusations over China's internal affairs, including those related to the Taiwan question, the Xinjiang and Xizang autonomous regions, the Hong Kong Special Administrative Region and the South China Sea issue, he said.
Wang said China's domestic affairs brook no external interference and the human rights situation of any country should only be judged by its people who have the most say.
"We urge the G7 to focus on managing well their own affairs and cease interfering in the internal affairs of other countries under any pretext or guise," he said.
On the South China Sea issue, Wang said that G7 countries are stoking confrontation by bringing up the illegal and invalid "South China Sea arbitration award" rendered by the Arbitral Tribunal in 2016, which goes against the willingness of regional countries to maintain peace and stability in the region.
Biggest threat
Regarding the Taiwan question, Wang said the biggest threat to peace across the Taiwan Strait is currently posed by the Democratic Progressive Party authorities' insistence on pushing for "Taiwan independence" and the support that the DPP receives from external forces.
"Given that the G7 countries have clearly stated that 'there is no change in the basic position of the G7 members on Taiwan', then they should earnestly honor their commitment to the one-China principle without fail," Wang said.
G7 foreign ministers also said in the statement that they "stand prepared to build constructive and stable relations with China" and do not "seek to thwart China's economic progress and development".
In response, Wang said it is hoped that the G7 will truly put into actions their words and promote the healthy development of bilateral ties with China on the basis of mutual respect, equality and win-win results.
mojingxi@chinadaily.com.cn