Young people play key role in China-Africa narrative: Analyst
By EDITH MUTETHYA in Nairobi, Kenya | China Daily Global | Updated: 2023-11-14 09:34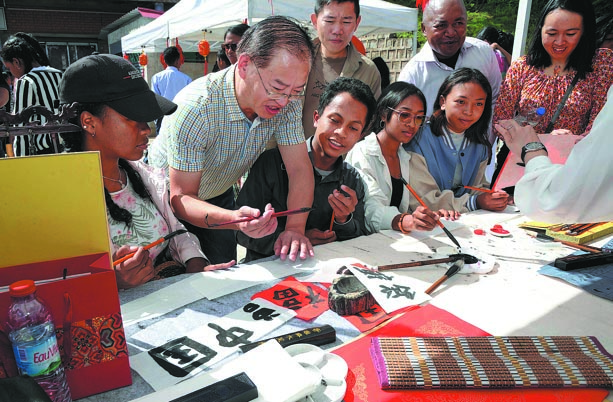 Amid misconceptions about Chinese investments in Africa, Dennis Munene, the executive director of the China-Africa Centre at the Africa Policy Institute, said young Africans have the power to push the right narrative about the China-Africa relationship.
Young people are of the right age, are educated, skilled, tech-savvy and have the desire to experience real development in the continent, he said.
"Young people need to learn to differentiate between false propaganda and real stories. We need to read more on why some of these things are being published and be able to correct the narrative and push it on the relationship between China and Africa," Munene said.
If young people push the correct narrative and stand as the true ambassadors of the China-Africa relationship, they will shape the minds of current and future generations, he said.
"By 2050 Africa will have the youngest population, hence the need for the right people to push the true narrative about China-Africa cooperation," Munene said.
Notably, technology will shape or destroy Africa going forward since it can be used to distort everything that has been said to suit a specific narrative and positively it can be used to shape the right narrative, he said.
Young people, through smartphones, can also get to see China from a different angle and appreciate its investment in the continent and realize that Africa's wealth of natural resources can be used to develop it, Munene said.
Munene, 37, said he is committed to pushing the narrative of "the Africa we want", to resuscitate the spirit of the Pan-African pioneers who were devoted to an African renaissance.
Equipped with a pen, knowledge and passion, and riding on his career as a researcher, Munene said he wants to tell the authentic story of the China-Africa relationship.
"We need to silence the narrative on 'debt traps' and drive the correct narrative of what exactly is happening," he said.
He termed China as a partner that focuses on infrastructure development and can help a country grow in that respect.
"We should not be boxed into the narrative of aligning to whichever side. Africa should focus on development because we struggled with underdevelopment for a long time," he said.
Just like many Africans, Munene once had a different perception of China. He believed in the negative narrative peddled by the West to the global audience.
Tangible development
However, a week after securing a job at the Africa Policy Institute, he was invited to participate in a China-Africa relationship conference, which served as an eye-opener.
That is when he learned about the Forum on China-Africa Cooperation and saw tangible development taking place.
Discussions from the conference inspired him to learn more about China and he started publishing articles on the China-Africa relationship.
In 2019, he received an opportunity that would not only totally transform his perception of China but also inspire him to become a China-Africa relationship ambassador.
Munene was invited to travel to Hunan province and Guangzhou in Guangdong province for three weeks.
"It was my first encounter with what real development was about. I saw expressways and housing projects and I understood what China is doing in Africa. I clearly understood the Belt and Road Initiative and understood why China has risen to where it is today," he said.
"The Hong Kong-Zhuhai-Macao Bridge was spectacular. At Guangzhou Tower, I saw things I had never seen. If that is what China is doing for the BRI, then I want it."
Through the experience, Munene made up his mind to focus on the China-Africa relationship in his research work.
His passion was also noticed by the management and he was appointed as the executive director of the China-Africa Centre, becoming an ambassador for the relationship between the two partners.
"Before visiting China I was publishing based on what I read but now I write with understanding and passion that Africa has not scratched even 10 percent of what I have seen in China," he said.
Munene said Africa needs roads, hospitals, railways and buildings to put the continent on par with the rest of the world.
"China has brought that. Ninety percent of the roads that have been constructed across the continent are from China," he said.
Global attention
Munene grew up during China's reform and opening-up. The transformation had attracted global attention but for Munene, his dream then was to become a doctor and he had no interest in foreign policies.
His picture of China featured a country where everybody was a martial arts master, courtesy of watching movies featuring Jackie Chan displaying his perilous acrobatic stunts.
"The kung fu movies used to depict the old history of China — before development where they were showing more of the rural areas. But when I got there, it was different from what I thought I would get," he said.
Munene also grew up with the perception that "everything coming from China was fake", the narrative that was pushed by the West. On the contrary, he said China is one of the most advanced countries in terms of technology.
Munene is now pursuing a PhD in development economics at the University of Chinese Academy of Social Sciences.
He expressed a commitment to shape the mindset of Africans by writing China-Africa stories from the African perspective. This is in addition to telling the truth that the Western media tries to avoid, he said.
In May 2000, Western media published a story about how Africa was a "hopeless continent". A decade later, the media published a story that Africa was a rising continent. But the Western media did not explain what happened between 2000 and 2011, he said.
Munene said the explanation was intentionally omitted in the story because the Forum on China-Africa Cooperation was established in 2000, helping Africa to experience real development.
In 2013, the BRI was also proposed and through it, China started developing major infrastructure in Africa.
"FOCAC and the BRI pushed Africa to become developed, a rising and a hopeful continent," Munene said.
He said that through FOCAC, Kenya's Thika Road, the first superhighway in the country, was constructed, helping to shape the mindset of many Kenyans about China. The road saw travel between the industrial town of Thika and Nairobi's central business district reduced from two hours to 40 minutes.
Munene said the only way Africa will have a say in global foreign policy is by being developed, and for the development to effectively take place, there is a need to have the right mindset.
"Being a young ambassador of China-Africa cooperation, I am able to shape the mindset of my fellow young people … It's the same age being used to perpetuate these negative narratives," he said.
Munene said he is in an advantageous position to help his fellow youth across Africa understand the true narrative of China-Africa cooperation.
"I have the age, the skills, and the experience to be able to shape their minds because this is the population that is being used by different players who want to see Africa in shambles," he said.