New thrills, new skills
By Li Xinran | China Daily | Updated: 2023-11-15 08:09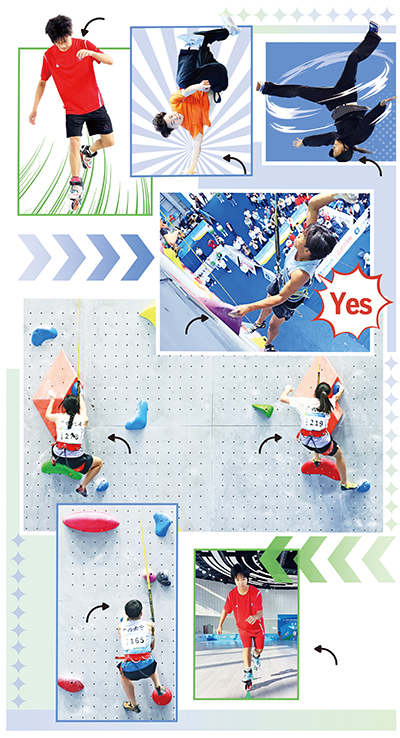 The 1st Student (Youth) Games of the People's Republic of China, held from Nov 5 to Nov 15 in Nanning, South China's Guangxi Zhuang autonomous region, is concluding today.
The event features 39 major events, 51 sub-events, and 805 small events, showcasing popular sports on Chinese campuses such as swimming, soccer, aerobics, and unique activities like shuttlecock ball. Notably, the Games also introduce new Olympic additions such as climbing and break dancing.
Scaling heights
Climbing, which entered the Olympics two years ago in Tokyo, will also be featured in the 2024 Paris Olympics.
It is a relatively "young" sport in China, and climbing centers across the country have been actively recruiting and training future athletes in recent years.
Li Yantan, 15, was scouted in the fourth grade of primary school. "I've never heard of climbing where I grew up. I was curious."
Unlike many first-time climbers, Li wasn't afraid of heights during her tryout. "I guess I was meant to become a climber."
She participated in both speed climbing and boulder & lead during the Student Games.
Boulder & lead combines bouldering and lead climbing while speed climbing involves a straight and fast ascent along a standard route to the 15-meter top. However, the Student Games introduced an additional challenge with a "random course" speed contest, featuring routes that the athletes had never seen before. This added an extra layer of difficulty to the competition.
"It really tests our abilities to plan and move quickly," Li said. "Also, I've only recently started training in speed climbing. I used to focus only on boulder & lead."
Despite her worries, Li secured first place in girls' speed climbing.
Ma Xueying, 15, won a silver medal for girls' speed climbing.
"My parents have always been supportive, but some of my friends were a little upset because they felt that they lost a friend since I started spending more time training," she said. "However, I never regret my decision of choosing this path, and it has already become a part of my life."
For the boys' speed climbing champion, He Xin, the situation was the other way around.
"I was scouted at school back in 2018. But my parents weren't very supportive at first. They were worried that climbing would affect my grades. But my classmates all thought it was pretty cool as most of them didn't even know about the sport," he explained.
His original motivation was to prove himself to his parents, a goal he achieved through the numerous medals and trophies he has won. Now, he is motivated by his passion for this sport.
Huang Junning, 13, won second place for boys' speed climbing, and similar to Ma, Huang's parents encouraged him, but some relatives doubted the viability of a career in climbing. "I've never been swayed by others' thoughts," he said. "I have a genuine passion for climbing and thrive on challenging myself."
Huang and He train on the same team and share a close friendship in life. "During training and contests, we compete against each other. But when we're not competing, we are best friends and often play pool together," He said.
Huang's goal for the next contest is to secure first place. "It's not about beating He, even though he won the gold medal this time — it's about challenging myself and improving."
Similar to Huang's relatives, Li has also observed that many people unfamiliar with climbing perceive it as a dangerous sport. "The truth is, as long as you go to a proper place that follows safety protocols, it's definitely a rewarding sport."
Breaking ground
In December 2020, the Executive Board of the International Olympic Committee declared break dancing, or breaking, as an official event of the 2024 Paris Olympics. This once-niche street dance has now come into the public spotlight.
Break dancing consists of moves comprising footwork, freeze, and power move, including rapid foot movements, handstands, and astounding head spins, contributing to the sport's strong visual impact.
"I began learning break dance when I was 8. Many kids start at the age of 3 or 4 these days," said Qi Xiangyu, 18, the break dancing champion of this year's boys' competition.
Although breaking originated in the 1970s, it only recently became an Olympic event and is now considered a sport by the public.
"People see us not just as dancers but as athletes now," Qi said. "Our contests follow the standards of the Olympics, and there are higher requirements in terms of our physical strength and the number of moves."
Guo Pu, the champion in the girls' breaking competition, also started at a young age. "I began when I was 7. At first, my grandmother thought break dancing was indecent for a girl and it would affect my grades," Guo said.
However, a turning point occurred when Guo achieved 6th place in the National Games of the People's Republic of China in 2021.This accomplishment successfully changed her grandmother's perspective.
Breaking contests follow a three-round format, consisting of one-on-one "battles" set to music randomly played by the DJ. Each participant is granted a 60-second window to showcase their freestyle prowess, and the computer determines their order, initiating with the red side, succeeded by the blue side.
"For the red side, the music has just started, leaving them with scant knowledge of the beat. The blue side enjoys an advantage, with additional time for analysis and warm-up," Qi explained.
In fact, during Guo's pursuit of the top spot, she found herself on the red side. "Going first might be a disadvantage for most people, but I wasn't too stressed about it because I'm adept at arranging moves."
Both champions mentioned their strength in interpreting and decoding the music, an element hard to cultivate in a short period.
Qi shared a personal tip that was effective in helping him achieve success: "I would always study the past performances of my adversaries. You could quickly pick up their strong suits and perhaps discover their disadvantages. If you have an idea of their capabilities, you'll know when to use your 'killer moves'. Save them for your strongest competition."
In break dancing contests, whether underground or official, many dancers wear hats. Qi explained that, most of the time, it's simply because they are used to it.
"During contests, we always dress the same as during practices," Guo said. "I'm used to wearing hats for both the looks and practical usage. Sometimes, when the floor is coarse, I wear hats made from smooth material to reduce friction."
Qi, a seasoned competitor in numerous contests, finds that the more he competes, the less nervous he becomes. "Winning the bronze medal at this year's Asian Games is probably the reason why many people recognized me and cheered for me. Competing at the Student Games was truly enjoyable," he said, adding that his current goal is to compete in the Olympics.
Guo, sharing a similar sentiment, believes that with accumulating experience, she can enjoy the games even more. "The grand stage at the Student Games was a delight," Guo said. "I always remind myself to stay calm and dance on. This is a message I want to share with fellow B-boys and B-girls."
"There's never a limit to break dancing. You're always exploring and innovating," Qi said. "My parents have instilled in me that persistence is everything. Achieving excellence in one thing through continuous effort is truly amazing."
Skating to victory
Although freestyle roller skating hasn't become an Olympic event, its popularity has been growing in recent years. It consists of two subevents: speed slalom and freestyle slalom.
In speed slalom, athletes must navigate through a row of fixed number of standard pylons at their fastest speed on a single foot. Each pair of pylons is 80 centimeters apart, covering a total distance of 28 meters with a 12-meter run-up and 18 meters of pylons. In freestyle slalom, athletes combine dancing and navigating pylons, typically performing a two-minute piece with music and costumes.
Li Jiarui, 18, won the gold medal for boys' speed slalom. Having roller-skated for about 10 years, he began with simple downhill skating. "I used to train for freestyle slalom. I switched to speed slalom in 2019 when I discovered that it's a better fit for me."
According to Li, freestyle slalom demands stronger endurance and more years of training, while speed slalom requires more bursts of power but less preparation time for competition.
At the age of 13, Zhao Ziyu secured fourth place in girls' speed slalom. Inspired by her younger sister's training in freestyle slalom, she developed an interest in roller skating in 2020.
"I enjoy challenging and overcoming myself, and the sense of accomplishment motivates me."
Despite the growing popularity of roller skating, misconceptions still persist. "It's not as dangerous as many may think. With a little practice, you could even wear roller skates while climbing stairs," Zhao said.
Li also noted that there are still some stereotypes to overcome, emphasizing that it's not just a neighborhood pastime but a highly competitive sport.
For Li, his short-term goal is to win a medal at next year's World Championship, with a long-term aspiration to become a certified coach and referee.
"The human limit for speed slalom has not been reached. There's still a lot of room for me to grow and break through."