Xi-Biden meeting has significant global impact
China Daily | Updated: 2023-11-17 07:46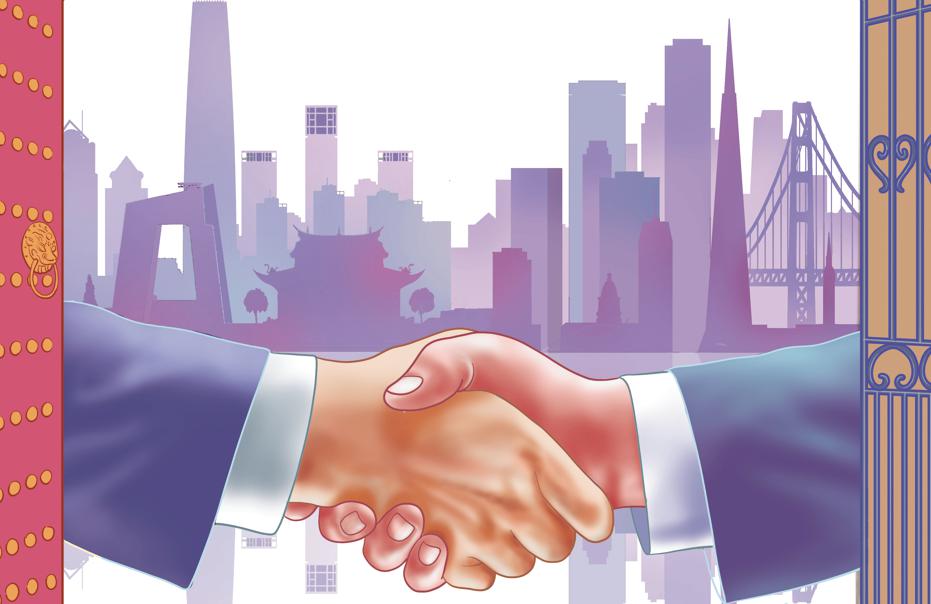 Editor's Note: The widely anticipated meeting between President Xi Jinping and his US counterpart, Joe Biden, in San Francisco on Wednesday, is of utmost importance not only for maintaining stable Sino-US ties but also for its significant global impact. Experts share their views with China Daily. Excerpts follow:
Imperative to return to right track
President Xi Jinping and US President Joe Biden have concluded their hours-long meeting, touching upon topics such as artificial intelligence, military communication, and control of the flow of fentanyl, springing hope that Sino-US ties can return to the right track.
But we should also wake up to the complexity of bilateral relations. That the US-China Economic and Security Review Commission's 2023 report, released just a day before the meeting, mentioned that "the result of high-level meetings between the United States and China has been merely the promise of further meetings", not to forget some US media's biased reports on China, show that a lot needs to be done to improve bilateral ties.
It is imperative for the two countries to return to the track of managed competition, which is conducive for China, as well as the US. Cooperation on trade will also boost employment and development in the US while China, too, needs a stable external environment as much as ever to stabilize its economy.
That the two largest economies have arrived at a consensus on AI and climate change, a new ballast stone apart from trade, is encouraging. In the lasting path to restoring and stabilizing ties, China and the US need to look for more starting points to meet each other halfway.
Wang Yiwei, director of the Institute of International Affairs at Renmin University of China
Taiwan question still crucial
The Xi-Biden meeting marks a pivotal event, which signifies stabilizing Sino-US relations. The significance of this meeting lies in the shared understanding achieved through the "return to Bali, heading to San Francisco "framework. Particularly, the key lies in the need for the US to align its words with actions and uphold commitments.
A notable disparity exists in the consistency of actions between China and the US. While China demonstrates coherence across various domains, the US exhibits discrepancies, notably in areas such as legislation, administration, and the military, especially on the Taiwan question. The root cause of the US' inconsistency lies in different political interest groups exploiting the Taiwan question for their gains.
For the future, the US must strive for internal consistency and coherence across sectors to stabilize Sino-US relations. The ongoing deterioration of this relationship threatens the interests of both nations and can have repercussions globally. Achieving internal consistency and keeping commitments is crucial for the US to restore its image. Just as Beijing repeatedly emphasizes, the Taiwan question is a core interest, and any action that infringes on China's core interests will provoke strong opposition from the Chinese government and people, even jeopardizing Sino-US friendship.
Zhu Songling, a professor at the Institute of Taiwan Studies, Beijing Union University
Sunnylands statement penetrating boundaries
The world applauded revitalizing of Sino-US ties, particularly for striving to meet the targets set by the Paris Agreement and trying to realize the dream of a common sustainable future.
The overarching theme of the Sunnylands Statement on Tuesday — issued after the climate envoys' talks — is cooperation, which signifies the strong will of both countries to work together and to join the global efforts in combating climate change and achieving sustainability transitions.
There will be at least five large-scale cooperative carbon capture, utilization and sequestration projects each by 2030, technical working group cooperation to address methane and other non-CO2 GHG emissions, and subnational climate cooperation among states, provinces, and cities tackling emissions from the power, transportation, buildings and waste sectors.
Furthermore, policy dialogues will be carried out to facilitate energy transition, reduce GHG emissions, develop the circular economy, improve resource efficiency, enhance subnational cooperation, and make COP28 a success. Particularly, the China-US Energy Efficiency Forum will be restarted to deepen policy exchanges.
By translating the strong desire for cooperation into tangible collaborative mechanisms and actions such as information exchange, experience sharing, knowledge transfer, and capacity building, China and the US are on the cusp of achieving a shared and sustainable future.
Li Wanxin, an associate professor on environment studies, City University of Hong Kong
Reconciling of irreconcilable differences
The US and China's policymakers cannot successfully protect their own nation's economic growth and national security if one or both superpowers relentlessly create financial, economic, and military confrontations that destroy the other nation's economic growth and national security.
After Xi-Biden meeting, both countries' presidents must encourage their nation's policymakers, think tanks, and students to focus on how relations between the two largest economies and military superpowers can begin to get incrementally better instead of catastrophically worse.
The US and China's presidents share the responsibility of enabling current and future US and Chinese policymakers to discover how the over 1.4 billion and 330 million people they represent can peacefully coexist in our fragile shared climate and financial systems.
Mutually shared prosperity or mutually shared destruction are the choices confronting US and Chinese policymakers. But 21st century financial and military technology makes superpower conflict unwinnable.
John Milligan-Whyte, chairman of the America-China Partnership Foundation