Folk artists along the Yellow River display seeds of creativity
By ZHAO RUIXUE in Jinan | CHINA DAILY | Updated: 2023-11-20 08:12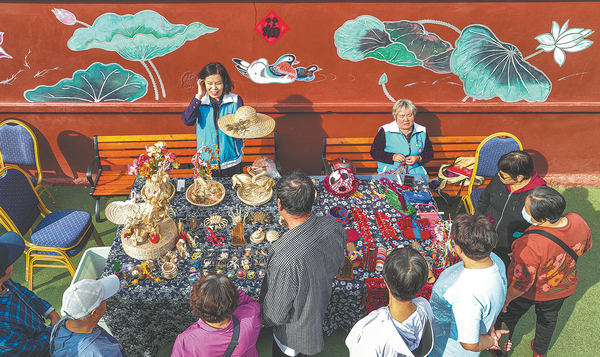 Han Guorui, a folk artist specializing in making Dongming grain pictures, is generally busy in autumn as he needs to collect materials for his work. This year, he has been even busier, as he has attended fairs to demonstrate his skills and promote grain art.
The grain pictures, which take their name from Dongming county in Heze, Shandong province, are a traditional folk craft with a history of more than 200 years. The practice was listed as a provincial intangible cultural heritage in 2016 by the Shandong Provincial Department of Culture and Tourism.
After being treated to prevent decay and insect infestation, grains, grass and vegetable seeds are glued together to form a picture.
"We use the different shapes and colors of grains and seeds, which are all collected from the field," says Han.
Born in Dongming, a county along the banks of the Yellow River, he attended a regional fair in mid-October. His pictures attracted many children who asked questions, such as, "will these seeds sprout", and "can these grains be eaten?"
Han answered the children's questions while showing them how to use grains and seeds to make a picture.
"Only now, when food is sufficient, can people make a picture with surplus grain," he says.
To make pictures that more people like, Han works in the style of Chinese ink and Western oil paintings. Now his grain pictures are not only sold in cities across China, but also to overseas markets, including some European countries, South Korea and Japan, he says.