Speech hailed for pledge to openness
By Yang Han in Hong Kong, Jiang Xueqing in Tokyo and Karl Wilson in Sydney | China Daily | Updated: 2023-11-20 10:19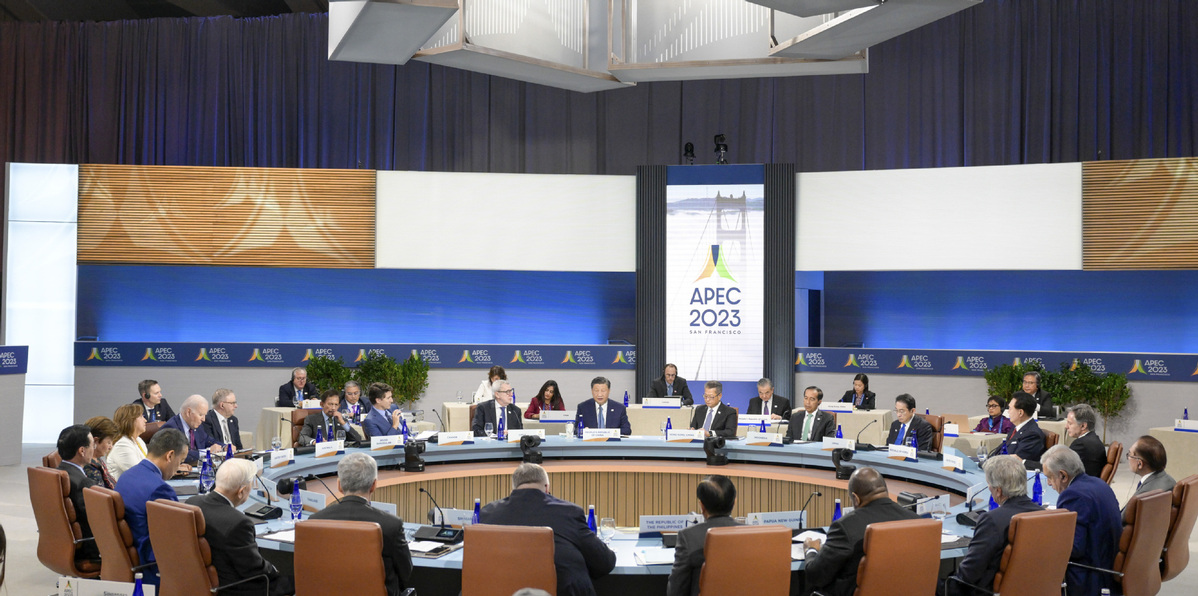 Chinese President Xi Jinping's speech at the 30th APEC Economic Leaders' Meeting on Friday showed China's commitment to openness and support for the Asia-Pacific region's inclusive development for another golden period of 30 years, experts say.
In his speech, Xi encouraged his colleagues and the region to think about "what we should do to usher in another 'golden 30 years' for the region, and how we can bring out the best of APEC in this process".
"The most important message I gleaned from President Xi's speech is that China remains open for business," said Lye Liang Fook, senior fellow at ISEAS-Yusof Ishak Institute in Singapore.
Lye said the speech showed that China is committed to continuously improving the domestic investment climate and identifying new and emerging areas for cooperation that can boost the momentum of economic growth for the world.
As Xi called on the Asia-Pacific Economic Cooperation members to stick to innovative, open, green and inclusive development, Lye said Xi's four development points are timely and focus on areas that can further drive the momentum of growth for China and other countries around the world.
"Digitalization can facilitate more trade and investment between countries; green development will ensure that growth is achieved while taking care of the environment and people's needs; while inclusiveness and openness will ensure that growth can benefit all countries," said Lye.
Zhu Ying, director of the Australian Centre for Asian Business at the University of South Australia, said Xi's speech showed that China seeks cooperation among all Asia-Pacific nations in trade and development and adheres to the APEC principles.
"What I don't understand from the (United States) side is why it says it wants open and free trade for the region then turns around and promotes another group," said Zhu, referring to US President Joe Biden's plan for an "Indo-Pacific Economic Framework", or IPEF.
Cooperation lauded
Noting the US is using trade as a weapon against China, Zhu said the US push for an IPEF is undermining APEC and developing another platform without China is "a big mistake".
On the contrary, Zhu said Xi, in his speech, made it clear that China will cooperate with all APEC members on technology research. "To cooperate is a win-win for all," said Zhu.
Xi's statements align with the report to the 20th National Congress of the Communist Party of China, presenting a consistent and plausible call, said Ukeru Magosaki, co-representative of the Association for Inheriting and Propagating the Murayama Statement, a Japanese civic group dedicated to upholding the 1995 Murayama Statement that admits Japan's wartime mistakes.
Magosaki, who visited Beijing in October, said he was amazed by the greenery, which was a stark contrast to the landscapes of Beijing decades ago.
Magosaki said the change is "indeed an outcome" of the green approach President Xi has articulated — that clear waters and green mountains are just as valuable as gold and silver. He said the achievement is also evident in Xi's priority given to continued innovation-driven development at the APEC meeting.
Though the Asia-Pacific can become "the most prosperous" region in the world if the environment of peace persists, Magosaki said not all global powers wish for peace and prosperity in the region, and instability persists.
That is why China is expected to "collaborate with the countries and people of this region, and make substantial contributions to its prosperity", said Magosaki.
Ky Sereyvath, director-general of the Institute of China Studies at the Royal Academy of Cambodia, said the key message he saw from Xi's speech was the emphasis on trade and investment as well as the role of technology in the global economy.
Contact the writers at kelly@chinadailyapac.com.