Xi's APEC speech seen as a masterstroke of diplomacy
By XU WEIWEI in Hong Kong | CHINA DAILY | Updated: 2023-11-21 08:07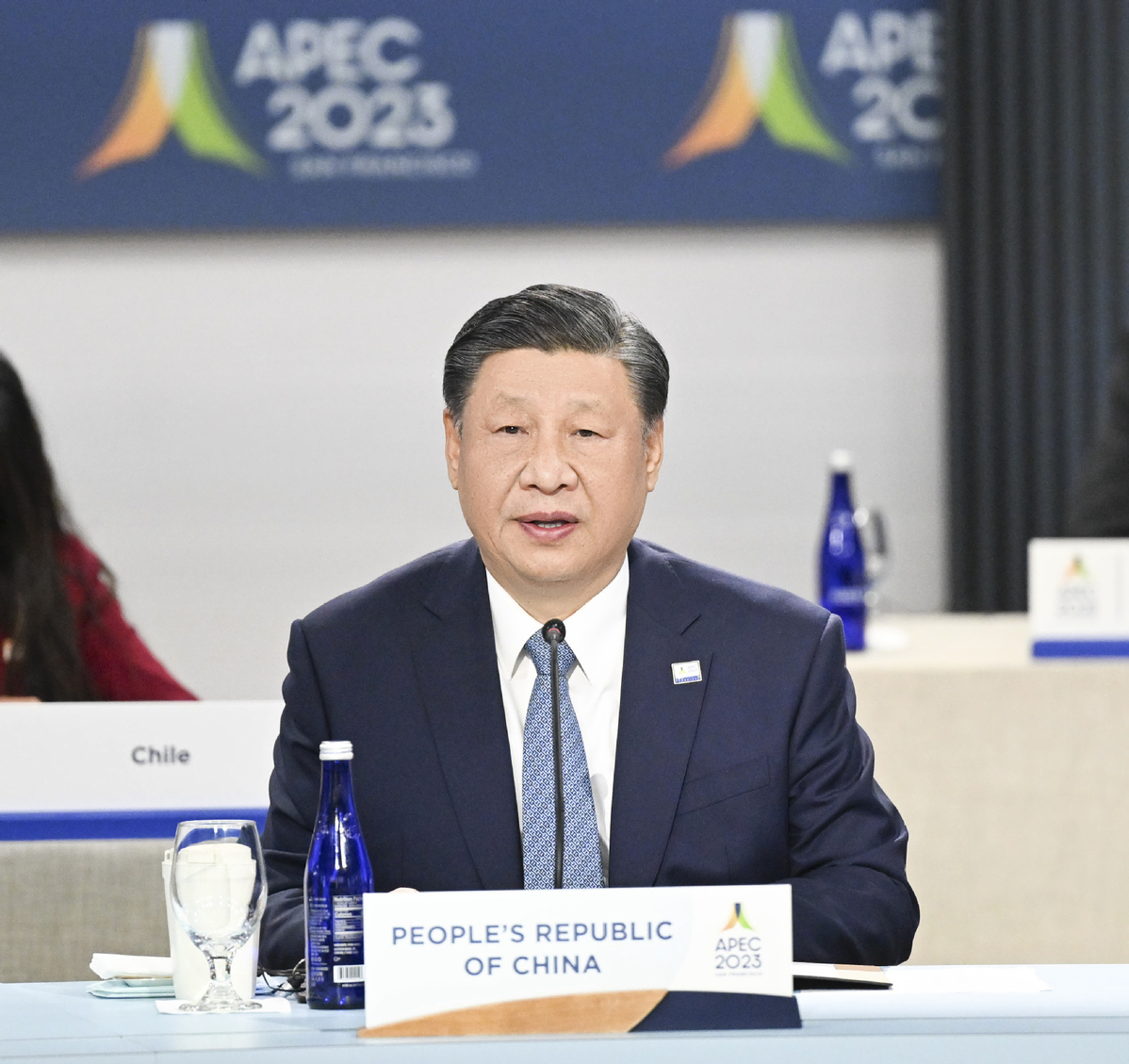 President Xi Jinping emphasized openness, inclusivity, green development and innovation in his speech during the Asia-Pacific Economic Cooperation Economic Leaders' Meeting, which reflects China's profound understanding of the challenges and opportunities facing the region and the world, experts said.
"President Xi's speech was a masterstroke in diplomacy... echoing the principles of inclusivity and sustainability," said Maarij Farooq, deputy editor-in-chief of the Daily Ittehad Media Group and Pakistan Economic Net, referring to Xi's address at the meeting on Friday in San Francisco in the United States.
Xi not only underlined China's commitments on key global issues, but also positioned the Asia-Pacific as a front-runner in shaping a balanced and equitable world order, Farooq said.
He said the call for innovation-driven development is particularly significant, as the world is rapidly transforming through technology, and Xi's vision of embracing scientific advancements and digital transformation offers a blueprint for sustainable growth.
The most remarkable aspect of Xi's speech was his commitment to inclusive development, Farooq said, adding that in a world where inequality is rampant, "this focus on a development paradigm that benefits all is necessary".
Mustafa Hyder Sayed, executive director of the Pakistan-China Institute in Islamabad, said that Xi's speech highlighted China's inclination to engage with the US "on an equal basis, with mutual respect".
The key points that Xi underscored in his speech show that China wishes to engage constructively in terms of connectivity and development, and it wishes to have a people-centered approach, Sayed said.
Xi's speech referred to green development, low-carbon development, the United Nations Sustainable Development Goals and the World Trade Organization-centered multilateral trading regime, and all these share a common thread, he said.
These are linked by globalization and engagement, without politicizing, without containment and without a Cold War mentality, he said. "It is based on pure commerce, connectivity, engagement and prosperity, which is shared at a time when the world needs connectivity more than ever."
According to Sayed, China is growing and finding its own, rightful place in the world and the great rejuvenation of the Chinese nation, which is happening under President Xi and which actually coincides with the 45 years of reform and opening-up, should be a reminder for the US to feel secure.
The US must understand that "the only way forward" is to engage with China, he said, adding that the Sino-US relationship is "the most important relationship in the world".
Oh Ei Sun, a senior fellow at the Singapore Institute of International Affairs, an independent think tank, also hailed Xi's speech. "I think all these proposals are very positive and forward-looking."
Oh said that China should take the initiative, including sponsoring pilot projects in relevant fields, in order to efficiently implement Xi's suggestions.
Dicky Budiman, a public health researcher at Griffith University in Queensland, Australia, said that Xi's speech reflects the situation in the Asia-Pacific region and the world, and is relevant for many APEC economies.
His suggestions on how to deal with climate change, environmental pollution and global health challenges are particularly significant, Budiman said, noting that without the collaboration of APEC members, it will be hard to achieve the global goal of reducing carbon emissions.
During his speech, Xi appealed to APEC economies to "fully deliver on the Putrajaya Vision of building an open, dynamic, resilient and peaceful Asia-Pacific community for the prosperity of all our people and future generations", as incorporated in the Kuala Lumpur Declaration at the 27th APEC Economic Leaders' Meeting in Malaysia in 2020.
Karori Singh, former director and emeritus fellow of the South Asia Studies Centre at the University of Rajasthan in India, said that Xi reemphasized the importance of innovation-driven development, openness in development and commitment to green and inclusive development, which is beneficial for all.
Singh said the Belt and Road Initiative and the Regional Comprehensive Economic Partnership are very important mechanisms in realizing the goals and the vision of APEC.
"All these measures collectively and in a complementary manner are contributing to achieving the UN 2030 Agenda (for Sustainable Development)," he said.