Miss Earth S. Sudan vows to fight floods
By LIU JIANQIAO | China Daily Global | Updated: 2023-11-21 09:47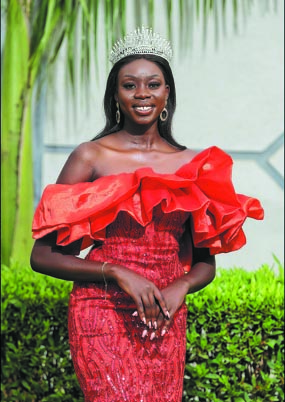 A woman from South Sudan is taking part in an international beauty pageant next month, aiming to build a comprehensive flood risk management plan and raise people's awareness on climate change.
Alek Malaak Ayuen will represent her home country in the Miss Earth competition, one of the four major international beauty pageants that advocates environmental awareness, conservation and social responsibility.
Born in the landlocked country in East Africa, Alek has witnessed the devastating impact of floods and climate change from a young age.
"In South Sudan, and especially in Jonglei state, flooding is a recurring problem that has had devastating effects on the region," she said. "These floods have led to the displacement of thousands of people, destruction of infrastructure, loss of agricultural land and a significant impact on the local economy."
Since the onset of the rainy season in July, heavy rains and flooding have affected about 89,000 people across 22 localities and nine states, the United Nations said.
Alek's family members were not spared either, with their village houses submerged in the rising water levels, leaving them with nowhere to go.
Motivated by her personal experiences and the ideals represented by the Miss Earth competition, Alek decided to compete, hoping to bring about positive changes for her country and people.
After winning the title of Miss Earth South Sudan, she is now competing in the international pageant.
In pursuit of the crown, Alek has dedicated herself to promoting specific projects and environmental causes, showing her active involvement in conservation and environmental improvement.
She also launched some projects and action plans to work with local governments and communities to manage the flooding, improve awareness and enhance education.
"There is a need for improving the early warning systems to provide timely alerts to communities at risk. This can help residents evacuate to safer areas before the floods occur, reducing the loss of life and property," she said in her project document.
She has rolled out a plan of planting 1 million trees in the next couple of years and is an advocate in the adoption of advanced technologies.
"Encouraging afforestation and reforestation efforts can help retain water, reduce erosion and improve soil quality, which can in turn mitigate the risk of flooding," she said.
"Additionally, promoting sustainable agricultural practices such as terracing and contour plowing can prevent soil erosion and increase water absorption capacity."
Alek attributed the ferocious flooding in South Sudan to climate change, and called on developed countries to step up efforts in assisting lower-income countries and their vulnerable populations in battling the crisis.
This year, about 9.4 million people in South Sudan, or two-thirds of the population, require humanitarian assistance, healthcare and protection because of challenges including climate change, the UN said.
"Our people have disproportionately suffered from the climate crisis caused by affluent emitters, compelling them into homelessness and poverty," Alek said.
She suggested that wealthier countries allocate more aid, food and medicine to lower-income countries most affected by the climate crisis.
"Supporting their capacity building initiatives and bridging the gaps in coping with climate change are crucial," she said.