Yoon's worldview out of touch with reality: China Daily editorial
chinadaily.com.cn | Updated: 2023-11-21 19:20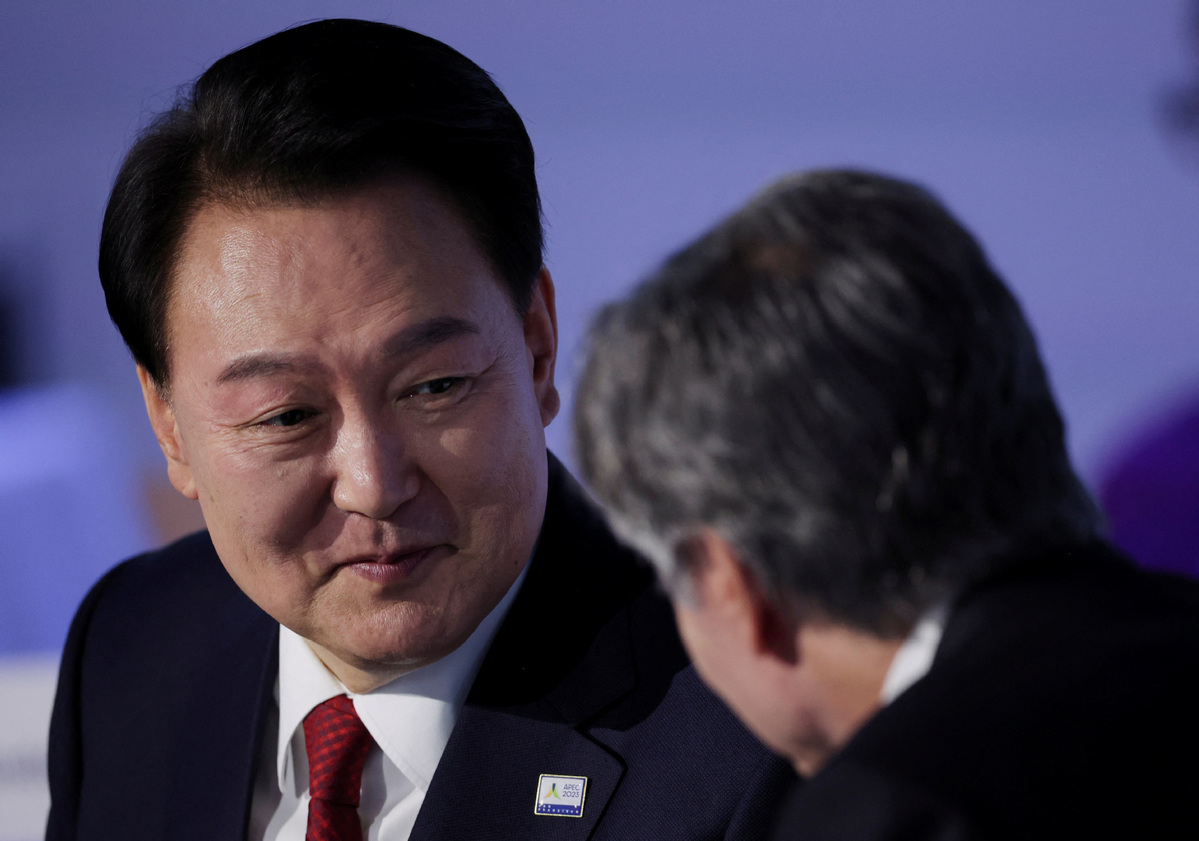 Since he took office in May last year, Republic of Korea President Yoon Suk-yeol has chosen to draw his country closer to the United States at the expense of its friendly relations with China.
In his bid to tie the ROK closer to the US, Yoon has not only made Seoul an active player in Washington's geopolitical game against China, he has even made dramatic concessions to Japan so as to build a rapport with Tokyo on that endeavor, despite the opposition at home.
The latest China-related remarks from the ROK leader just reflect the distorted view that Yoon has of both China and the global dynamics.
While acknowledging China's important role in peace and prosperity in East Asia, Yoon said in an interview that China's trilateral cooperation with Pyongyang and Moscow— which he accused of violating the UN Charter, Security Council resolutions and other international rules— does no good to its international reputation and status.
China seeks cooperative relations with all countries. Seoul is not in the position to tell Beijing what its foreign policies should be.
Even the media in his own country have lamented Yoon's unquestioning subservience to the US administration's divisive "Indo-Pacific" strategy, of which its policies toward Russia and the Democratic People's Republic of Korea are a part, and his inability to properly balance relations.
Media headlines such as "Lack of Yoon-Xi summit in San Francisco highlight Seoul's troubled ties with Beijing" and that "S. Korea-China relations remain uneasy after APEC" should prompt Yoon and his government to reflect on the wisdom of their stance, as the wind of "not letting things go too far" has started to freshen up China-US relations in San Francisco.
Not only have tensions between China and the US eased following President Xi Jinping's meeting with his US counterpart Joe Biden, but there also promises to be an uptick in ties between China and Japan. Talks between Xi and Japanese Prime Minister Fumio Kishida on the sidelines of the APEC Economic Leaders' Meeting have given Sino-Japanese ties a much-needed shot in the arm.
Given the deep economic and people-to-people ties between the ROK and China, Seoul should know that steady progress in their bilateral relations serves the common interests of both countries and their peoples. As it is with all parties, Beijing is willing to work with Seoul to expand common interests for mutual benefits on the basis of mutual respect. It has repeatedly called on Seoul to work with it to update and upgrade the strategic partnership between the two countries.
It is high time the Yoon government discarded its wrong perception of China and its distorted and outdated Cold War worldview and joined hands with Beijing to improve bilateral ties and jointly contribute to peace, development and stability in East Asia.