Top restaurants reach for the stars
Share - WeChat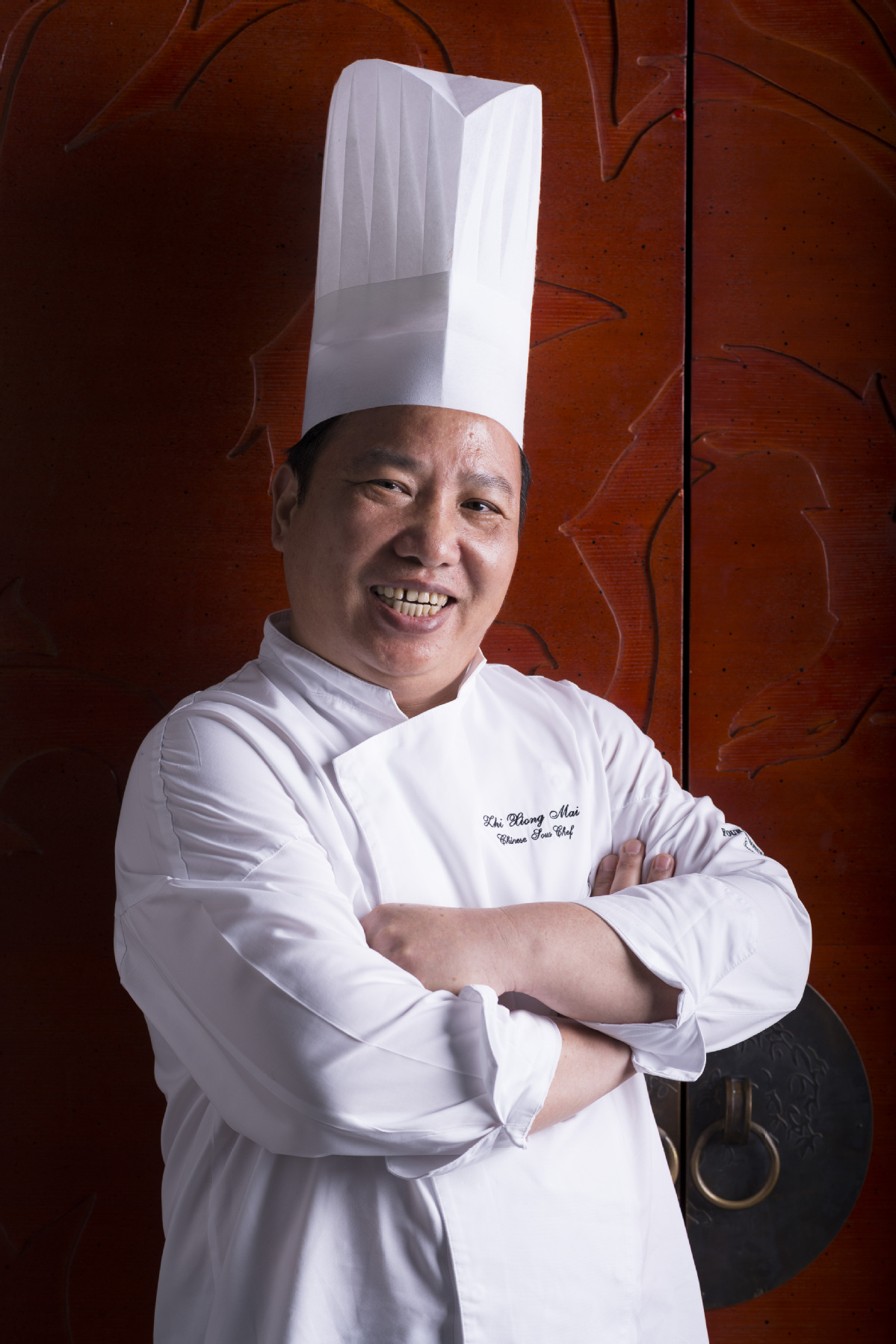 Cantonese preference
In 2008, the Michelin Guide Hong Kong and Macau was launched. In the latest edition, published in December, 10 restaurants in the two cities-five of them specializing in Cantonese cuisine-have been awarded three stars. On the mainland, no Cantonese restaurant has this rating.
However, Cantonese cuisine is still the most popular with Michelin inspectors on the mainland, being served at 29 of the 85 starred restaurants.
Mai Zhixiong, chef at Yu Yue Heen, a Cantonese restaurant in Guangzhou, which has been given one Michelin star for three consecutive years, said inspectors value the combination of color, aroma and flavor of a dish, along with fresh ingredients and intricate plating.
"They are not just judging one aspect, which poses more challenges for both the chefs and the service team," Mai said.
Yu Yue Heen was popular before it earned a star, but the award has attracted more customers. For Spring Festival dinner, clients have to book a table one or two months in advance, Mai said.
In 2018, online-to-offline service platform Meituan-Dianping launched a restaurant guide titled Black Pearl. This year's edition lists 309 restaurants in 27 cities worldwide and includes nearly 30 types of Chinese cuisine.
Cao, the food columnist, said the major difference between the two guides is that Michelin depends on inspectors' feedback, while Black Pearl is based on data collected from its app, in addition to that provided by anonymous inspectors.
Biggest winner
On the mainland, Xin Rong Ji was the biggest winner this year, with the 10 Michelin stars awarded to its branches and subsidiaries in Beijing and Shanghai.
Founded in Taizhou, Zhejiang province, in October 1995 by Zhang Yong, the business features Taizhou cuisine and now has more than 30 branches in cities including Beijing, Shanghai, Hong Kong and Shenzhen, Guangdong.
In Beijing, the Xin Rong Ji outlet on Xinyuan South Road retained its three stars.
Jingji, a newcomer to the capital's dining scene this year, which was awarded two stars, is a Xin Rong Ji subsidiary. It features imperial cuisine and regional cooking at an average price of 1,749 yuan ($266), according to the business review and ratings platform Dazhong Dianping.
In Shanghai, the Xin Rong Ji outlet on Nanyang Road won two stars, while its West Nanjing Road branch in the city and the Beijing branches on Jianguomenwai Street and Jinrong Street were awarded one star.
Another of its subsidiaries in Beijing, Rong Cuisine on Baiziwan South Er Road, along with Rong Cuisine (Huangpu) in Shanghai, won Michelin Bib Gourmand awards.
Cao said that standardizing and stabilizing the dishes and service it provides is the reason so many Xin Rong Ji branches have received Michelin stars, unlike numerous other restaurants that rely on renowned head chefs.
New award launched
This year, the Michelin Green Star award was launched. According to Poullennec, the director, the award aims to highlight "rolemodel establishments" at the forefront of a more sustainable approach to gastronomy.
After France, the Nordic countries, Germany, Slovenia and Japan, Beijing is the first city in China to introduce this award, which went to King's Joy.
The inspectors said the vegetarian eatery implemented several policies aimed at reducing energy use and consumption of resources, and also held community activities to promote sustainable lifestyles.
Beijing food critic Dong Keping said that as environmental protection, organic food and sustainable development have become trends in the catering industry in recent years, King's Joy merited a green star.
Michelin inspectors appear to have a preference for vegetarian cuisine in Beijing, as King's Joy, which won two stars last year, won three this year. A newcomer in this field, Vege Wonder, was awarded one star.
Four vegetarian restaurants in the city won Bib Gourmand or Michelin Plate awards, including the Blossom Vegetarian outlet in Dongcheng district and Gong De Lin, which was founded in 1984 and is known for its meat-substitute dishes with mushrooms and vegetables.
Poullennec said that in Beijing, restaurants and chefs are always striving to improve and show their growing commitment to sustainable gastronomy, "as evidenced by the introduction of the Michelin Green Star for the first time in China".
However, according to the Dazhong Dianping platform, three of the city's vegetarian restaurants that won the Michelin Plate last year-Lin's Dining Lounge, Lotus.com (Jinchengfang Street) and Feast-had to close.
Dai Jun, 50, head chef at Vege Wonder, thinks vegetarian restaurants have a natural advantage in earning a Green Star, as they aim to be environmentally friendly.
With nearly three decades of experience in Cantonese and Chaozhou cuisine, Dai started to focus on vegetarian cooking eight years ago.
He thinks that making vegetarian dishes is more difficult than putting together those comprising meat.
"You have to master all the cooking techniques and you need to pay more attention to the ingredients," he said.
"Vegetables used to solely accompany meat dishes, but a vegetarian chef now needs a wide knowledge of their character and must know how to bring out the original flavor."
Dai said that since the restaurant was awarded a Michelin star last week, it has attracted more customers, especially during the weekend.
He added that before Vege Wonder opened last year, its goal was to win Michelin stars. He is not surprised the business has been awarded one star, but thinks there is room to improve-from presentation of the dishes to selecting the ingredients.
Talent recognized
In addition to the Green Star, two other Michelin honors have been launched on the mainland-the Michelin Young Chef Award, which recognizes exceptional talent and great potential, and the Michelin Service Award, which is given to a restaurant personality with a passion for service.
Two chefs from China and one from France received the Michelin Young Chef Award, while their restaurants were awarded one star for the first time.
In Guangzhou, the young chef award went to Situ Jianquan from Lingnan House, with the inspectors praising his skillful techniques, ability to make picture-perfect presentations and develop new recipes.
In Shanghai, the award was won by Chen Zhiping, 30, who runs the kitchen at Meet the Bund and is passionate about delivering high-quality authentic Fujian dishes.
French chef Julien Cadiou from Jing took the honor in Beijing. The restaurant, which received its first Michelin star last week, is the first eatery specializing in French cuisine to win a star in the capital.
Cadiou said, "The honor is a huge breakthrough for our team of chefs and will encourage us to provide more creative and imaginative French cuisine to diners in the capital."
In Shanghai, Wang Zhenxiang from the two-star restaurant Ji Pin Court won the service award, while in Beijing, it went to Liu Shiting, a supervisor at Xin Rong Ji's branch on Xinyuannan Road.
In Guangdong, Mao Xiaoxiang from Bing Sheng Private Kitchen, which has a one-star rating, received the award in recognition of her talent in providing high-quality service and efficient team management.