Manufacturing clusters key to economic growth
By MA SI | China Daily | Updated: 2021-04-16 09:30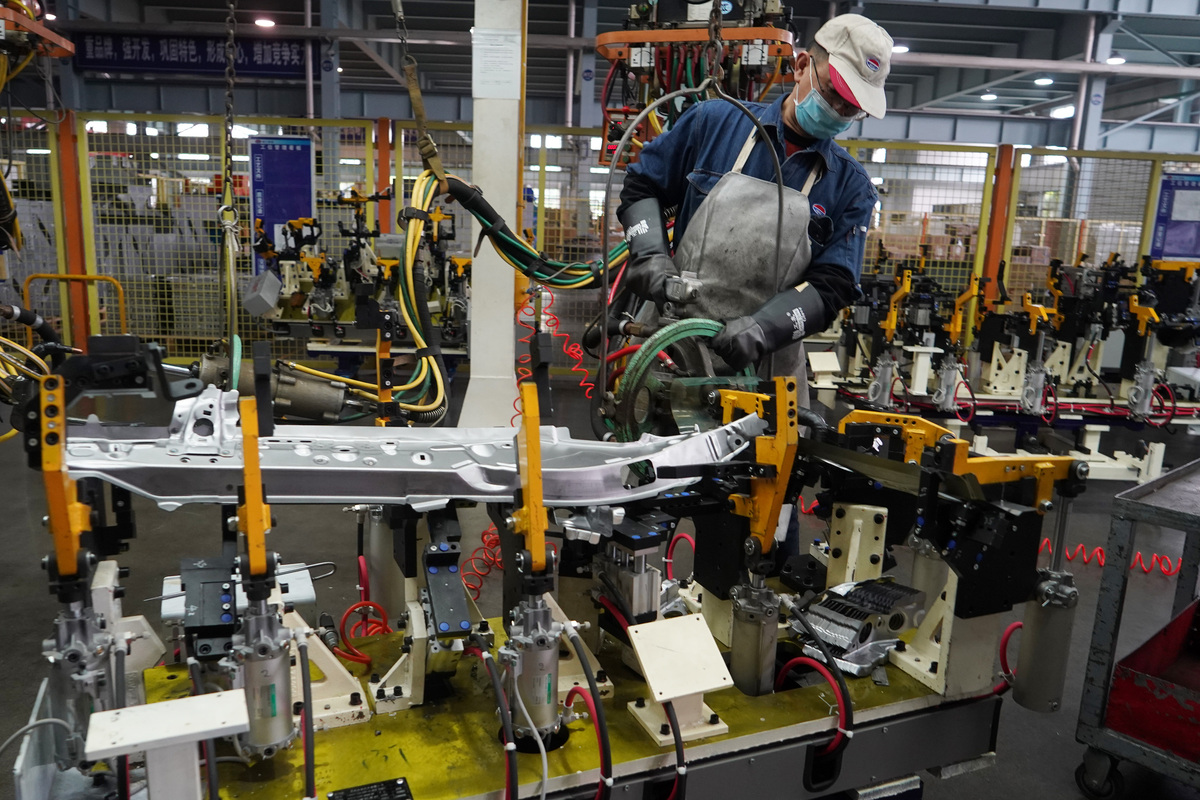 Areas to promote development of industries include integrated circuits, aerospace, marine
A friendly competition of sorts is unfolding among major Chinese cities as the nation highlights its determination to sharpen its industrial capabilities by building up competitive advanced manufacturing clusters.
An advanced manufacturing cluster refers to an industrial grouping formed by a large number of companies and institutions in proximity that carry out mutual cooperation and exchanges. It is considered to be an advanced form of industrial division of labor and agglomeration development, and is part of China's push to pursue high-quality development of manufacturing, experts said.
China's 14th Five-Year Plan (2021-25) highlights efforts to cultivate advanced manufacturing clusters and to promote the development of key industries including integrated circuits, aerospace, marine engineering equipment, robots, advanced rail transit equipment, advanced power equipment, engineering machinery and medical equipment.
Cheng Nan, director of the planning institute at the China Center for Information Industry Development, a Beijing-based think tank, said that previously a large number of industrial parks relied on transportation and geographical convenience, abundant resources, policy dividends and other factors to bring about cost advantages, which have attracted enterprises to concentrate on specific areas. But such approaches are just a scale expansion strategy.
"The advanced manufacturing clusters, however, are based not just on physical proximity among industrial enterprises, but on deeper cooperation among companies to promote the development of local economies," Cheng said.
The Ministry of Industry and Information Technology, China's top industry regulator, recently published a list of 25 selected winners that were named advanced manufacturing clusters after fierce competition among cities across the nation. A total of 21 cities in nine provinces and municipalities made it onto the list, which is known as the "national manufacturing team", with some cities hosting more than one site.
Jiangsu and Guangdong, two provinces traditionally known for their manufacturing strength, have six industrial clusters each on the list. They were followed by Zhejiang province with three clusters.
Experts said the competition is like a horserace and it is designed to select leaders in different industries under unified evaluation standards so that they can undertake the national mission of building advanced manufacturing clusters and then participate in global competition and cooperation on behalf of China to become "world champions" in their respective areas.
Cheng said the competition considers both qualitative and quantitative factors and the list is a result of a comprehensive evaluation."They must not only reflect the advanced nature of the industry, but also have to be clusters, and have a strong market influence," Cheng added.
Cities across China have made major efforts for the competition. As early as 2019, Changsha, capital of Hunan province, established a special working group to promote the development of a construction machinery industry cluster in the city.
The working group brought in leading construction machinery companies such as Sany Group, Zoomlion and China Railway Construction Heavy Industry and they worked together to achieve breakthroughs in 22 key technologies such as high-performance engines. Their total research and development investment increased from 5.26 billion yuan ($806 million) in 2018 to 8.25 billion yuan in 2019. In the end, Changsha was on the "national manufacturing team" list.
But it is worth noting that no manufacturing clusters from the Beijing-Tianjin-Hebei region and northeast China-an important heavy industry base-made their way onto the list.
He Ying, director of the Institute of Technology and Standards of the China Center for Information Industry Development, said more efforts are needed in North China to build an innovation-friendly environment.