Obsessive pop fans strike discordant note
Share - WeChat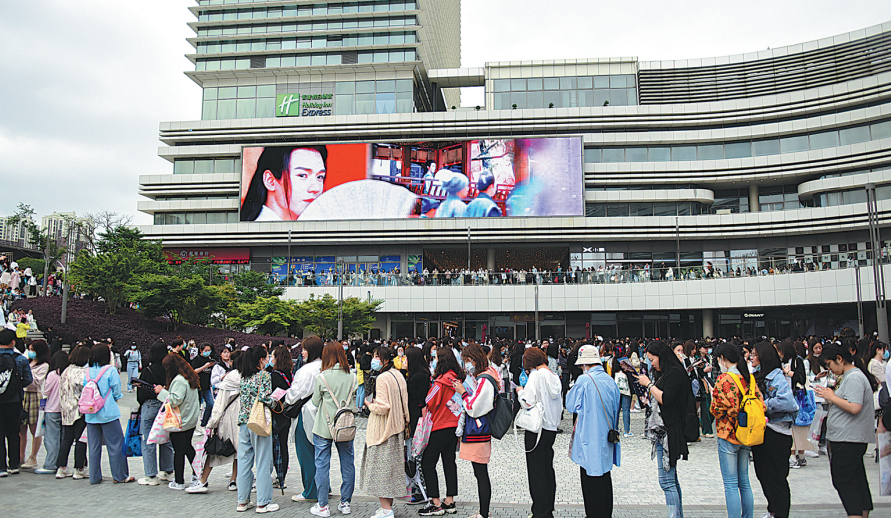 Regulatory action taken to control illegal online behavior
Amy, 23, is an ardent fan of Chinese pop star Cai Xukun, who has more than 35 million fans on Sina Weibo.
She has followed news about 22-year-old Cai since he appeared on the popular talent show Idol Producer, broadcast by the online streaming service iQiyi early in 2018.
In April that year, the show saw the emergence of new boy band Nine Percent, which comprises nine winners from Idol Producer, including Cai, who finished in first place with more than 47 million votes.
In winter 2018, Nine Percent released its debut album To the Nines and gave a live performance at M Space, a popular music venue in Beijing. Amy, like many of the group's fans, booked into a hotel near the venue the day before the show, trying to get a glimpse of her idol.
As she had failed to get a ticket for the show, she waited more than five hours outside the venue, hoping to obtain one at the last minute.
"It was cold outside, but I didn't want to give up," said the young woman, who at the time was a university student in Hangzhou, Zhejiang province, where she now works and lives.
"I was lucky enough to buy a ticket, but it was very expensive. When I finally saw my idol, I cried," she said. Amy didn't say how much the ticket cost-only that it was the equivalent of the three-month allowance from her parents.
Amy continues to buy Cai's albums, follows reality shows on which he appears and shares news about him on Sina Weibo and WeChat. She has also joined a Cai fan club, receiving the latest information about Cai and taking part in activities to support him.
However, she keeps these activities secret by using fake names on her social media accounts and blocking those close to her from her posts. Amy, who uses an assumed name to protect her privacy, said hardly anyone in her close circle-family members, colleagues and friends-knows of her love for Cai.
"Initially, I didn't hide the fact that I was a fan of his, and I used to upload photos of him on my social media platforms. But one day, my mother looked anxious and told me, 'You are old enough now and should hang out with your friends or have a real boyfriend, instead of chasing after pop stars, which is a total waste of time'," Amy said.
What made her even more depressed was that many of her friends appeared to feel the same way. When they discussed pop stars' fans, Amy could tell through the tone of their voices and their facial expressions that they had negative views of fan quan, or fan group culture.
"After that, I decided to keep my activities secret to avoid trouble," she said.
Fan quan, which also translates as "fan circle", is a concept that emerged in South Korea, with that country's pop stars and supporters playing a huge role in taking K-pop to a broader audience.
Fans gather in groups to meet and share information about their idols and they also spend considerable amounts to support them, such as buying expensive gifts and paying to vote to increase stars' popularity. The fans' activities have played a key role in driving the entertainment industry, but have also triggered controversy.