Annual book fair in capital attracts avid readers
Share - WeChat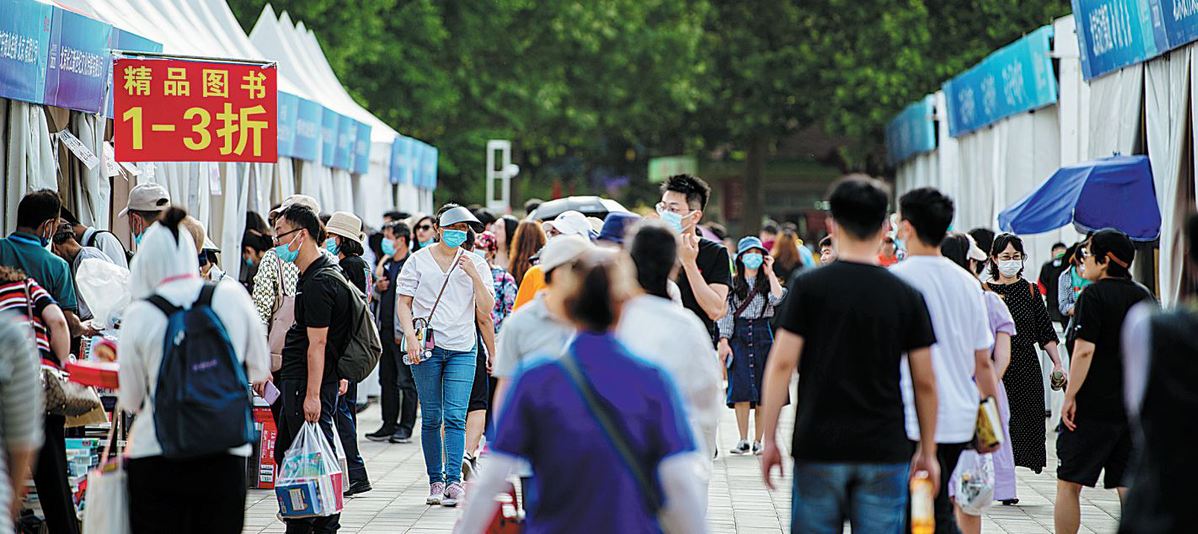 Young people eager to keep turning the pages
More than 2,000 years ago, the Roman scholar and philosopher Marcus Tullius Cicero reached the conclusion that, "A room without books is like a body without a soul."
In modern times, bookstores and book fairs play valuable roles in the cultural life of a city.
Beijing, which has a history of more than 3,000 years, boasts a rich cultural heritage, with officials and the public making every effort to keep the tradition of reading alive for future generations.
Visitors have been attending book fairs in the Chinese capital since the 1950s. A book fair held in Beijing by Xinhua Bookstore in November 1957 was the first of its kind after the founding of New China in 1949, according to Beijing Daily.
The 10-day event attracted people from all areas of the city who were eager to broaden their knowledge.
The organizer of the fair sold imported books and newly published works. Some 20 well-known writers, including Mao Dun and Zang Kejia, attended the event to meet fans and sign books.
In 1979, Xinhua Bookstore held a second book fair on a much larger scale than the event in 1957. Beijing Daily reported that more than 344,000 books were sold during the first three days of the fair, bringing in revenue of 170,000 yuan ($26,225).
The fair, which was well-received by the public, has been held annually ever since.
In the 1990s, the fair attracted not only local residents, but also book lovers from nearby provinces.
A Beijing Daily report on the fair held in 1992 stated: "A teacher named Li Baozhong from neighboring Hebei province took a train to Beijing. In less than two hours at the fair, he spent more than 300 yuan on buying books-the equivalent of two months' salary."
In 2009, the number of people attending the fair fell by 50 percent year-on-year to 300,000, due largely to booming online shopping and digital reading.
Zhao Zhan, a 35-year-old Beijinger, who has many happy memories of attending the book fair, said, "There appeared to be no stopping the decline in its popularity-something I felt very sad about.
"When I was young, the book fair were held in Ditan Park, which has a good natural environment. I loved to read in the open air amid trees and bushes before taking many books home."
Zhao said he used to visit the book fair with his mother. When he grew older, he went to the event with his girlfriend.
"When you read, it's like having a mental dialogue with the authors. It feels even better attending the fair with your loved ones," he said.
In 2012 and 2013, the Beijing Book Fair was suspended due to weak demand, leaving many fans such as Zhao heartbroken.
"I broke up with my girlfriend in 2013, when the fair was suspended. These two occurrences were not related in any way, but they were both pretty sad for me. Some of my memories had died," he said.
In 2014, when the event was relocated to Chaoyang Park, the latest promotional methods were used to encourage loyal supporters to return, and also to attract new fans.