Talented restorers bring fossils to life
Share - WeChat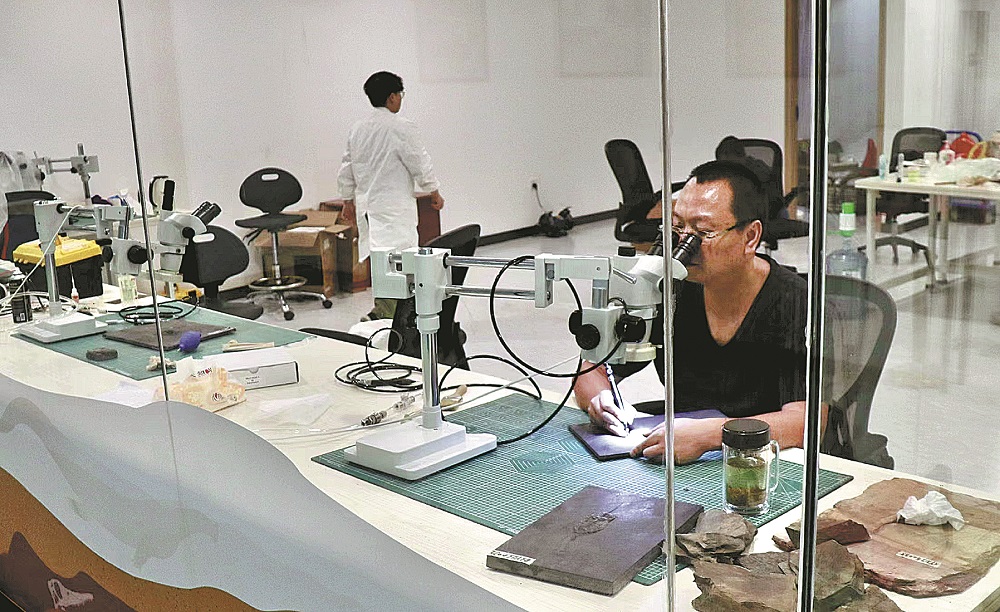 With an exhibition area of 16,000 square meters, the museum is the biggest natural science museum in Guizhou. It has more than 100,000 exhibits, including fossils, mineral crystals and geological materials, and since it opened in August, it has received about 10,000 visitors.
Liu Chuanyuan, head of the museum's technological research department, said it has collected more than 3,000 fossils from public and local geological parks and restored about 500 since 2018. Most of the fossils are of reptiles, vertebrates, fish and invertebrates. Six researchers work in the basement, and it may take months to complete one fossil.
For most people, the process is repetitive and boring, but not for Luo.
"Touching species from ancient times and trying to restore them to their original state is like talking to history and preserving ancestral memories. The more I restore, the more I feel the magic," he said.
When Luo was young, he played in the mountains around the factory where his father worked. He found many stones containing fossilized insects, which first aroused his interest. He later studied mining at college and then joined a geological prospecting team after graduation.
In 1998, a friend brought a crinoid fossil for restoration to the office next to Luo's at the geological investigation research institute. Seeing the elderly researchers, wearing reading glasses and trembling as they handled the fossil, Luo offered to help. "They were worried I would damage it, but I told them I could do engraving, so they agreed to let me try. It turned out that I did better than them," he said.
In 2007, he started hunting for fossils, restoring them himself. When construction began on the geological museum in 2016, Luo helped collect samples from the public. He has worked there since 2019.
When found, fossils are usually encased in layers of stone. "Each layer may represent one year of sedimentation, and some bones are covered by rocks 2 to 3 kilometers thick," he said.
The most difficult part is to tell the bone from the rock. The pneumatic pen should not touch fossils directly when rock is being removed. "Some bones, such as teeth or the bones of some fish, are as thin as a needle. That's when we need a microscope."
For some precious fossils, experts will use needles to remove the surrounding rock, which is safer but slower.
They take a break every half an hour to maintain precision. It takes between a week and several months to restore a fossil. "Learning how to do it is not the problem but it's difficult to stay enthusiastic, patient and focused," Luo said.
One huge crinoid fossil-one of the major pieces displayed at the museum-is 12.5 meters long and 8.2 meters wide and was assembled from more than 300 pieces. The work was done by seven restorers over 40 days.
"We should respect every fossil as it is a piece of history. We aim to present the creature in its most original state, and to encourage the audience to think," he said.