High school students prepare for make-or-break test
Share - WeChat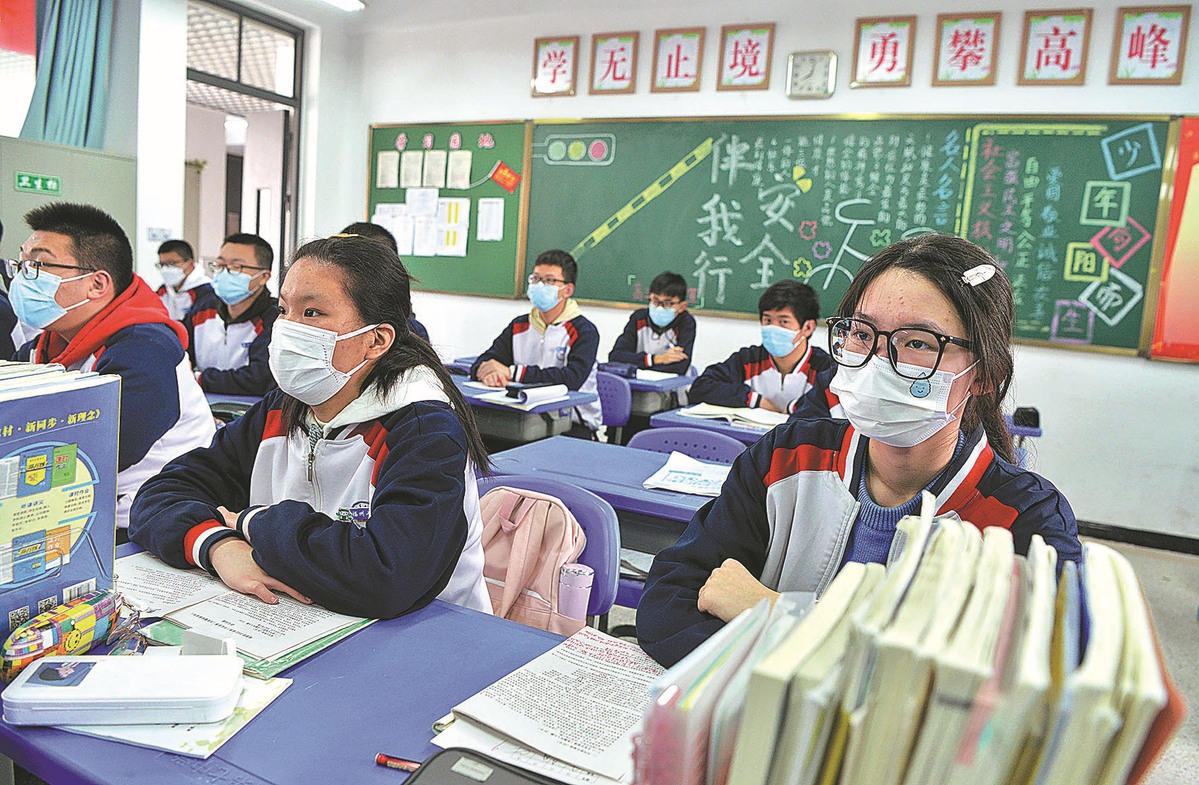 Little impact
Zhang only has two physical exercise lessons each week and no art course. She sleeps for about six hours every night.
"I am always sleepy during self-study sessions at night, but I am willing to abide by this tight schedule as long as studying hard brings a good result in the gaokao," she said.
Zhang added that since the ministry announced the new requirements, the only difference she has noticed at her school is that teachers no longer allow students to be absent at night for private tutoring courses.
"As far as the academic burden is concerned, no senior high school students dare take breaks from studying or relax their efforts," Zhang added.
Lan Huiyun, head teacher at Shuocheng District No 1 Middle School in Shuozhou, Shanxi province, said that although he welcomes the double reduction policy being implemented at high schools, his school has not taken any measures to ease students' excessive academic burden.
He said that not only are students under heavy pressure to perform well in the gaokao, but high school teachers are also urged to achieve a high enrollment rate for their students at leading universities, which determines the teachers' bonus, reputation and even promotion prospects.
Lan, who teaches a senior class, said his students only have a one-day break every two weeks, and some of them are told by their parents to take private tutoring courses during this time.
To help students devote all their attention to academic studies, the school has also canceled physical exercise and art lessons.
"I feel that students are pushed by their parents, teachers and society to study. Most students show no joy during class and just study day and night in the hope that this will help them achieve high scores in the gaokao," Lan said.
However, reforms to gaokao test papers in recent years mean students are less likely to achieve high scores only by rote learning.
Lan said that rather than memorizing textbooks and mock exam questions, students need to have a broader knowledge of life and current affairs to perform well in the gaokao.
Zhao Yongqiang, a student in Lan's class, said he studies for about 14 hours every day, after which he is too tired to continue with his academic work.
The 18-year-old said that although his grades are among the best in his class, his chances of getting into a top university are not high.
He said only 50 out of more than 800 liberal arts students at his school were admitted to first-tier universities last year, adding that his scores barely reach the threshold required for admittance to such institutions.
"I think I study too much every day, but I can keep this up until the gaokao in June," Zhao said. "Although I prefer a more relaxed schedule, I think I will regret it some day if I don't put all my efforts into my studies now."
Li Mo, Zhao's classmate, said she sometimes stays up studying until 2 am and gets up at 5:30 am.
"Some of my schoolmates with much better grades than myself work harder than me, so I don't have any excuse to slacken my efforts," the 18-year-old said.
Li said she wants to get a score in the gaokao that enables her to study archaeology and cultural relics repairs at a well-known university.
Zhao and Li said they agree with the idea of reducing high school students' academic burden, but they feel this development has come too late for them, as the gaokao is fast approaching.