Expats embrace new lives in home from home
Share - WeChat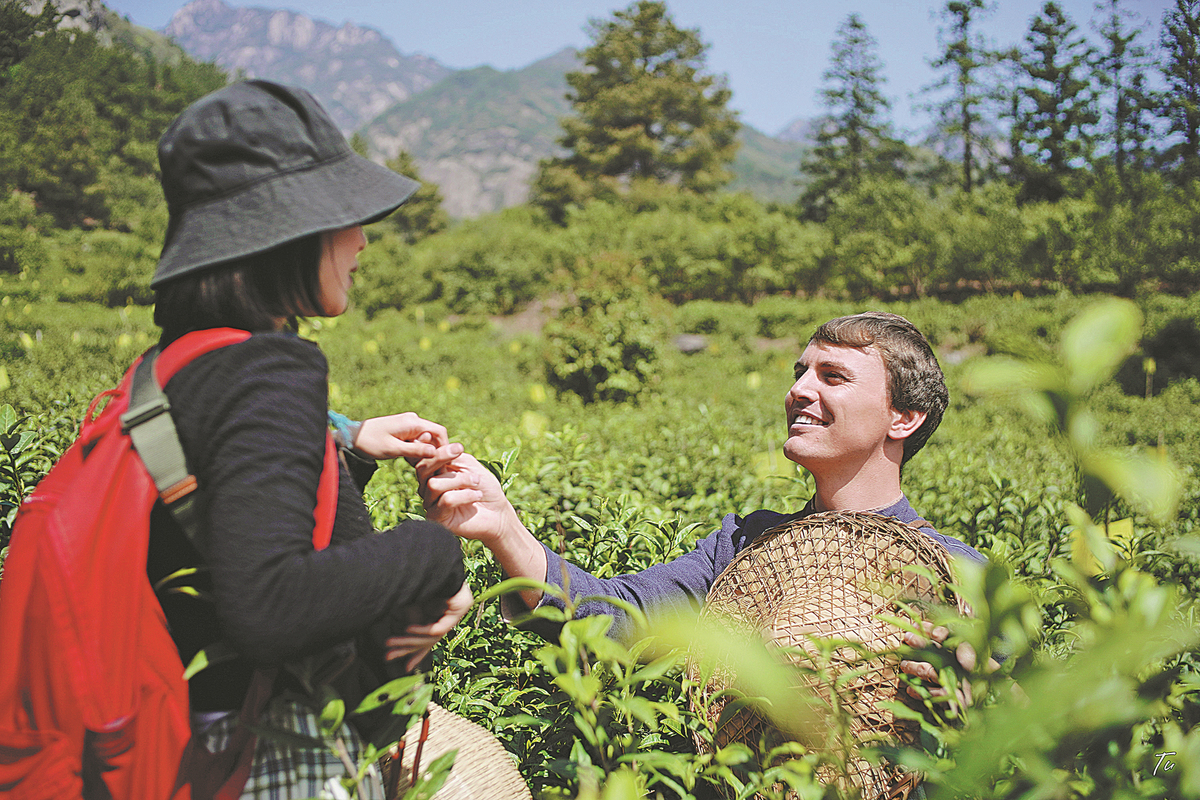 US man helps growers beat shortages
Editor's Note: Many foreign nationals who are long-term China residents are insisting on staying in the country in the face of the COVID-19 pandemic. Below, China Daily talks with three such people.
Adrien Brill recently posted several videos of himself wearing a straw hat and picking green tea on the mountains in Huangshan, Anhui province.
Uploaded onto short-video platform Douyin, the posts showed Brill following his wife's grandmother as she taught him to pick and produce the local specialty from tea farmers.
The farming novice from the United States volunteered to help on the plantation when the senior told him that local growers could not return because of COVID-19 epidemic countermeasures, which are stricter this year as the Omicron variant has become a dominant threat.
To ensure tea production, which is the pillar industry in Huangshan, Brill took part in the tea-picking activities with other local residents to overcome labor shortages.
The English teacher at Huangshan University cannot leave the city at the moment because dozens of cases have been confirmed in the city's Xiuning county recently.
"Due to the pandemic, I can't visit my parents and other family members in the United States," he said.
"Before, the world was small, thanks to convenient transportation. It was not a big deal for me to return to the US by air. Now, that world seems so far away."
As the outbreak has affected his travel plans, he has been shooting videos about home cooking or camping in the mountains. The farming experience has inspired him to expand the subject matter of his videos.
His fluent Mandarin and proficiency in the kitchen of a small village house impresses audiences because he has "completely integrated into the local culture and customs", as one viewer commented.
This is the 32-year-old's sixth year in Huangshan. He met Qiu Tong in 2014 at a music festival in Chengdu, capital of Sichuan province, where he lived for seven years. In 2016, they married and settled down in Qiu's hometown in Huangshan.
The couple have many interests in common, such as music. "She is a really nice person-careful and patient. She is a very good example for me," Brill said. He said big cities have many advantages, not least a convenient lifestyle, but they are not suitable places to settle down.
"When I arrived in Huangshan, I was immediately impressed by the beautiful, comfortable environment," he said, adding that mountains and rivers dominate the city.
By filming videos, he and Qiu hope to introduce more people to the city they love.