Robots steer toward tomorrow's world
Share - WeChat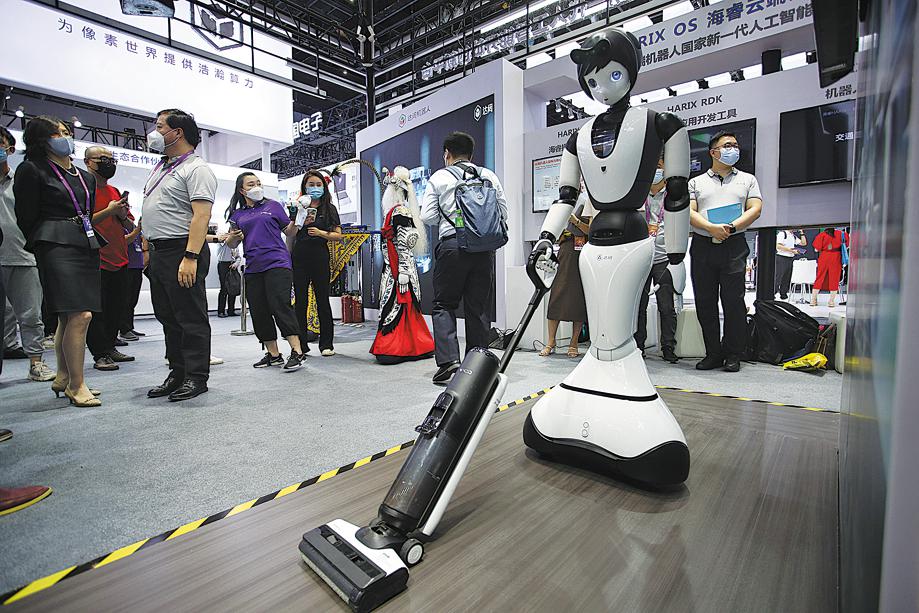 Development leaders
Su Hua, global senior vice-president and president of the China region for Infineon Technologies, which designs and manufactures a range of semiconductor products, said that in many cutting-edge areas of technology, China has a number of companies that can lead the nation's low-carbon development and that of the world as a whole.
Clobotics, a company based in Shanghai that focuses on computer vision and machine learning technology, tapped into this trend by giving Sparrow, its latest wind blade inspection and maintenance robot, its China debut at WAIC.
George Yan, founder and CEO of Clobotics, said the robot collects blade data via the company's self-developed robotic platform to conduct maintenance and repair work-enhancing the efficiency of wind power.
Sparrow has entered the final testing stage, and will soon be put into service nationwide, Yan added.
Flexiv, a company based in Shanghai that provides innovative, ready-to-use software solutions to customers in a variety of industries, displayed its adaptive robot Rizon at WAIC.
Based on AI technologies, Rizon can perform nucleic acid tests and provide traditional Chinese medical massage and therapy, among other tasks.
Deep Robotics, based in Hangzhou, capital of Zhejiang province, presented China's first industrial waterproof quadruped robot, the Jueying X20, which can easily step over an obstacle 20 centimeters high, navigate a stairwell, and climb a 30-degree slope. The robot can also adapt to a variety of environments and conditions such as grasslands, sand, snowfields, gravel roads and puddles.
Cai Yinghua, vice-president of Alibaba Group and president of Alibaba Cloud Global Sales, said: "More and more of our enterprises are directly or indirectly applying AI. Some 58 percent of Chinese enterprises are applying it, while globally, the proportion is merely 35 percent."
Internet giant Tencent has applied AI to space exploration by collaborating with the National Astronomical Observatories to discover pulsars and explore the universe. A pulsar is thought to be a rapidly rotating neutron star that emits regular pulses of radio waves and other electromagnetic radiation at rates of up to 1,000 pulses per second.