Robots steer toward tomorrow's world
Share - WeChat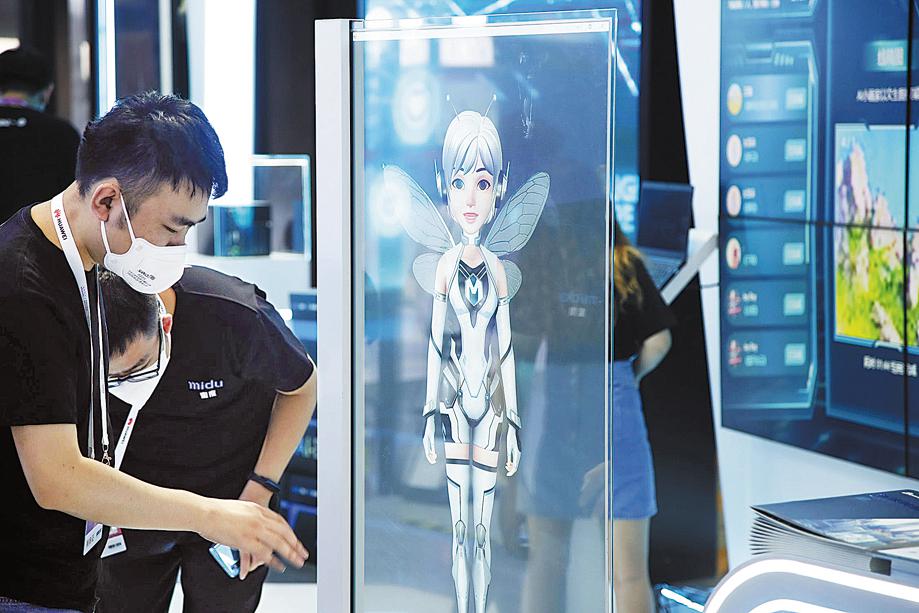 A plan to explore the stars, launched last year, has discovered 22 pulsars through leading computer vision technology from Tencent's YouTu Lab, an AI research house. The technology helps process huge amounts of data received by China's Five-hundred-meter Aperture Spherical Radio Telescope, or FAST, the world's largest single-dish and most sensitive radio telescope.
Wu Yunsheng, vice-president of Tencent Cloud and general manager of Tencent's YouTu Lab, said that with the further integration of digital technology and the real economy, AI development will not only result in technological breakthroughs, but also help industrial applications better meet various social demands.
Industry experts said that regardless of AI's rapid development, more efforts are needed to promote its wider applications, both in terms of technology and commercialization.
Robin Li, co-founder, chairman and CEO of search engine Baidu, said the key factor for AI's success is persistence, which is especially true for technological innovation.
Clas Neumann, senior vice-president and head of the Global SAP Labs Network, said that as a technology, AI should help people make the right decisions. If only people and AI can work together, the latter can be better applied.
With its heightened global influence and appeal, WAIC celebrated its fifth edition by helping Shanghai in its ambition to build a world-class, sophisticated industrial AI cluster.
At the conference's closing ceremony, 25 AI industrial projects with total investment of about 15 billion yuan ($2.15 billion) were signed. In the past four years, WAIC witnessed more than 600 corporate collaborations and 155 major projects with combined investment of 110.7 billion yuan.
As Shanghai becomes the heartland for China's innovative AI development, WAIC has developed into an important platform for promoting AI industrial communications and collaborations.
Gong Zheng, mayor of Shanghai, said the city has basically formed a complete industrial chain, and the scale of AI has grown significantly.
Last year, the combined output value of AI enterprises in the city with annual revenue of 20 million yuan or more surpassed 300 billion yuan, Gong added.