Oracle bones provide a glimpse into history
Share - WeChat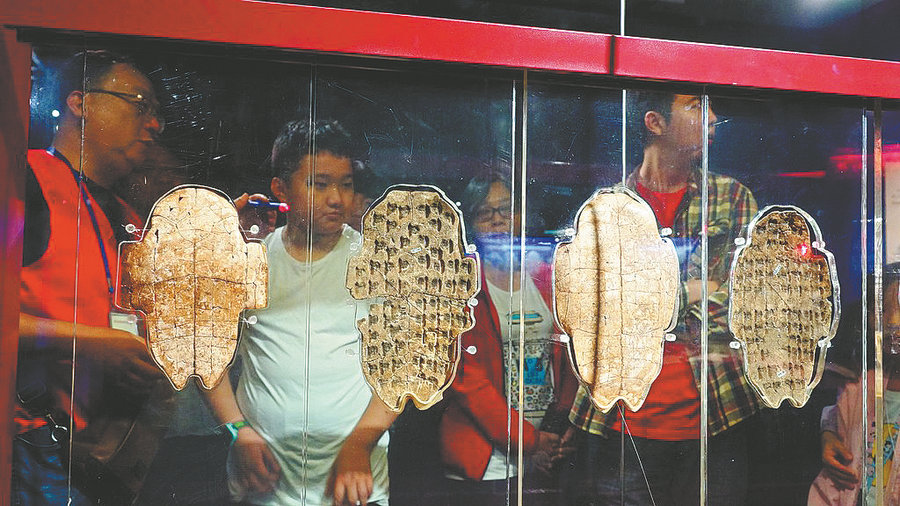 On Nov 8, during a total lunar eclipse, a blood moon illuminated the sky. If people missed it, they would have to wait about three years to see the next one.
In the Shang Dynasty (c.16th century-11th century BC), a lunar eclipse was also observed, and the scene was engraved on oracle bones. Including this event, six solar and lunar eclipses, on oracle bones found in existence, have been deciphered by researchers. One solar eclipse was believed to have occurred on Oct 31, 1161 BC.
How people back then reacted to the celestial events is relatively unknown, although it is believed that Shang people began to learn more about observing eclipses. The recordings are helping researchers date the oracle bones and understand the course of the Shang Dynasty, and they can be used as references for further study of the sun-Earth-moon system.
Awe-inspiring astronomical phenomena like an eclipse are among many events and omens noted on oracle bones from the Shang Dynasty. Such inscriptions and the related prayers reveal to people today the many aspects of life back then — led by rules, how members of the aristocracy and commoners lived, including sacrifices, feasts, military acts and harvest, as well as predictions of the sex of an unborn child, safe routes for hunting and the proper day to sell one's ox.
The use of oracle bones as an important method to understand society declined following the rising popularity of referring to I Ching (Book of Changes) in the Zhou Dynasty (c.11th century-256 BC).
The inscriptions, however, predominantly carved on tortoise shells, cattle scapula and other animal bones, progressed, and are today viewed as the earliest known form of Chinese characters, providing clues to the establishment and evolution of grammar. This writing system anticipated the formation of zhuanshu, or the seal script, and has been integrated into the development of Chinese calligraphy.