Thai princess takes in Chinese tea culture
Share - WeChat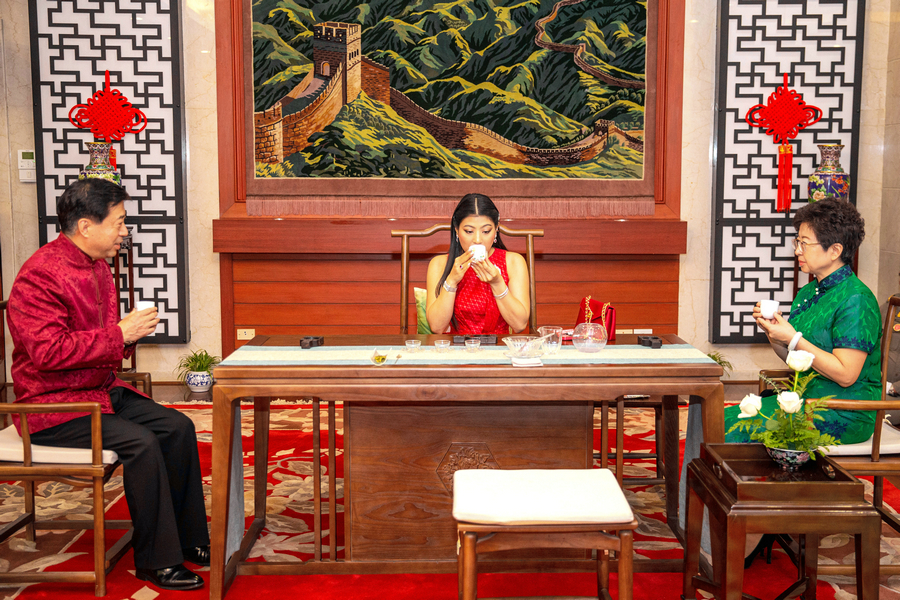 A Yaji cultural salon, Tea for Harmony, was held on May 3 at the Chinese embassy in Bangkok, with Thailand princess Sirivannavari Nariratana as the guest of honor.
Chinese ambassador to Thailand Han Zhiqiang and his wife entertained Princess Nariratana, Thailand's permanent secretary for Foreign Affairs Sarun Charoensuwan and his wife with a tea ceremony presented by artists from the Shenzhen-based Ziyuan teahouse. Folk music performances were also held.
Guests were welcomed with Fujian white tea before being invited to witness artists infuse West Lake Longjing, a type of pan-roasted green tea from East China's Hangzhou, and Fenghuang Dancong, an oolong tea from South China's Guangdong province.
Participants also learned the major steps in tea appreciation including sniffing the tea, observing the color, sipping the tea and using the tea utensils as well as the benefits of different types of tea.
Shuo Feng Chamber Orchestra, a traditional Chinese orchestra from Shenzhen, entertained guests with a number of classical Chinese folk pieces including The Fisherman's Song at Dusk, Colorful Clouds Chasing the Moon and Horse Racing.
Princess Nariratana said she was thankful for the embassy's invitation to experience China's traditional culture and added she believed China-Thailand relations would continue to strengthen.
Yaji, literally "gathering of elegance", was a common way for ancient Chinese literati to enjoy a collective cultural life. During the meeting, participants would recite poetry and appreciate tea, paintings, flowers, incense and guqin (traditional Chinese zither) music in pursuit of elegance, artistic sensibility and moral nobility.
A global event sponsored by China's Ministry of Culture and Tourism as part of the celebrations of the International Tea Day, which falls on May 21, the salon was held to "give tea a greater role in enhancing friendly dialogue and mutual learning between civilizations" and raise awareness of Chinese tea culture around the world.
In 2022, China's traditional tea processing techniques and associated social practices were added to UNESCO's Representative List of Intangible Cultural Heritage of Humanity.