Young people spur rural development drive
Share - WeChat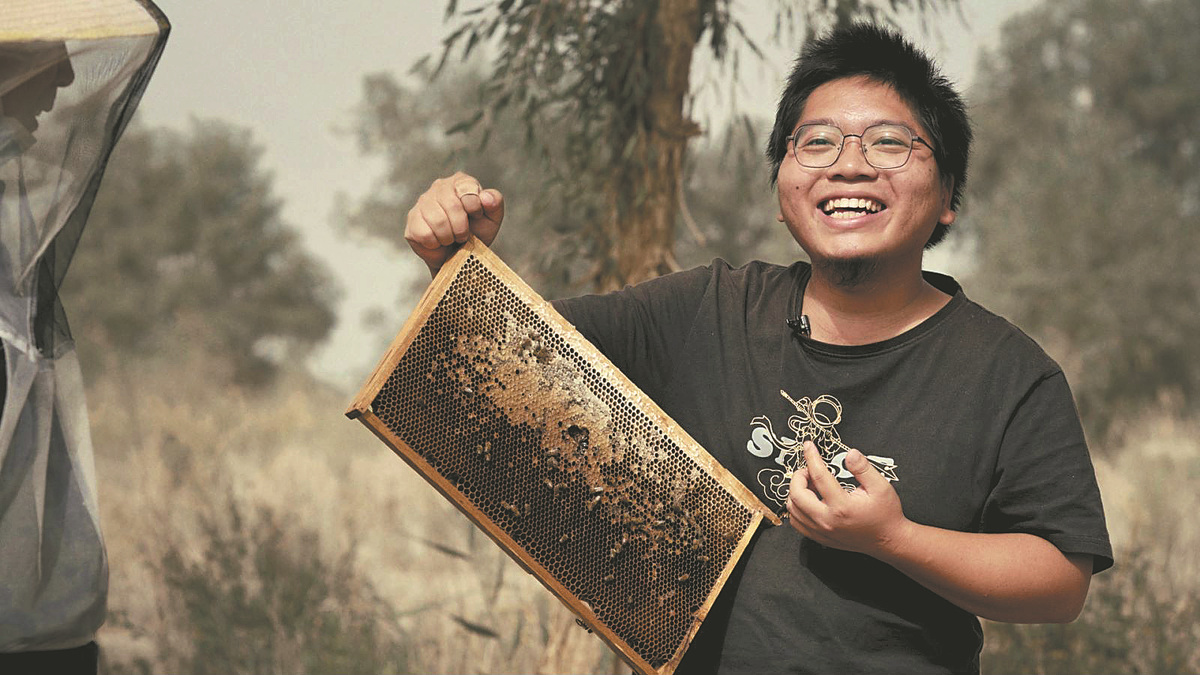 Beekeeping duties
With bees swarming on his neck, arms and feet, Liu Yuanjie enthusiastically promoted honey during a livestreaming session at an apiary in Xinjiang Uygur autonomous region.
Being stung has become routine for Liu. At first, his face was swollen for five or six days. Now, he said it only takes him about 10 minutes to recover from a sting, as he has developed antibodies.
With his round face, dark skin, moustache and large, square-framed eyeglasses, Liu's rugged appearance did not seem to match the rural scenery, and some netizens even asked whether the background used for the broadcast was fake.
In footage that has received 97 million views, Liu threw a bucket into a river to prove the waterway was genuine, before rushing to retrieve the bucket as it started to float away. His actions, which amused many netizens, attracted comments such as, "He made me laugh just by standing there."
Liu, 26, attracted 16 million fans in just a year through live broadcasts, thanks to his sense of humor, enthusiasm for work, and the beautiful scenery in Xinjiang. He brings in monthly revenue of 3 million yuan, with a profit margin of 20 percent, by selling honey and related products bought from local farmers.
His story has inspired many people lacking good looks or a rich family background that nothing is impossible in life.
Born in Jiangsu province, Liu dropped out of school when he was 16. He started work by polishing and painting cabinets at a furniture factory, before being employed as an electric welder at a shipyard. Later, he learned software development and started his own e-commerce clothing business, which failed.
In 2020, Liu traveled to Xinjiang, where he was impressed by the local livestock and stunning scenery. "Xinjiang is so big and beautiful. It healed me. I knew I would be happy if I stayed here," he said.
During a trip to Yuli county, Bayingolin Mongol autonomous prefecture, Xinjiang, Liu tasted local honey, and was impressed. Yuli is known for bluish dogbane, a popular herb, whose flower is a major source of honey. Its long florescence in June and July offers beekeepers natural advantages.
However, most beekeepers sold honey through Wechat Moments, and sales were poor. Liu wanted to bring the product to a wider market through using digital tools.
"Xinjiang has long hours of sunlight, and temperatures vary widely from day to night. Many different types of flower grow in the wild, resulting in honey being produced in considerable quantities," he said.
Liu spoke to local beekeepers, but nobody was interested in his suggestion, until he proved himself with growing sales. He also paid beekeepers in advance. "When they heard their honey was selling well, they all smiled, which was extremely touching," he said.
Honey from Yuli is now sold nationwide, and orders for it have also been placed by foreign clients. The unit price is 100 yuan per kilogram, and Liu promises clients they can receive packages of honey within five to seven days.
Last year, he helped sell honey and black wolfberry from Yuli, attracting orders worth more than 10 million yuan. His business expanded, and the goal this year is to make 100 million yuan, he said.
To use the stunning local scenery, Liu and his team members drove across Xinjiang, sometimes sleeping in the open air. Zeng Rui, one of Liu's partners, told Beijing News of the time they broadcast a livestreaming show near Bosten Lake. She woke up at midnight, as she was so cold, and made a fire. Sometimes, the team stayed in the desert for a week.
Liu's success led to him being elected president of the Yuli Beekeeping Association. He helped 40 beekeepers' families sell honey and invited agricultural experts to train them.
In January, as a member of the Yuli County Committee of the Chinese People's Political Consultative Conference, he suggested that more measures be introduced to encourage young people to become entrepreneurs.
As vice-president of the Bayingolin Self-media Association, Liu trained hundreds of people interested in livestreaming.
"I wanted to share my experience to help promote sales of agricultural produce and attract publicity for the county," he said, adding that he wants to help build up the industry to bring wealth to more people.
Twelve of his 14 team members are from Yuli. Arman Ablimit, 20, who is responsible for after-sales and client services, told cnr.cn that she learned from Liu how to persevere, and that she wants to stay in her hometown after graduating to help it develop further.