Young people spur rural development drive
Share - WeChat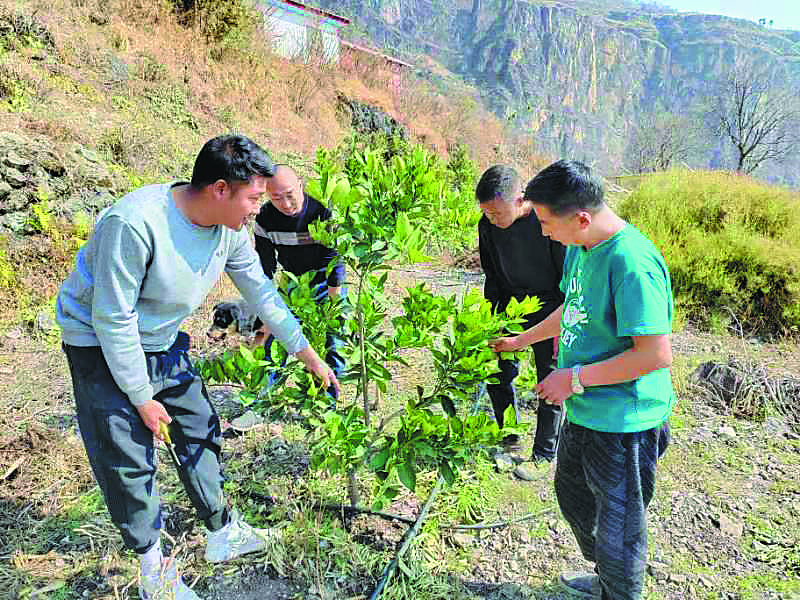 Tourism promotion
On April 6, Jinie Ziri stood out among people celebrating the 100th day of operation of the new Chengdu-Kunming Railway, which runs between Sichuan and Yunnan provinces. The tall young man, dressed in an ethnic Yi costume, spoke fluent Mandarin to promote tourism in his home village of Abuluoha, Sichuan.
Located deep in a valley of the Jinsha River on the upper stretches of the Yangtze River, the village boasts mountains on three sides and cliffs on the other, providing a wealth of natural scenery.
Those who know Jinie Ziri, 28, said he is always ready to promote his village, situated in Butuo county, Liangshan Yi autonomous prefecture, Sichuan, which is home to the largest number of Yi people in China. The village used to be extremely poor.
Abuluoha, which translates as "valley surrounded by rolling mountains" in the language of the Yi ethnic group, is the latest village in China to be connected to the outside world via a new road, which was constructed in 2020.
In the 1960s, leprosy was prevalent in Liangshan. More than 300 patients with the disease in the prefecture were accommodated in one area of Abuluoha, which was commonly known as the "leprosy village".
Covering more than 6 sq km, the village is home to 65 families and a population of 253. Until recently, 29 local families and 182 people were poverty-stricken, with corn and peas their only crops.
When Jinie Ziri reached school age, the village had no primary school. He spent 10 hours each day walking to and from a school in Jinyang county in the prefecture.
Graduating from Sichuan Radio and Television University in Chengdu, capital of Sichuan, he worked for a charity company in Xichang, Liangshan, for two years, earning 4,000 yuan a month.
Quitting his job to return to his home village, he became its youngest Party chief in 2017.
He only earned 1,600 yuan a month as the Party chief, but felt honored to help fellow villagers beat poverty. He introduced 3,000 rice plantain trees from Qiaojia county, Yunnan, and the villagers received a subsidy of 5 yuan for planting each tree.
Laibao Bazei, a 47-year-old resident, thought the trees would not survive, as they had never been grown in the village before.
But Jinie Ziri said, "As the altitude, climate, sunlight and soil in some parts of the village are similar to conditions in Qiaojia, the trees will survive."
Three years later, the village had a bumper rice plantain harvest, and many local residents escaped poverty by selling plantains, including Laibao Bazei, who carried a large bag of them from his fields to Jinie Ziri's home in appreciation.
Jinie Ziri led villagers in planting other crops, such as mangoes, seedless and green peppers, improved varieties of the root vegetable konjac, navel oranges, and a herb with a starchy, tuber-like edible stem that grows underground.
The village boasts numerous wildflowers, and bee farming has become a source of income for locals, who used to carry honey to the nearby town to sell it.
Because the town was a long way from Abuluoha, they had to stay in the town overnight, and sometimes their income from selling the honey did not cover food and lodging costs.
Jinie Ziri used his knowledge of e-commerce to promote the honey among his friends, and also mailed it to those who made orders for the product.
Villagers now sell honey from home, and the local enthusiasm for beekeeping is unprecedentedly high. The price of a kilogram of honey has risen from 60 yuan to 200 yuan, and some villagers earn 20,000 yuan a year from beekeeping alone.
Thanks to the new road, villagers now transport crops to the outside world. Their average annual income has surpassed 5,000 yuan, compared with less than 200 yuan before 2006.
Qiesha Secong, 33, a villager who sold his family's only pony to buy a motorcycle, said, "We now have more confidence in embracing a promising future."
The pony used to carry home seeds, fertilizer, salt and rice along a mountain path, but he parted with it, as the motorcycle does the job much faster.
Shi Baoyin in Zhengzhou and Mao Weihua in Urumqi contributed to this story.