South China delivers first of 8 super container vessels for MSC
Share - WeChat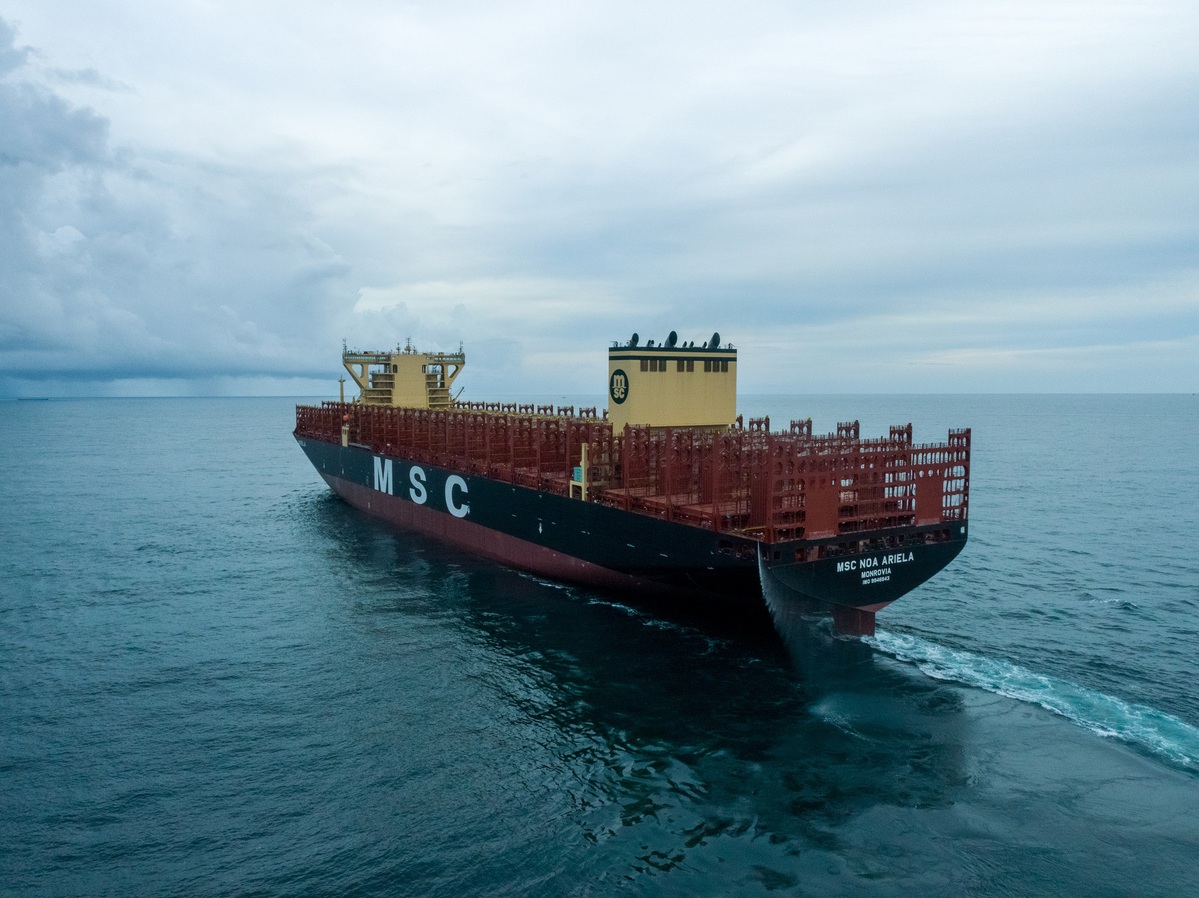 The largest container vessel in South China was delivered for use after it was named MSC NOA ARIEILA in Nansha district in the Guangdong provincial capital on Monday.
MSC NOA ARIEILA, which was jointly built by Guangzhou Shipyard International Co Ltd (GSI) and China Shipbuilding Trading Co., Ltd, is a massive 366 meters long and 51 meters wide, and it can reach a carrying capacity of 16,616 TEUs, according to a statement released by GSI on Monday.
The vessel, with a molded depth of 30.2 meters, is designed to have a draft of 14.5 meters.
It is the first of the eight container vessels that GSI and China Shipbuilding Trading Co., Ltd are building for Mediterranean Shipping Company S.A (MSC), said the statement.
Contracts for construction of the large container vessels were signed in March, 2021, it said.
Headquartered in Geneva, Switzerland, MSC is the world's largest container shipping company.
By continuously promoting technological innovation, the vessel has led the development trend for super large container ships in terms of green energy and environmental protection, the statement said.
MSC NOA ARIEILA is equipped with a desulfurization and denitrification system.
The first six container vessels will reserve liquefied natural gas (LNG) power function, while the last two ones will use LNG dual fuel propulsion system, meeting the latest environmental emission standards, said the statement.
MSC NOA ARIEILA is not only green and environmental friendly, but also energy-saving and high efficiency, with all technical indicators having reached the world's leading standards, it said.
Yang Wei, project manager of the vessel, said the vessel is equipped with a shaft generator with a power of 4,000 KW.
"When the ship is sailing normally, the shaft generator is connected to the grid with one main generator, which can meet the electricity demand of the whole vessel," said Yang.
"Through the previous navigation tests, the superiority of the performance of the vessel's shaft generator has been fully demonstrated and recognized by the ship owner," he said.
Meanwhile the vessel is also equipped with a world leading air drag reduction system.
When the vessel is sailing, the air compression system on board injects compressed air into the bottom of the vessel, forming a layer of air film at the bottom, reducing direct contact between seawater and the hull, which can greatly reduce the resistance of seawater.
More figuratively, when the air drag reduction system works, the huge ship filled with more than 16,000 TEUs will be lifted by the air membrane like a hovercraft, so that the seawater resistance will be minimized, which is also the key to the vessel's excellent green environmental performance.