Six-rotor electric helicopter unveiled at Tianjin expo
Share - WeChat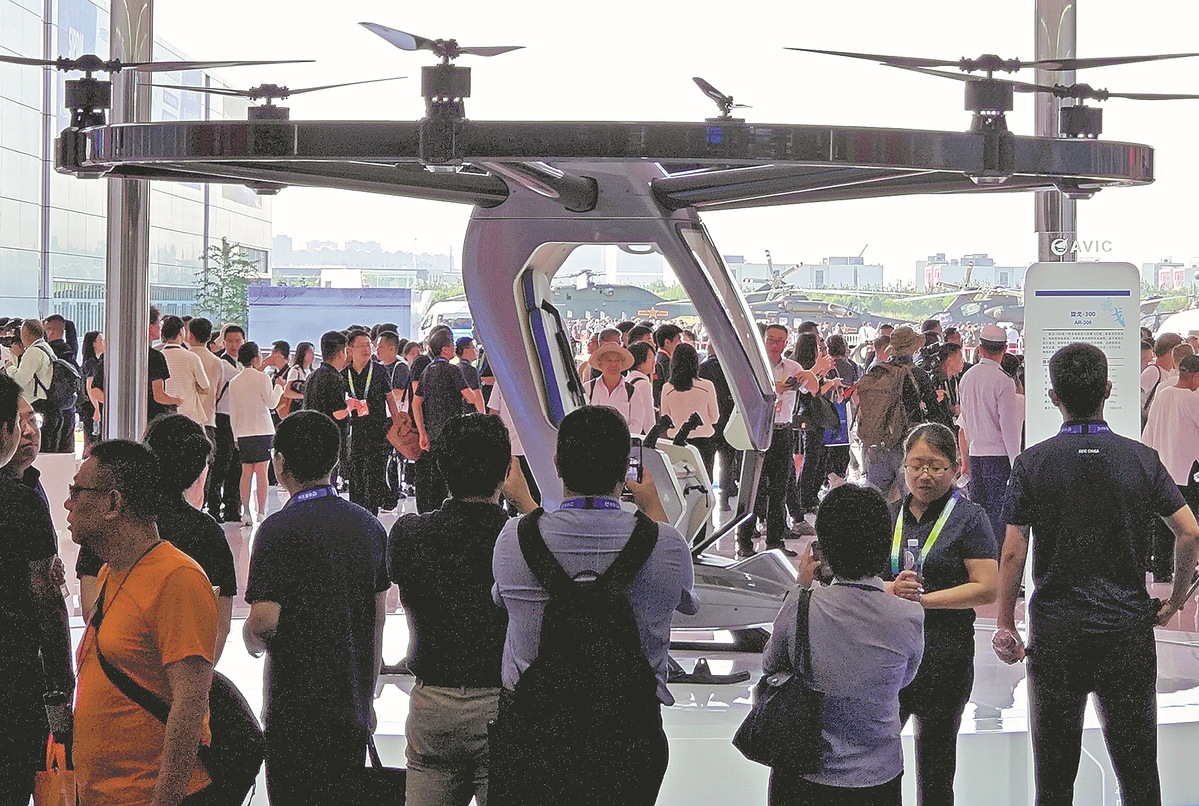 Aviation Industry Corp of China, the nation's dominant aircraft supplier, has unveiled a full-electric hexarotor aircraft that can serve civilian and military purposes.
Powered by high-performance batteries, the AR-300 is mainly composed of electric engines, electronic control systems, six rotor wings and a fuselage fully made of composite materials. It features a modular design that allows it to rapidly shift between manned and unmanned modes, according to the State-owned aviation conglomerate.
The hexarotor can be used in a wide range of businesses like tourism, urban transportation and cargo delivery. When deployed in the military, the model can help troops reach the battlefield, fire munitions to hit the enemy and perform reconnaissance, AVIC said in an introduction.
A prototype of the AR-300 is on display at the 6th China Helicopter Exposition that opened in Tianjin on Thursday.
Wang Fei, a designer at the China Helicopter Research and Development Institute in Jingdezhen, Jiangxi province, said on Thursday at the expo that the prototype is made for technology demonstration and will be used for test flights next year.
He said the hexarotor has a redundancy of safety — it can operate even if two of its rotor wings are broken.
"Another advantage is that the model has a better operational economy compared with fossil fuel-powered types. Its maintenance and flight costs are only half those of similar models that are powered by conventional fuel," the designer said, adding the electric craft has lower flight noise than models powered by fossil fuel.
Wu Peixin, an aviation industry observer in Beijing, said electric aircraft have become increasingly popular among civilian and military users around the world.
"Such aircraft are cheaper and easier to maintain and operate, and are friendlier to the environment. They are especially suitable for general-aviation operators and passengers," he explained.
Wu said the AR-300's biggest attraction is that it can fly in either manned or unpiloted modes, which will allow for greater convenience and flexibility as well as lower costs for users.
"For instance, if you want to move someone from one place to another rapidly, or evacuate an injured soldier from behind an enemy line, and you don't want to send other people to do that, you can use such aircraft," he said.
The ongoing helicopter expo is co-hosted by the Tianjin government, the People's Liberation Army Ground Force as well as AVIC, and has more than 350 participating enterprises from around the world. At least 60,000 visitors have been expected for the four-day event, the first helicopter expo in China in four years, according to the organizing committee.