WeChat to make payment service available in US
CGTN | Updated: 2017-05-08 09:41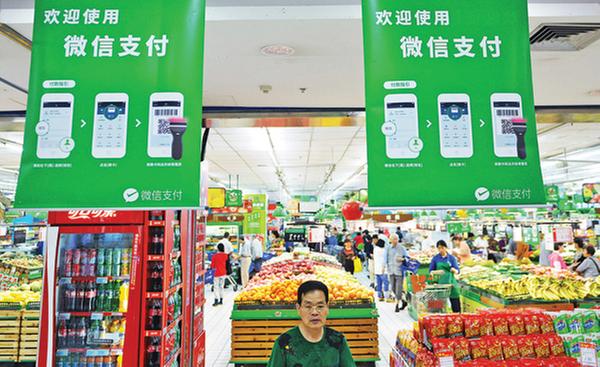 WeChat Pay advertisements hang from the ceiling at a supermarket in East China's Hangzhou city. LONG WEI/CHINA DAILY
WeChat is already one of China's most popular mobile payment methods. Now the social media app, owned by Internet giant Tencent, is teaming up with Silicon mobile payment startup Citcon to take its services to the US market.
Through WeChat accounts, users will be able to pay for whatever they need in Chinese currency renminbi without cash, just as they do in China.
For four consecutive years, China has been the world number one outbound tourism country, accounting for over 13 percent of the total tourism revenue globally. The United States has been one of the most popular destinations for Chinese travelers.
"Last year, over 100 million Chinese people traveled outside of China. Once they see this place can accept WeChat Pay, they can use their mobile phones. They certainly receive much warmer welcomes‍ from foreign countries," according to Chuck Huang, CEO of Citcon.
Mobile payment is the new frontier of commerce, and China is leading this trend. By providing an easy-to-use mobile payment and cross-border marketing solution, WeChat is empowering global merchants to connect with millions of Chinese consumers.
Currently, WeChat Pay is available in 15 countries and regions, for payments in 12 foreign currencies.
Tencent has now joined Apple and Google-parent Alphabet in the ranks of the world's biggest firms by market capitalization, with a value of more than 302 billion US dollars. Shares in the tech company hit a record high on Tuesday.
It's the only firm outside the US among the world's top 10 most valuable companies.‍