Xi urges all-out rescue effort after landslide buries 62 homes
Xinhua/chinadaily.com.cn | Updated: 2017-06-24 10:16
Highlights:
* 62 homes buried, 93 missing after landside in Maoxian county
* Fifteen people found dead
* More than 1,000 rescue and medical staff members rushed to the site
* A couple and their one-month-old baby rescued and taken to the hospital
* Experts say the landslide was triggered by rainfall
Update:
By 2 pm on Sunday, 93 people were still missing after a landslide buried more than 120 people from 62 homes at a village of Xinmo in Southwest China's Sichuan province early Saturday.
Diexi primary school and the Baila Hotel are set as temporary shelters to relocate more than 300 victims, said Xu Zhiwen, executive deputy governor of the Tibetan and Qiang autonomous prefecture of Aba, where the landslide stuck.
Authorities reduced the number of missing after confirming the safety of 15 people directly or through relatives, according to the official microblog for Xinmo's publicity department.
Rescuers had retrieved 15 bodies from the debris by 10 p.m. Saturday, the rescue headquarters said.
The search and rescue operation was underway overnight and experts have been sent to examine potential secondary disasters.
Full story: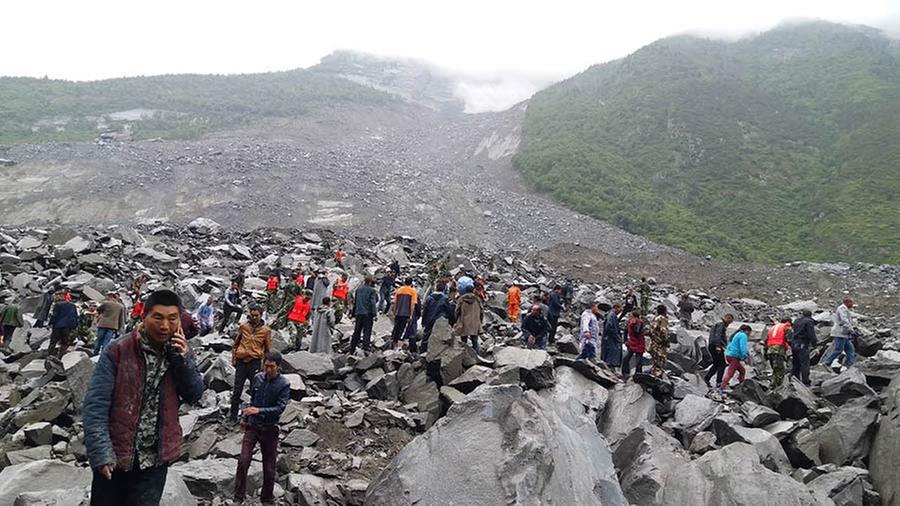 Rescue operation underway in Maoxian county, Sichuan province, on June 24, 2017. [Photo provided to China Daily]
President Xi Jinping asked rescuers to make all-out efforts to search and rescue people after a landslide buried 62 homes in Maoxian county, Sichuan province, on Saturday morning. Premier Li Keqiang also gave instructions to the rescue work.
The landslide from a high part of a mountain in Aba Tibetan and Qiang autonomous prefecture smashed into Xinmo village at about 6 am, burying 1,600 meters of road, blocking a 2-kilometers section of a river and leaving 112 missing.
Firefighters discovered six bodies in the debris this afternoon, according to local authorities.
Family members of the missing people and those suffering losses in the disaster must be given appropriate care, Xi said.
A team from the State Council has been dispatched to the landslide site to lead the rescue operations.
Experts say the landslide was triggered by rainfall, after an onsite investigation, according to the province's official website.
Sichuan provincial government launched the highest level of disaster relief response available, and instructed rescue teams to the site immediately, including 25 armed police officers early on Saturday, with an additional 100 arriving at 11 am.
An onsite provincial-level rescue headquarters has been established to lead rescue operations and an emergency communication system has put into operation at the disaster area.
More than 1,000 firefighters, medical staff and armed police officers have rushed to attend to the victims.
The rescue and medical staff team attending to the site include heavy and light-duty rescue teams. A vehicle with satellite equipment and a drone are also being used at the disaster zone.
The civil affairs bureau of Aba Tibetan and Qiang autonomous prefecture has sent 20 tents, 400 quilts, two electric generators and 400 sets of clothes to the site.
The provincial government asked privately owned vehicles to avoid the disaster area to ensure smooth operation of the rescue work.
According to publicity officials of Maoxian country, a couple and their one-month-old baby were rescued and taken to local hospital.
According to the weather department, more rainfall is expected in the next three days, which is expected to hamper the rescue effort.