Crying infant saves his parents from landslide
By Wu Yan | chinadaily.com.cn | Updated: 2017-06-24 21:53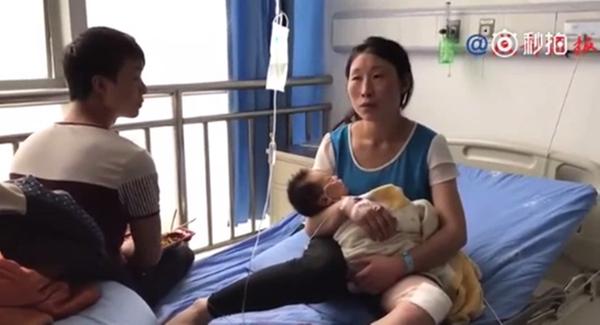 A screenshot of a video shows Xiao Yanchun holding her son at Maoxian County People's Hospital, in Aba Tibetan and Qiang autonomous prefecture, Sichuan province on June 24, 2017. [Screenshot from official Sina Weibo of Chengdu Economic Daily]
An infant saved his parents and himself from a landslide that buried about 120 people in Southwest China this morning, Chengdu Economic Daily reported.
Xiao Yanchun and her husband, Qiao Dashuai, both 26, live in Xinmo village, Maoxian county, Aba Tibetan and Qiang autonomous prefecture, Southwest China's Sichuan province. At about 6 am, their 38-day-old son was crying, so Xiao got up to change his diaper.
When she was about to go back to bed after taking care of her baby, she heard a strange sound outside the door and felt the earth quaking.
Seeing stones, water and mud flooding into the room, she grabbed the infant and struggled to get out of the room.
She and her husband crawled against the flood and ran to a safe area after leaving the house, as the whole village was engulfed by the landslide.
At about 9 am, Xiao, her husband and baby were sent to Maoxian County People's Hospital.
"Sand is all over our bodies," Xiao said. She said her baby swallowed sand and later, when the sand appeared in his excrement, the baby's stomach had to be pumped.
The three remained in the hospital for treatment this evening but none have life-threatening injuries, the report said. But the fate of Xiao's grandmother, parents and her two-year-old daughter, who failed to get out of the house, is still unknown.
A landslide from a high part of a mountain in Aba Tibetan and Qiang autonomous prefecture smashed into Xinmo village at about 6 am, burying 62 homes and leaving 6 dead and 112 missing.
Sichuan provincial authorities have launched the highest level of disaster relief response and rescue work is underway.