Foreigners return home to Harbin
By TIAN XUEFEI/ZHOU HUIYING in Harbin | China Daily | Updated: 2017-06-30 07:28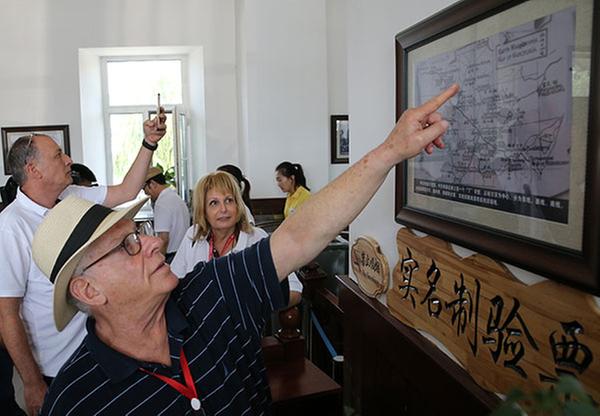 Guests of the International Conference of Former Foreign Residents in Harbin tour a former site of the Chinese Eastern Railway, which facilitated the arrival of more than 200,000 foreigners in the early 20th century.[Wang Xiaodong/China Daily]
Over 200,000 people relocated to northern city in the early 1900s
On Sunday, Ester Alon and 76 other people from Poland, Israel, Australia, Russia and Canada began a return trip to their hometown of Harbin, capital of Heilongjiang province.
They were invited to participate in the International Conference of Former Foreign Residents in Harbin, which started on Sunday and will run through Friday.
Alon was born in Harbin in 1939 to a couple who had traveled to Northeast China from Russia. She was among the second generation of 25,000 Jews who emigrated from Europe, the Middle East and Russia in the late 19th and early 20th centuries.
According to the provincial archives, more than 200,000 foreigners from nearly 40 countries went to Harbin after the establishment of the Chinese Eastern Railway, a Russian-built railway linking the Siberian railway network.
Harbin residents helped them settle down and prosper.
"I was in Harbin for 22 years, which brought me the most beautiful memories of my whole life," Alon said, showing dozens of old photos.
"These are the best record of my happy time in Harbin," she said. "I still remember my friendly Chinese neighbors who taught me traditional games."
When her family moved to Israel, she took all her Chinese-style clothes and accessories.
"During my time in Israel, every time I missed Harbin, I would take them out, which would take me back to the old days," said Alon. "So when I got the invitation for the conference, I was really happy and decided to come with my husband, who has never been here."
After many decades, she has forgotten much of her Chinese, but she still remembers how to say "I love you" in Chinese. "This is what I want to say to my beloved hometown," she said.
Mara Moustafine, a professor at the University of Sydney, was born into a large family of Jews, Russians and Tatars, four generations of whom had been in Harbin.
"During my childhood, the most common stories told by my parents were their memories of Harbin," said Moustafine. "In 2000, I brought my parents back to their cherished hometown."
"The old house we lived in has gone, but the churches and the schools of their times were still there," she said.
"Harbin cherishes the friendships with all former foreign residents," said Cao Ru, deputy director of Harbin Foreign and Overseas Affairs Office.