Reduced rainfall eases flood pressure
By Hou Liqiang in Beijing and Feng Zhiwei in Changsha | China Daily | Updated: 2017-07-04 07:26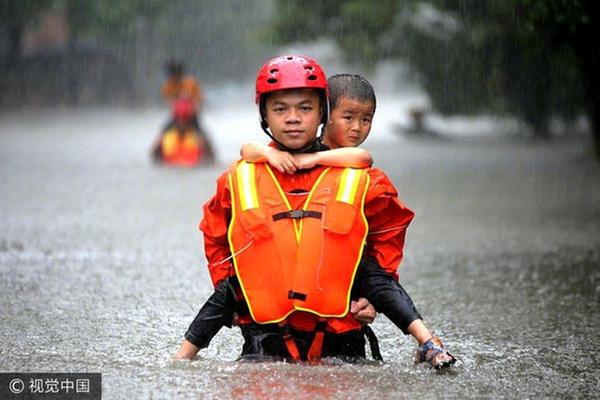 An armed police soldier carries a boy to safety in a flooded area in Changsha, Central China's Hunan province, on July 3. [Photo/VCG]
Recent downpours have killed 33 people, with 15 others still missing
Flooding in southern China should ease off on Tuesday as the rainfall that has troubled the region for more than 10 days subsides.
China's national weather observatory issued a yellow alert, the second-lowest in a four-tier weather warning system, on Monday for the seventh consecutive day of high temperatures in the northern part of the country. But it lifted a blue alert, the lowest in the warning system, which was issued late on Sunday for rain in the south.
The downpour on Sunday raised water levels in the Liujiang River and four of its tributaries in the Guangxi Zhuang autonomous region above the warning level on Monday. The continued rainfall also resulted in an increase in water levels by about 50 centimeters in Dongting and Poyang lakes and three sections along the Yangtze River, according to the State Flood Control and Drought Relief Headquarters.
Hunan has been the worst hit province along the Yangtze. Water levels at the Changsha monitoring station in the Xiangjiang River, a major Yangtze tributary, reached a record-high of 39.51 meters early on Monday, higher than the previous record of 39.18 m recorded during a massive flood in 1998.
About 326,900 people have been involved in flood control work in Hunan, Hubei, Jiangxi and Anhui provinces, with more than 80 percent of those having been dispatched in Hunan, the headquarters said.
According to the Ministry of Civil Affairs, recent downpours had killed 33 people in eight provincial-level regions as of Tuesday morning. Fifteen people are still missing and the total number of people affected has risen to 9.56 million, the ministry said.
The Ministry of Finance on Monday released 1.9 billion yuan ($280 million) in emergency fund for flood relief in 20 provinces and autonomous regions.
Floods have inundated houses, uprooted trees, and damaged cars and roads in Hunan's capital, Changsha, while intermittent rain is forecast to continue in the city until Wednesday.
The public volunteered to help fill sandbags as a flood prevention measure.
The Three Gorges Dam has helped control flooding. Its flow was 27,000 cubic meters per second before Saturday, but has now been reduced to 8,000 cu m/s, according to the Yangtze River Flood Control and Drought Relief Headquarters.
The reduction stopped 3 billion cum of water and lowered water levels by up to 1.5 meters, the headquarters said.
"We hope the reduction of outflow will give soldiers and residents enough time to stack up sandbags to battle the flooding or evacuate," said Wu Zhaohui, an official with the water resources bureau in neighboring Hubei.
The National Meteorological Center said new downpours will occur from Wednesday to Saturday, as a rain band moves to the Sichuan Basin in Southwest China.
The rainfall will affect 12 provincial regions, and the authorities sent a notice on Monday to these regions, asking them to take precautionary measures, according to the State Flood Control and Drought Relief Headquarters.
Contact the writers at houliqiang@chinadaily.com.cn