Flowers, mainly roses, serve as tokens of love
By Cang Wei in Nanjing and Li Yingqing in Kunming | China Daily | Updated: 2017-08-29 08:09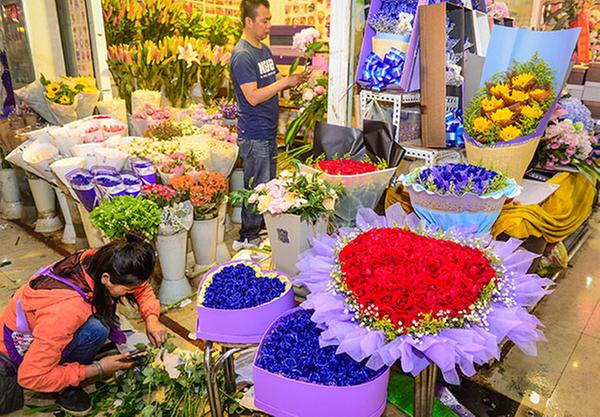 Flower shop sales assistants organize bouquets in Kunming, Yunnan province, on Friday, hoping for a boom in sales for the Qixi Festival.[Long Yudan for China Daily]
Sales of flowers, especially red roses, increase rapidly near Qixi Festival as couples celebrate what's otherwise known as Chinese Valentine's Day.
Zhang Li, general manager of Kunming International Flora Auction Trading Center, said that more than 70 million fresh flowers were sold during the 15 days before the festival. Of those, 93 percent were roses.
"The daily trade volume of fresh flowers reached more than 6 million in the week before the festival," said Zhang. "A record high of 7 million flowers were sold on both Aug 24 and 25, which surpassed the sales on this year's Valentine's Day."
Qixi Festival, which fell on Monday this year, is generally considered a romantic day, and more Chinese couples have started to celebrate the festival in recent years.
Mao Haipeng, assistant to the president of Dounan Flower Group, said the price of flowers has increased by more than 20 percent recently.
"Too much rain has also contributed to the high prices of flowers," he said. "Though we have many kinds of flowers at the Dounan Flower Market, red roses are the most popular and have been sold out."
Kunming Dounan Flower Market, in Yunnan province, is the largest fresh flower market in Asia. Its flowers have been exported to 46 countries and regions, and about 70 percent of the flowers in the country's 80 large and medium-sized cities come from the market.
Jiang Man, owner of Banbai Flower Art Studio, said the shop has sold more flowers on Qixi Festival than on Western Valentine's Day, Feb 14, for five years.
"Young Chinese couples also like preserved fresh flowers," she said. "Both the preserved fresh flowers and red roses have sold out."
"Sales of preserved fresh flowers doubled from last year," said Jin Minhui, general manager of Mr Jin Flower Company. "The market for preserved fresh flowers has been flourishing since 2013. Sales in Yunnan province are expected to reach 150 million yuan ($22.6 million).
Wei Xiao, owner of Moonlight Flower Shop in Nanjing, said good weather during Qixi Festival contributed to good flower sales.
"While Valentine's Day falls in cold February, Qixi Festival usually falls in August. Many Chinese couples wear beautiful clothes, arrange outdoor activities and buy flowers for their loved ones on a comfortable summer night."
Li Xinyi contributed to this story.