Road closure for exercisers creates friction in Qingdao
By Xie Chuanjiao in Qingdao | China Daily | Updated: 2017-08-29 08:16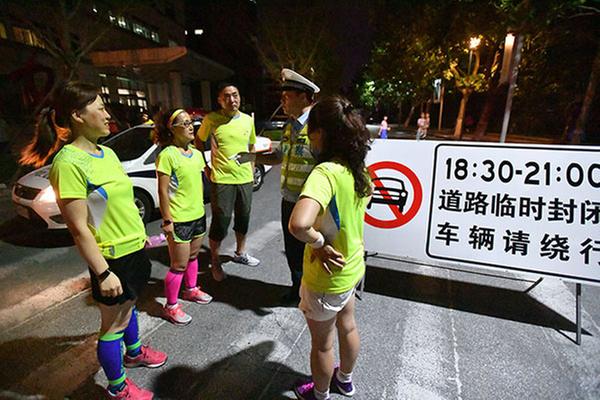 Joggers talk to a traffic police officer in Qingdao, Shandong province, on Friday. Traffic police in the city have closed a road near Badaxia Square from 6:30 pm to 9 pm daily to give people a place to exercise.[Zhao Jianpeng/for China Daily]
Traffic police in Qingdao, Shandong province, have been closing a local road every night to give people a place to exercise and jog safely.
The 150-meter, four-lane road connects to a square that serves as a major recreational spot in the neighborhood.
According to sources at the Qingdao Shinan District Traffic Police Branch, traffic is forbidden from 6:30 pm to 9 pm daily.
"The move shows respect for human lives. The number of jogging groups continues to increase, and conflicts between jogging groups and vehicles have been frequent," said freelance writer Li Yiping.
"The Qingdao traffic police's move is praiseworthy. It's always good to do something to prevent traffic accidents."
Under the national traffic law, cities can alter vehicle flow only under limited circumstances, including such things as road congestion, mass public activities and big construction projects. The law requires local authorities to notify the public about the measures in advance.
Jogging in groups has become popular across China in recent years, but fights and even accidents involving joggers and vehicles on the roads have become more frequent.
On July 11, a taxi drove into a group of people jogging in a vehicle lane in Linyi, Shandong, killing one jogger and injuring two others.
On Aug 19, when a group of about 100 joggers tried to cross a road in Nantong, Jiangsu province, a bus driver failed to give way. Some of the younger members of the group stood in front of the bus, forcing it to stop, and one of them boarded the bus and attacked the driver, while others destroyed the windscreen wiper.
Some netizens disagreed with the decision to close the road.
"It's a joke that vehicle lanes are closed to vehicles but open to walkers," a netizen named Yao said on WeChat.
One lawyer felt the decision violated drivers' rights.
"It provides a shield for pedestrians to take up traffic lanes," Zhang Xinnian, a lawyer from Beijing Jingshi Law Office, was quoted as saying by the Beijing News.
The police said they made the decision at the request of the public.
"After doing research on site, we found that there had only been about 30 vehicles passing by from 6:30 pm to 9 pm in the area we closed," said Ji Shangsong, a senior official at the police branch. "And there are no bus routes through there."