Train collides with tank south of Stockholm, four injured: report
Xinhua | Updated: 2017-09-27 10:24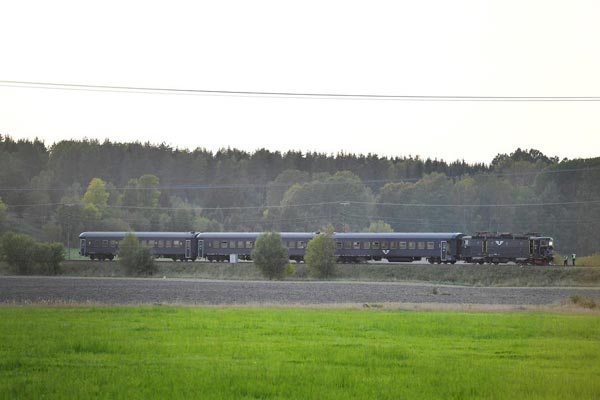 A passenger train collided with a tank and derailed, where the Swedish Military exercise Aurora 17 is taking place, near Trosa, south of Stockholm, Sweden, Sept 26, 2017. [Photo/Agencies]
STOCKHOLM - A passenger train with 70 passengers on board derailed after colliding with a tank near Trosa, south of Stockholm, leaving four people injured, Swedish Television reported on Tuesday.
The collision occurred between Lastringe and Vagnharad, in an area where the military exercise Aurora 17 is in progress.
"Three people in the military vehicle are injured. There is also information that one person on the train has suffered minor injuries," local police said.
Those injured were sent to hospitals, and the rescue service, ambulance personnel and the police are working on site, according to Swedish Television.
The Aurora 17 military drill is currently taking place in the area, and local traffic was expected to be impacted as a result. Sweden's Armed Forces confirmed that the collision was with one of their Pansarterrangbil 360 tanks.
Local reports also said that the train is still upright and on track.
The three-week-long military exercise, dubbed Aurora 17 and scheduled to end this Friday, involves a simulated attack from a feigned foreign power. It is carried out all around Sweden, but the main exercise areas are in the Stockholm region in eastern Sweden, in Gothenburg on the west coast and on the Baltic island of Gotland, according to the Swedish Armed Forces' website.
The exercise, the largest in Sweden in over two decades, also involves military personnel from seven other countries, namely Denmark, Norway, Finland, France, Lithuania, Estonia and the United States.