Western media cannot alienate China, Russia
By Yu Sui | China Daily | Updated: 2018-01-17 08:04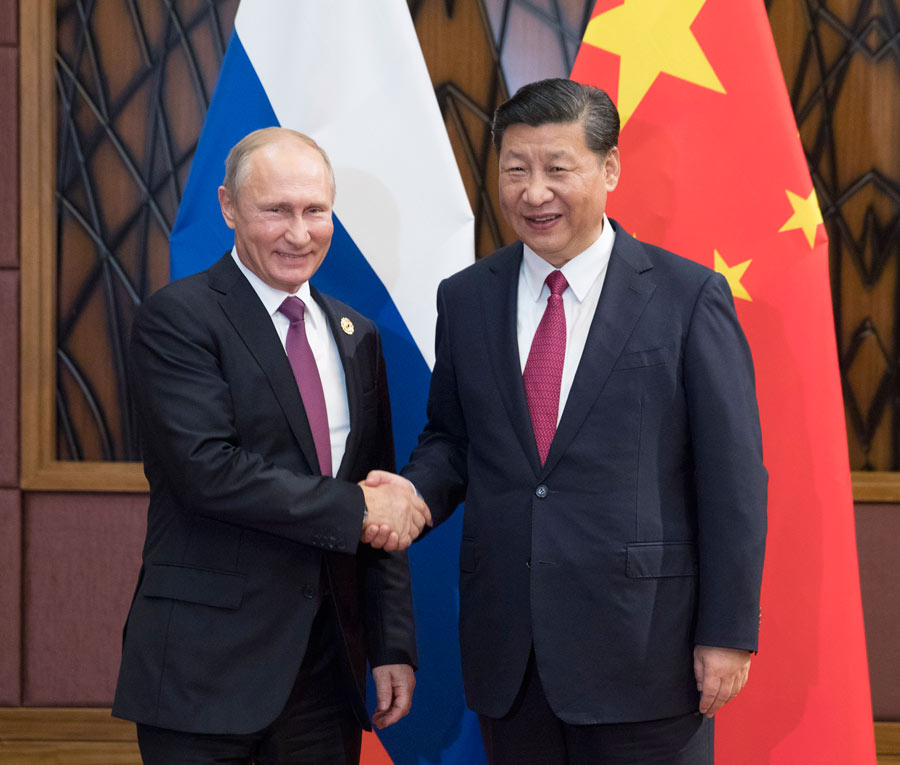 China and Russia are expected to deepen their comprehensive strategic partnership this year in line with the pledge Chinese and Russian presidents made in their New Year greetings. Thanks to the two countries' mutual understanding and respect for history and ideology, their relationship has been stable in recent years. The two sides also share the goal of national rejuvenation, and are committed to building harmonious international relations.
Over the past five years, President Xi Jinping has held talks with his Russian counterpart Vladimir Putin at least 20 times, including five times in 2017. Owing to the long-term efforts of the two countries' leaders, China and Russia have established a comprehensive strategic partnership based on mutual respect, equality and fairness, without ever attempting to build an alliance.
The frequent meetings between the two leaders have also deepened the political and strategic trust between the two countries, which is expected to lead to a new type of major-country relationship between China and Russia, and defeat the attempts of some Western countries to create misunderstandings between the two neighbors.
Some Western media outlets have hyped up reports about an online petition with about 55,000 signatures in Russia opposing Chinese investors' attempt to buy up properties on the shores of Siberia's Lake Baikal. Last year, a similar report-on a proposal to divert the lake's water to China's arid northwestern region-was refuted by the local people.
At the national level, the Russian government seeks more trade cooperation with China to offset the negative impact of the sanctions imposed by the West after the Crimea crisis on Russia's economy. Therefore, the two sides will strengthen all-around pragmatic cooperation, especially in the fields of energy and aerospace.
The supply of 38 billion cubic meters of natural gas to China every year after the completion of the China-Russia East-Route Natural Gas Pipeline in 2020 will be the highlight of their cooperation in energy. As far as aerospace technology is concerned, Premier Li Keqiang and Russian Prime Minister Dmitry Medvedev agreed at the China-Russia Prime Ministers' Regular Meeting late last year to deepen cooperation in such fields as carrier rocket, deepspace exploration, and satellite navigation and communication. They also vowed to enhance cooperation in high-speed rail technology and investment, and promote the Moscow-Kazan high-speed rail project.
The two countries will hold cultural activities from 2018 and 2019, and upgrade their joint military drills, apart from making efforts to integrate the China-proposed Belt and Road Initiative with Russia's Eurasian Economic Union. And as permanent members of the United Nations Security Council, they will continue making serious and sincere efforts to denuclearize the Korean Peninsula and deal with other global issues, including terrorism.
Besides, Beijing-Moscow cooperation in Russia's Far East development program and China's "northeast revitalization" project can be of great mutual benefit. If Russian collaboration can help develop the Xinjiang Uygur autonomous region's frontier areas and expand cross-border trade and cooperation, China's participation in the Far East program can boost the region's development.
That China-Russia relations will yield more fruits and make greater contributions to the world economy is beyond doubt no matter what the Western media outlets claim.
The author is a professor at China Center for Contemporary World Studies.