Skills, not anger and frustration, earn victory on the soccer field
By Li Yang | China Daily | Updated: 2018-01-18 07:58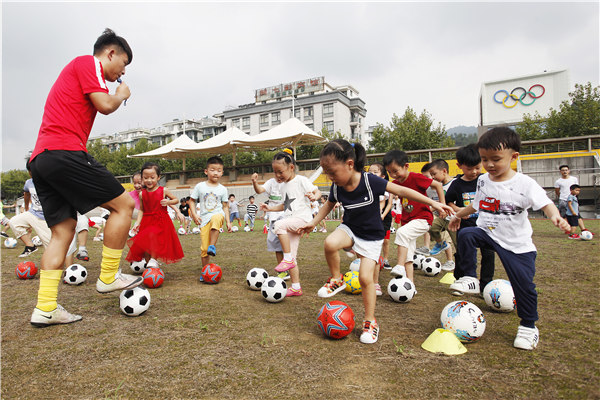 The Chinese soccer teams' 1-2 loss to Qatar in the Asian Football Confederation Under-23 Championship in Changzhou, East China's Jiangsu province, on Monday means its elimination at the group stage. China beat Oman 3-0 and lost 0-1 to Uzbekistan before losing the decisive match to Qatar.
The loss of the U-23 Chinese team would have been equally frustrating even if the players had not insulted the referees for their controversial decisions of showing seven yellow cards to the Chinese players-two to the same player, automatically making it a red card-but only one yellow to a Qatari player, by imitating the action of counting currency notes.
The young players are not likely to escape the AFC's punishment for their impulsive behavior even if the Chinese team's complaint against the unfair refereeing is accepted. And that should teach them to respect the authority of the referees even while protesting against their decisions. The players must adapt to different working styles of referees, and develop patience to cope with the fast changing situations during a match.
What is more worrisome is that the atmosphere at home is not conducive to soccer players developing patience, and learning to respect the referees even if they make a wrong decision, as even the team leader, a veteran of the Chinese Football Association, instead of maintaining his cool, blurted out with visible fury that China did not lose the match, it played against 12 players of Qatar and that Asian soccer is hopeless.
But the fact is that some Asian countries such as Japan, Uzbekistan and Thailand have made remarkable progress in soccer, and it is the state of Chinese soccer that has made many Chinese people believe the situation is hopeless.
Worse, even two days after the loss, which was an objective reflection of the gap between the two teams' quality, the dominant opinion among the media and fans is that China should withdraw from the AFC and the players did the right thing by insulting the referees.
Most soccer fans in China seem to be basking in a self-created atmosphere of fickleness and arrogance, even though the Chinese team has several talented players despite their lack of organizational ability and stability. Perhaps the "false prosperity" of the Chinese Super League is to blame, as it has turned into an industry ruled by monopolies thanks to the huge but irrational input from real estate tycoons and powerful State-owned enterprises.
Attracted by pays that for some are several times higher than what normal players get in European soccer leagues, nearly 200 foreign players, many of whom play or have played for their respective countries in Europe, Africa, Latin America and Asia, and dozens of foreign coaches have joined the CSL. Many players say that playing in the CSL is like enjoying a very well-paid "holiday".
Word-class foreign players have helped a Guangzhou club win seven consecutive CSLs and two Asian club championships since 2011, and made a number of Chinese clubs formidable powers in Asia in a short time.
But the standard of Chinese players has not improved accordingly, even if their incomes have reached international levels. Quite a few foreign players have said the level of CSL is comparable only to the third division league in Germany.
Worse, the clubs prefer buying foreign players rather than cultivating young Chinese players. After Sun Jihai, who played for Manchester City from 2002 to 2008, no Chinese player has shown the class to play in a top soccer league.
The number of registered young players in China is even lower than Vietnam and Thailand, which are China's main opponents nowadays. Yet until the 1990s, China's main rivals were South Korea, Japan, Iran and Saudi Arabia.
Late Chinese leader Deng Xiaoping, a soccer fan, said in 1978 that Chinese soccer can rise only by cultivating young players from childhood. His remark is still relevant.
The author is a writer with China Daily. liyang@chinadaily.com.cn