Traditional Chinese music hits right note in US college program
By ZHANG RUINAN in New York | China Daily | Updated: 2018-01-30 09:02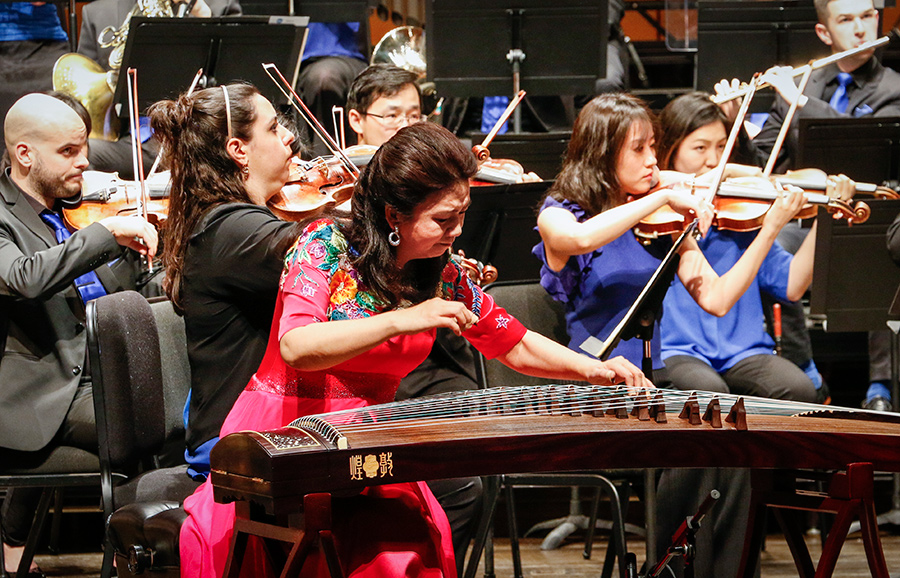 The beautiful and penetrating sound of pipa, guzheng and erhu, traditional Chinese folk instruments with the grandeur for a Western orchestra, were perfectly combined during the performance of Music From China: East Meets West, performed at Bard College's Fisher Center for the Performing Arts in New York's Hudson Valley on Sunday.
The concert marked the launch of the Chinese Music Development Initiative, in which Chinese folk instruments are being formally taught in a Western music education system for the first time.
The initiative, launched in December by Beijing's Central Conservatory of Music and New York's Bard College Conservatory of Music, includes the first undergraduate program for the erhu, guzheng and pipa in the United States. It began with the fall term this year.
China launched education in Western music about 100 years ago, and it picked up with the country's opening-up about 40 years ago. Since then, education in Western music has flourished, said Zhang Qiyue, China's consul general in New York, in her speech at the concert.
"On the other hand, here in the US, you hardly had any students who really knew Chinese traditional music. The United States is not the only country that suffers from such a deficit. We're in a deficit as far as cultural appreciation and cultural recognition are concerned. Thus, we have to work on this really hard to reduce the deficit."
"That's why the partnership is so important as a milestone of the US-China exchanges in the culture and music fields," she said.
The Central Conservatory of Music and the Bard Conservatory have taken the lead in opening foreign conservatories to Chinese culture, Central Conservatory President Yu Feng said after receiving a certificate of faculty appointment granted by the Bard Conservatory.
"This innovative step has historical significance in the development of Chinese music in the West. Our cooperation with Bard College, one of the finest liberal arts colleges in America, with a rich history of 157 years, sends out a clear Chinese voice to the world that we have entered into a new cooperation mode and a new stage through the integration of music and cultural exchanges," Yu said.
"This agreement is a milestone in Bard College's international engagement," Bard President Leon Botstein said. "Our partnership with the Central Conservatory will result in deeper connections with China's vibrant musical life and rich heritage."
More than 400 years ago, the Italian Jesuit Matteo Ricci presented a Ming Dynasty emperor with a Western musical instrument, planting the seeds of Western music in China, said Cai Jindong, director of the US-China Music Institute of the Bard Conservatory. "Now, we at Bard hope to make a similar contribution, deepening the development of Chinese music in the West. I am sure it will not take four centuries."