Wang Tao line inspired by Catherine the Great
By Judy Zhu in New York | China Daily USA | Updated: 2018-02-12 16:32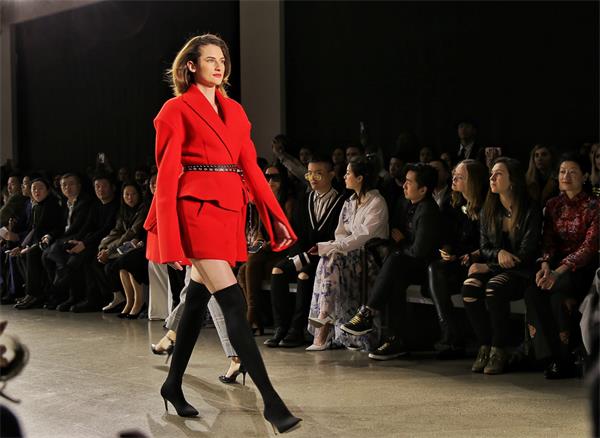 Wang Tao reached back into the 18th century for her latest fashion inspiration.
As a pioneer of professional and modern women's fashion, the Chinese designer said the motivation for her new collection, titled "Enlightenment Empress", was a great woman who had a major influence on women's fashion history.
"The collection was inspired by Catherine the Great, an empress of Russia in the late 18th century. She was the country's first female leader during the Russian age of enlightenment," Wang said.
"She made a great improvement on women's military uniforms, which inspired me to empower women's fashion in the 21st century," Wang said during a pre-show interview backstage on Saturday during New York Fashion Week.
Wang debuted the latest fall / winter 2018 collection of her namesake brand Taoray Wang on Saturday at Spring Studios in Manhattan's Tribeca.
Wang, often hailed as the "Queen of the Suit", said the "Enlightenment Empress" embraces the classic and the modern, East and West in traditional military olive green and striking Russian red, which turned the military uniform, often the symbol of men's power, into a graceful armor for women professionals.
The runway show attracted many notable names, including American style icon Olivia Palermo and Kimberly Guilfoyle of Fox News.
"I wear Taoray Wang on my show on Fox News all the time," Guilfoyle said. "Beautiful designs, vibrant colors, very cutting-edge and translates well on television."
"She (Wang) is really truly a modern extraordinary designer and gaining quite a following in the United States," Guilfoyle said.
Tiffany Trump, the youngest daughter of US President Donald Trump and a longtime fan of Wang's design, was also on the guest list. However, she couldn't make it to the show.
Trump was there to support Wang the last two seasons. She wore a Taoray Wang outfit at her father's inauguration in January 2017.
"Tiffany got to know me from her friend's look book, and she canceled her flight to Los Angeles to come to my show that day," Wang told Xinhua News in a previous interview. Wang debuted her brand at NYFW in the fall of 2014.
Later this year, Wang will open her first store in Manhattan's SoHo district. The shop will function both as a retail store where shoppers could walk in and buy Taoray Wang's ready-to-wear ensembles, and a membership club, where participants could come in for measurements, look at styles and order custom pieces.