From Xi'an to Liverpool, the march of priceless treasures
By Bo Leung | China Daily | Updated: 2018-02-13 07:25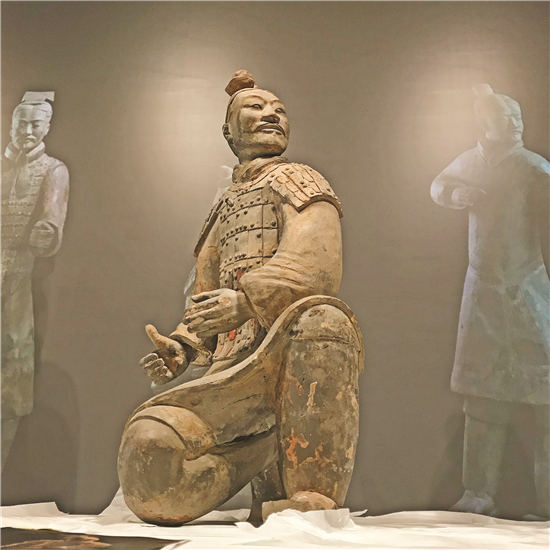 Before the handover of the items, condition checks were carried out in Xi'an.
Experts from both sides carried out detailed inspections of the relics, looking out for things such as cracks and stains.
The details were recorded, signed, pictures were taken and a bilingual copy of the results made. The process can take several hours for each piece, depending on the object.
Experts examined each relic carefully again when they arrived on site at Liverpool's World Museum and, after the exhibition ends in October, the objects will go through the same process before they are returned to China.
Wu Haiyun, project manager at the Shaanxi Cultural Heritage Promotion Center, said loaning its national treasures to overseas institutions is something that is taken very seriously.
"For our part, in order to loan our cultural relics, we have repeatedly negotiated with the British side," Wu says. "Especially in insurance and safe transportation, we have made a lot of safety requirements to carry out the exhibition smoothly."
The traveling objects are packed according to their shape and size; some figures can weigh up to 300 kilograms.
They are packed by skilled handlers who use acid-free paper and are then put into specially-constructed crates that have a material lining to absorb shock and prevent moisture. Special plastic wrap is used to seal each container.
The vehicles used to transport the historical items have dampening devices and are not allowed to travel faster than 80 kilometers per hour. The vehicles' journeys are recorded by China's Ministry of Public Security.
"Clearly, with material that's more than 2,000 years old, it's all going to be difficult to transport," says Philpott. "So, everything has to be very carefully created. Everything is conditionally checked before it's packed and transported." Other things that had to be done before the Terracotta Warriors could be sent to Liverpool included the upgrading of the museum's security system and the installation of additional security cameras. The relics arrived in late January by plane and the installation of the Terracotta Warriors for the exhibition took a further two weeks.
Wu says the exhibition was made possible through joint efforts between the United Kingdom and China, and was thanks to the work of thousands of people.