From Xi'an to Liverpool, the march of priceless treasures
By Bo Leung | China Daily | Updated: 2018-02-13 07:25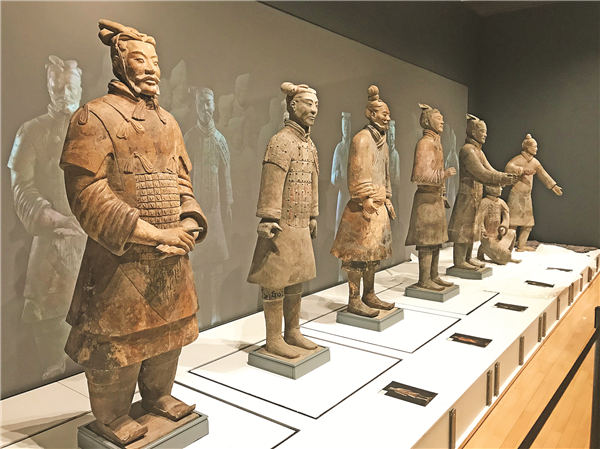 "From both the UK and China, we have four restoration experts, professional experts in cultural relics, a specialized company that packs and ships relics, a company that specializes in special artifacts, and companies that specialize in lighting, temperature and humidity," he says.
The discovery of the Terracotta Warriors in Xi'an in 1974 by farmers digging a well led to one of the most significant archaeological excavations of the 20th century.
Since then, archaeologists have uncovered three large pits of life-size Terracotta Warriors to the east of the mausoleum of Emperor Qin Shihuang, each with their own individual clothing, hairstyle, and facial features, along with horses and war chariots.
More than 2,000 figures of warriors and horses, as well as other objects, including chariots and weapons, have been unearthed. Experts believe there is likely around 8,000 figures in total.
The Terracotta Warriors were assembled more than 2,200 years ago for China's first emperor, Qin Shihuang, because it was believed the army would protect him in the afterlife. The emperor's mausoleum remains unopened.
Philpott says the whole experience of bringing some of the Terracotta Warriors to Liverpool was positive. And she says there could be future collaborations with China.
"I know there's interest in the possibility of perhaps touring our own collections in China in the future," she says. "That would be something we would really like to do."
Matt Hancock, secretary of state for the Department for Digital, Culture, Media and Sport, says: "The Terracotta Warriors are an iconic cultural treasure produced by ancient China. Bringing them to Liverpool is a real coup and testament to the strength of the UK-China cultural relationship."