Treasuring memories of southern Guangdong
By Bruce Connolly | chinadaily.com.cn | Updated: 2018-02-13 11:34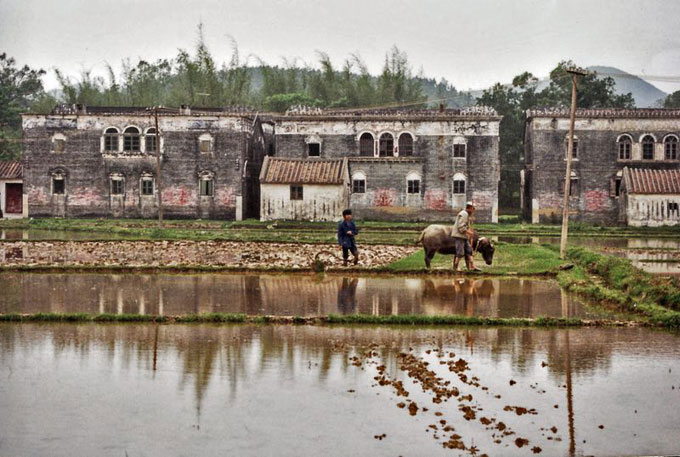 I was starting to see a pattern around Taishan. A central city, in this case Taicheng, surrounded by rural communities initially providing food supplies for the urban areas where higher levels of administration, commerce and education were mostly concentrated. Then there would be different levels of villages, including Fengqi. Wenquancun ('hot springs village'), where I would stay, is part of Sanhezhen town.
A nodal settlement, Sanhezhen is a route center with buses connecting across southwest Guangdong. At its core, a market, shops, restaurants - one where I was taken for morning tea and dim sum - and there were small hotels. In July 1993 I stayed for a few days in a simple guesthouse close to the hot springs. There I experienced my first typhoon as it swept in from the South China Sea: night-long flashes of lightning, violent sounds of the wind, glass breaking, trees crashing over, a power failure. Sleep was impossible with dawn revealing both structural damage, along with flooding across many highways. I never discovered if there was any human toll but life amazingly, quickly, returned to normal.
At last I got close to the countryside, cycling to nearby Fengqi village along quiet roads, avoiding scurrying chickens, passing fish ponds and pig enclosures. An initial impression was the relative size of the mainly two-floor dark brick houses and meeting halls. It was hard to age the buildings because the consistent humid tropical atmosphere would quickly darken exterior walls. Regularly I felt an Arabic influence in window design, something that had intrigued me in Taicheng, where I also saw Portuguese words on some buildings. Close to the sea, the area was influenced by movement along the Maritime Silk Road.
Not wasting land, buildings were close together with only narrow access passages between.