Treasuring memories of southern Guangdong
By Bruce Connolly | chinadaily.com.cn | Updated: 2018-02-13 11:34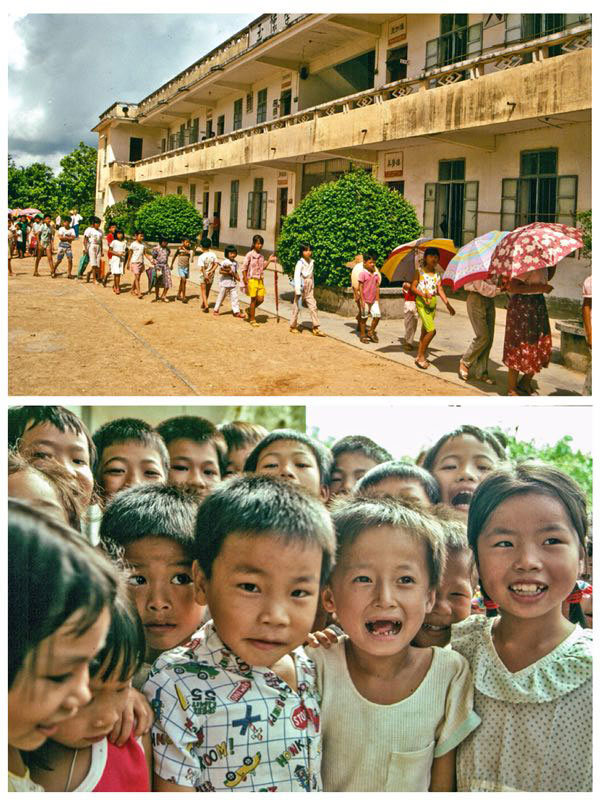 All so different from the UK, where farms were individual units. In China the village had evolved from a system where people would commonly share their labor during plowing and harvesting. Going inside the family home I smiled and thought how much larger it was compared to my former Scottish abode. Modern amenities, however, were few. Although televisions were increasingly common in 1993, phones were not, even within cities. People would go, for example, to a shop to make a call. Over recent years mobile technology has radically transformed that situation nationwide. Similarly, refrigeration was then a luxury few could afford. Consequently, chicken or fish for dinner would be brought, often by bicycle, live from a market. Having been brought up in the sanitized atmosphere of supermarkets this was something so different for me initially to accept, but it was a reality of rural life. Vegetables, including melons, peanuts and peppers, grew in bamboo-fenced plots behind the homes. Cooking was stir-frying, at high temperature, in a metal wok over a wood or straw-fired stove. Water was physically hauled up from a communal well to be carried inside, suspended from bamboo shoulder poles. People never complained, indeed there was a resilience I came to admire. However that was a quarter century ago. Returning over the years I noticed a steady improvement in rural living standards and amenities, partly through national/local governmental initiatives but also younger people moving to Guangdong's thriving cities sending money back. Then there were the 'Huaqiao' or overseas Chinese, who generously helped their kinfolk.
Meeting local farming families I increasingly appreciated how people's lives were intertwined with the land and its annual seasonal cycles. In southern Guangdong crops grow all year but in 1993 farming technology was intermediate. The buffalo was the 'beast of burden' pulling the plow, with entire families working together at busy times, squelching deep in the wet alluvial mud of the rice fields. In Scotland we loved to be out enjoying days of sunshine and blue skies but for China's farmers the sun beating down on their backs and necks was to be best avoided as they toiled bent down. Many wore woven bamboo hats. Light rain was a blessing, helping reduce heat effects. Some farmers worked barefoot. I asked about parasitic infections from snails or worms and also of snakes? Medical services were limited; although there might be village clinics, hospitals were in the cities - a problem in enticing highly qualified practitioners to work in the countryside.
Life felt traditional with a rhythm revolving around daylight hours. Apart from television there was little artificial entertainment. Social life was spent fishing at the river or around a small square shaded by trees where people would sit in the evenings chatting or playing musical instruments. On weekends, going into Sanhezhen for morning tea and shopping seemed popular.