Xi leadership key to winning anti-graft fight
By M.D. Nalapat | China Daily | Updated: 2018-03-12 07:36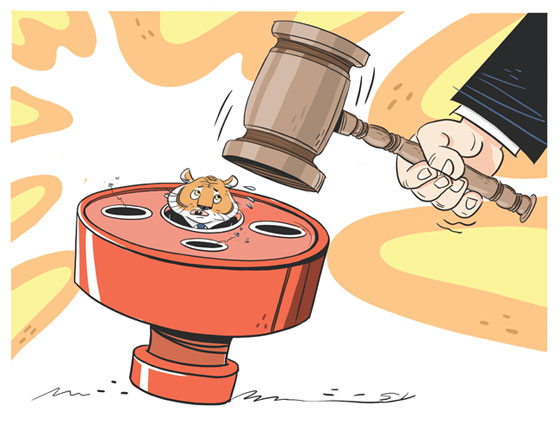 Corruption has severe harmful effects on a country. It gives an unfair advantage to the corrupt businesspeople in their competition with honest individuals.
As a consequence, the honest suffer at the hands of the dishonest, and money power supersedes public interest in official decisions, leading to policies and actions by government agencies that favor the few corrupt tycoons instead of the honest hundreds of millions engaged in productive activities. Also, the costs of projects go up so as to cover the bribes paid to ensure their completion.
In this context, the anti-corruption campaign led by President Xi Jinping is necessary for China to escape the "middle-income trap" to become a high-income country in the near future. And China has been trying to institutionalize the anti-graft fight by setting up a nationwide supervisory mechanism.
But such a campaign is bound to face opposition from those officials affected by the strong measures that Xi has implemented to first reduce and finally eliminate official corruption.
Usually, so-called anti-corruption campaigns punish only a few junior officials while allowing high-level officials to escape unpunished. The fact is that corruption cannot be controlled unless the fight against graft reaches the top, and it is clear that Xi is not afraid to bring to justice even those officials who are very powerful and influential.
The best defense against the efforts of the officials working to block the anti-corruption campaign is strong leadership, a quality that Xi has in abundance.
Of course, to win this battle against corruption, Xi needs to be given time and the required authority and power. And should he succeed in his endeavor, which seems highly likely, the Chinese people will celebrate their country becoming the world's most powerful economy in a few years. This will be a remarkable journey for China that until a few decades ago was an impoverished country.