Trump out to damage world trade system
By Yu Yang | China Daily | Updated: 2018-03-21 07:20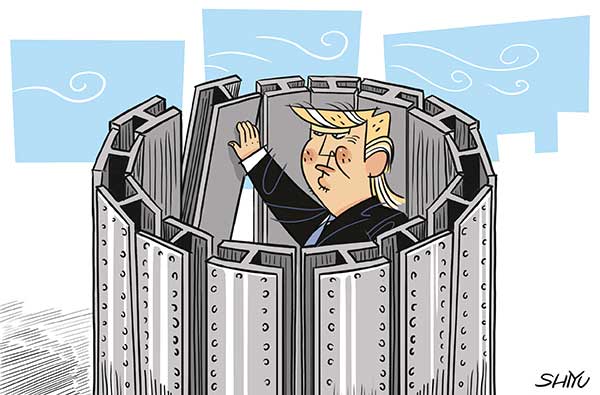 Chinese Premier Li Keqiang has once again urged the US to adopt a rational approach to China-US trade dispute, as a trade war will be a lose-lose game for both sides. At a press conference on Tuesday, Li asked the US and China both to maintain the momentum of bilateral trade, which surpassed $580 billion last year.
On March 8, US President Donald Trump raised tariffs on imported steel and aluminum to 25 percent and 10 percent, inviting criticism both from home and the international community.
The Economist, for example, says that increases in steel and aluminum prices owing to these tariffs will, in the short run, create 33,000 metal-making jobs but destroy 179,000 metal-dependent ones. As the magazine said, Trump is thus "screwing over two Rose Bowls of people for the sake of one Fenway Park".
According to the US Tax Foundation's estimate, if imports this year equal the 2017 levels, Trump's tariffs on steel and aluminum could bring nearly $9 billion in tax revenue for the federal government, but will cost US companies nearly $9 billion in return. The total value of imported steel was just more than $29 billion last year. When the 25 percent tariff is levied on the same amount of imported steel, the tax will be about $7.3 billion. Similarly, when a 10 percent tariff is imposed on the $16.8 billion worth of aluminum imported last year, the tax will be nearly $1.7 billion.
Since the US' total federal tax revenue in 2017 was about $1.32 trillion, the proportion of tax from the steel and aluminum tariffs will be very small. And if some countries, such as Canada and Mexico, are exempted in the first round, the tariff revenue will be minimal.
In other words, Trump's high tariffs can only do more harm to the world. An estimate by the Center for Strategic and International Studies in Washington shows Trump's policy will cost US trade partners a loss of $14.2 billion, with the most affected being Canada ($3.2 billion), the European Union ($2.6 billion), the Republic of Korea ($1.1 billion), Mexico ($1 billion) and China ($0.69 billion).
A Brookings Institution assessment predicts that if other countries fight back and levy high tariffs too, it will push the global tariff level up by 10 percent, and reduce the US' gross domestic product by 1.3 percent, with most other countries suffering a 1-4.5 percent reduction in GDP. Trade wars have no winners, as they say.
Worse, Trump's high tariff policy will shake up the global trading system, which underpins its global influence. And the core of the world economy and trading system is rules-based free trade. What Trump is now doing is trying to change the rules-based system to an "America First" system.
One of the biggest merits of the global trading system is that all countries can do business without concern. But US actions are posing a threat to their interests.
The US badly needs imported steel and aluminum, because it doesn't produce them enough to meet domestic needs. The decrease in US steel and aluminum production is the result of comparative advantages and the division of global labor. But Trump blames it all on unfair trade.
Bullying is part of Trump's approach toward other countries. He is using Section 232 of the Trade Expansion Act of 1962, which has provisions for action based on a threat to national security. He also claims the World Trade Organization can't adjudicate. If other countries also follow his approach, the WTO will lose one of its most important roles as a dispute settlement platform.
Now the global trading system is in peril. If Trump continues damaging the system, it will inevitably make world economic growth slower and riskier, which will make the world, including the US, soon feel serious pain. Hopefully, he will respond to the rational voices.
The author is a research fellow in US economy studies at China Institutes of Contemporary International Relations.
Source: chinausfocus.com