Grabbing profit opportunity in claw machines
By Chen Meiling | China Daily | Updated: 2018-04-23 07:03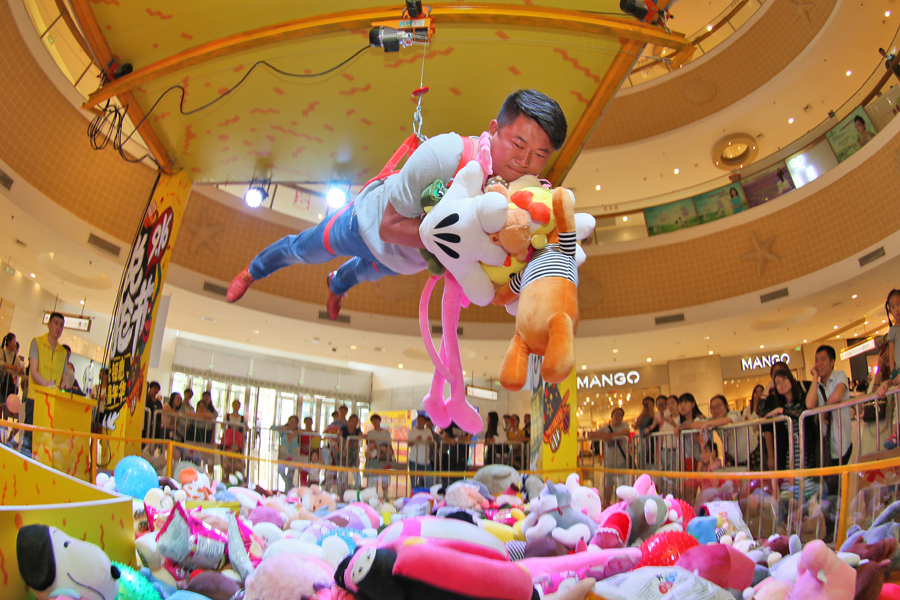 Doll dispensers at public spaces show potential to emerge as a lucrative trade
Sometimes, business can be fun when fun is the business. Operators of claw doll grabber machines in China will probably agree.
Such machines are fast becoming ubiquitous at public spaces such as railway station concourses, malls, restaurants, KTV joints and cinema lounges, which appear to be the breeding grounds of innovative small businesses like automated instant photography studios and karaoke kiosks.
Typically, users can grab a doll in three simple steps: first, toss a couple of coins, or 2 yuan (32 cents); second, manipulate rockers; and third, push the car gear-like lever to manoeuvre the metal claw.
An optional fourth step could be saying a prayer so the metal claw would grab the doll and move it to the machine's delivery slot carefully without dropping it midway.
Great fun for the players; even more fun, or money/profit, for the machine operators, if the market insiders are to be believed.
A claw doll grabber machine is basically a brightly illuminated glass-and-metal box containing dolls (little colorful teddy bears and the like), neatly slotted in niches, which can be manoeuvred out of the machine through an electronic mechanism.
On the first floor of the Gate City Mall in Beijing, there are about 20 such machines. Hung on the wall above them is a big billboard calling the corner Joy Kitty. Young women or couples passing by stop now and then to push their luck.
Although the claw doll grabber machine business originated in Japan, its beginnings in China were as a low-end street game offered by some shop owners to attract children. Gradually, its popularity grew among consumers.
"Before our wedding, my husband, then my boyfriend, and I often played this game together. It helped us bond well. What's more, when he won a lovely doll and gifted it to me, I gifted him my heart," said Li Ying, a public relations practitioner, gushingly, reminiscing about her whirlwind courtship in Beijing.
After that, Li fell in love with the machines, rather the cute dolls in them, as well. Every shopping or dining out session since 2010 included some play time. In all, the doll games cost her several thousand yuan. At their home, she has about 50 doll trophies, including Mickey Mouse and Pikachu, to show for her effort.
"Only 2 yuan for a chance to grab a cute doll-it's worth trying," Li said. "When I finally succeed after several attempts, the sense of elation fills me with happiness."