It's game on for e-sports at colleges
By Shi Futian | China Daily | Updated: 2018-05-01 02:12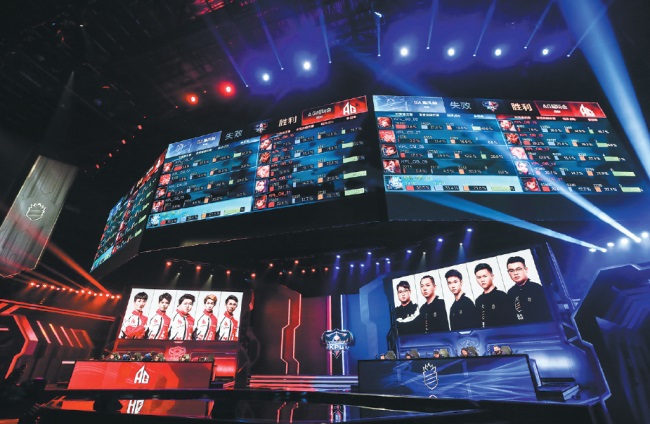 More Chinese universities are embracing gaming as they see big job opportunities in the development of the sector, as Shi Futian reports.
E-sports and education have long been regarded as incompatible in China, with gaming considered the No 1 enemy of academic performance. But that is changing as the healthy development of e-sports gains more recognition.
The inaugural 2018 University Cyber League, co-organized by Tencent Sports, is one example. The only e-sports tournament approved by the Federation of University Sports of China, it is one of the biggest of its kind in China, boasting the most teams and the nation's top university players.
The tournament wrapped up its north, south, east and west division competitions in late April. More than 8,000 spectators attended the divisional competitions, which also attracted over 50 million online viewers.
The divisional champions are now preparing for the league's first national championship, in Suzhou, Jiangsu province, on Sunday.
The winners of the four divisions — 20 teams representing 16 universities around China, including top ones like Renmin University of China and Fudan University — will compete in five different arenas: soccer game FIFA Online, basketball game Strongest NBA, first-person shooter CrossFire, multiplayer battle game League of Legends and homegrown hit King of Glory.
"University plays a vital role in facilitating the standardization and industrialization of a healthy e-sports industry in China," said Ewell Zhao, general manager of Tencent Sports.
"Through tournament operation and promotion, Tencent will ensure UCL is a professional, university-level e-sports tournament, which will help facilitate e-sports' development in China."
Although the inaugural UCL is groundbreaking, the development of university-level e-sports remains in its infancy. "We started the e-sports society at our university three years ago, and it was organized by students with no help from teachers or the school," said Li Jiyun, captain of the Renmin University team that was crowned north division League of Legends champion.
Li's team, with members from various years and backing from what is now a university sanctioned e-sports club, is in better shape than the one at prestigious Peking University, whose captain, Ge Jiadi, said it was made up only of freshmen and had received no help from anyone. No Peking University team won through to the national championship.
Despite the fact that many university e-sports teams and clubs in China are managed by students themselves, gaming has earned a place in the academic world, with many universities starting e-sports classes.
In September 2016, the Ministry of Education listed "e-sports and management" as a major for colleges, paving the way for higher-education institutes to offer e-sports-related courses and official diplomas.
However, creating more world-class e-sports gamers is not China's priority, with the courses focusing on the need to produce more game designers, tournament managers and e-sports broadcasters.
According to an e-sports industry survey released by internet giant Tencent's Penguin Intelligence think tank in June, 570,000 positions will need to be filled in league management, media production, data mining, commentating and training. It also said 85 percent of positions in the industry were understaffed.
Fourteen years ago, Communication University of China became one of the first colleges in the country to offer degrees in game design, and it added an e-sports-dedicated subject, digital media art, last year aimed at further developing gaming management and design talent.
The Shanghai Theater Academy, meanwhile, is offering an e-sports commentating course. Forty students signed up for its launch in the fall.
Among all the universities offering e-sports classes, Peking University has received the most attention.
Chen Jiang, associate professor at Peking University's School of Electronics Engineering and Computer Science, started an e-sports class in the spring semester that proved extremely popular.
"The class was originally designed for 120 students, but about 160 showed up on the first day," Chen said. "The students asked me to bring more people into the class and change to a bigger classroom, which I did. Two weeks later, there were about 200 students."
Chen said the course was not a gaming training camp, but included in-depth study of the gaming industry, technical designs and user experience.
"When I prepared the class before the semester, I did a lot of research on how foreign universities have incorporated e-sports courses," Chen said.
"A typical example is the University of Southern California, one of the best universities in the United States. Students there can earn around 14 academic degrees at different levels associated with games and e-sports, including game design.
"I was totally shocked when I saw how far USC has come. They were already offering so many degrees, and we didn't even have an e-sports course in any of our top universities."
Booming market
Although university-level e-sports development has just got started in China, the country's e-sports market is now huge and its value has skyrocketed in recent years.
According to Penguin Intelligence's 2017 China Game Industry Report, released in June, the annual market value of China's e-sports sector reached 20 billion yuan ($3.19 billion) in 2016, generated by gamers' spending, copyright distribution, merchandising and e-commerce. The number of registered online gamers jumped to 220 million in 2017 from 170 million in 2016.
Another report, from market researcher Niko Partner, showed China's e-sports market topped $1.26 billion in 2017, while the total prize money at Chinese tournaments was $64 million — up from $51 million the previous year.
Tencent's King of Glory has amassed over 200 million registered users since its launch in 2015, and an e-sports competition based on the game — King Pro League — has taken the country by storm since its establishment a year later.
The fall season final of the 2017 KPL attracted over 11,000 excited fans at Shenzhen Bay Sports Center in Shenzhen, Guangdong province, in December.
The KPL's live broadcast, video and other media content notched a staggering 10.3 billion online views last year.
Its 2017 spring season live broadcasts were viewed 2.68 billion times, while the live broadcasts of the fall season were viewed 3.6 billion times — a 33 percent increase within six months.
The KPL's 2018 spring season kicked off in March, and with a new competition format and an upgraded version of King of Glory, organizers hope to attract even more fans.
"A year before, nobody knew if the KPL can go this far," said KPL President Zhang Yijia, the general manager of Tencent's mobile e-sports department. "But a year later, we have witnessed the growth of the KPL from zero. At the very beginning there were no spectators. Then there were 100. Then 1,000. Now, we have heard the roar of over 10,000 spectators cheering for their heroes at the stadium."
China's professional e-sports teams play at a much higher level than the university teams.
QGhappy, the team that completed a clean sweep of KPL titles last year, calls its system of cultivating future champions "The Sickle", and it carefully manages its players, even providing them with physicians and psychologists.
Apart from clubs themselves, the league is also helping out. To ensure its sustainable development, the KPL has been working with the clubs to nurture talent, with players assigned professional training sessions, coaches and data analysts.
"The KPL and the clubs are in a win-win situation," said Zhu Bo, QGhappy's founder. "The league is becoming a community of shared interests, and introducing regulations like the salary cap is beneficial."
Apart from Tencent, Alisports, the sports arm of e-commerce giant Alibaba, has also joined the party after launching the Alisports World Electronic Sports Games in March 2016, with 1,200 events planned across 15 Chinese cities. Another Chinese tech giant, NetEase, is also trying to develop an e-sports league based on its own games.
Contact the writer at shifutian@chinadaily.com.cn