The pinnacle of heritage protection
By ZHANG KUN in Shanghai | China Daily | Updated: 2018-06-16 04:42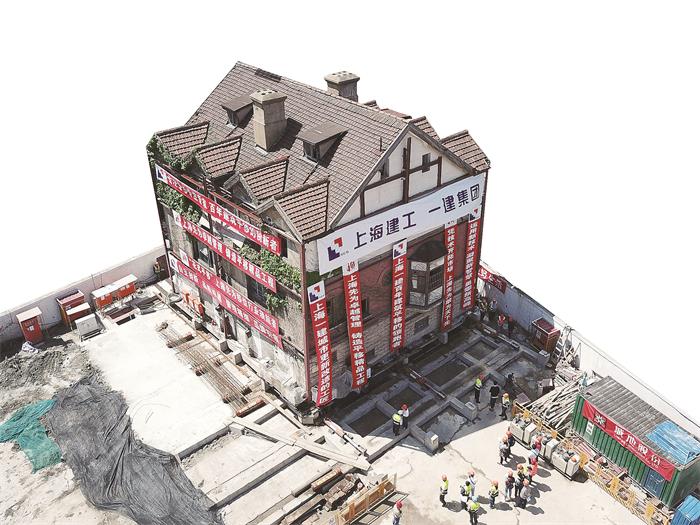 In an effort to preserve historical buildings, authorities in China have turned to relocating them in their entirety
A 90-year-old heritage building in Shanghai's Hongkou district was moved by hydraulic machines along a rail on June 1 to make room for the construction of a new office building.
The three-story building of nearly 700 square meters at 84 Hainan Road was first moved 18 meters southwest, turned 89.6 degrees clockwise, then shifted another 7 meters southwest, lifted 0.5 meters, and again moved 21.45 meters southwest and finally 6.87 meters southeast before arriving at its designated location.
"Architects are now able to move buildings left and right, up and down, waltzing them to an ideal location," said Shen Wei, the project manager with Shanghai Construction No 1 (Group) Co.
This is just one of many cases of building relocations in the country. According to the Shanghai Observer, a local news portal, more than 10 protected structures have been moved since the 1990s as a means of preserving these tangible pieces of history as urbanization picks up pace in China.
In 2001, the Jinlun Guild Hall in Guangzhou of Guangdong province was moved 80 meters northwest to make space for the widened Kangwang Road.
Built in 1732, the hall was originally the assembly place for a silk weaving guild in the city. Relocation of historical structures have also taken place in Beijing and Wuhan of Hubei province, in 2008 and 2016 respectively.
"We have found a solution, that is to relocate the antique buildings, and integrate them into the new urban landscape," Shen said. "This building at 84 Hainan Road is the latest illustration of our capabilities.
"The historical building had to be moved in several phases because the work space was very constricted, and it had to be rotated to make sure the facade — the most beautiful side — faced the public."
Shen and colleagues modified the system used in shifting buildings. Shen pointed out that the new system has reduced the time required for relocation by up to three times. Less manpower is also needed.
The relocation project of this 1920s heritage building kicked off in December. It took four months to reinforce the building so that it could be ready for the move. The first set of movements was performed on April 13.
The antique building would be reinforced again after the relocation and a new four-level basement would also be created. In addition, a new office building, commercial facilities and parking spaces would be constructed within the compound.
"It is a challenging project, but it has great significance as it is a fine example of how we can conserve and use historical buildings for modern needs," said Shen.
Contact the writer at zhangkun@chinadaily.com.cn