With victory signs, rescued Thai boys celebrate freedom
Updated: 2018-07-12 10:05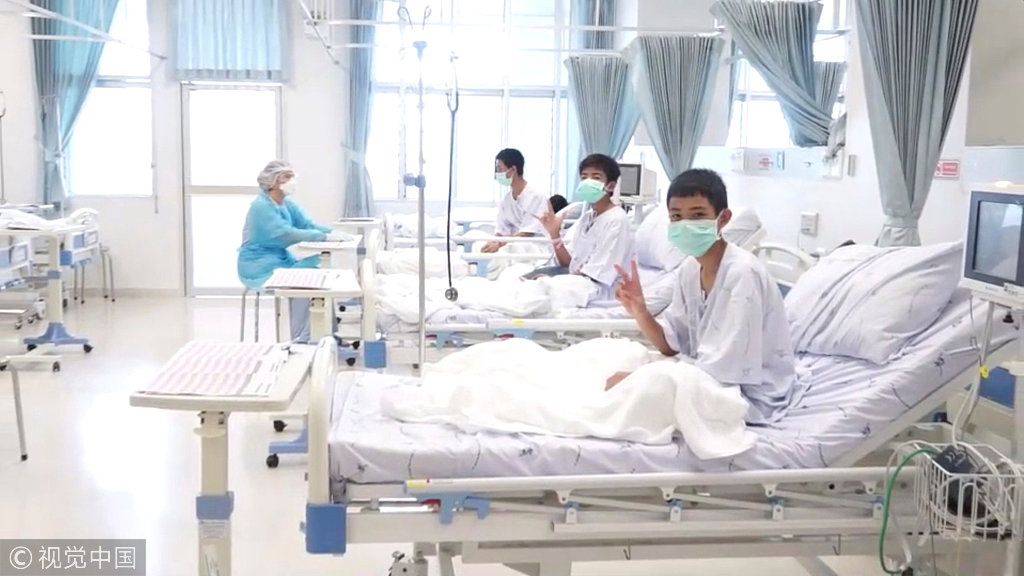 CHIANG RAI, Thailand - As ecstatic relatives watched and waved from behind a glass barrier, the 12 boys and their soccer coach rescued from deep within a flooded cave in Thailand made the V-for-Victory sign Wednesday from their beds in a hospital isolation ward where they are recovering from the 18-day ordeal.
All 12 boys and their football coach have been rescued from a flooded cave in Northern Thailand after being trapped for 18 days, rescuers said on Tuesday.
"We've made the mission impossible a mission completed, which is the first ever case in the world," Narongsak Osatanakorn, head of the joint command center coordinating the operation, said at a press briefing on Tuesday night.
Narongsak confirmed that a medic and all navy SEAL divers involved in the rescue mission have also left the cave safely.
"We witness the power of love. Everybody sent love to the 13 boys. The heroes this time are people all over the world," he said, referring to the multinational team that assisted in the rescue operation.
The 12 young footballers, aged between 11 and 16, and their 25-year-old coach went missing during an excursion in Tham Luang cave in northern Thailand's Chiang Rai Province since June 23.