US 'toughest ever' sanctions on Iran take force
By PAN MENGQI/ZHOU JIN | China Daily | Updated: 2018-11-06 07:59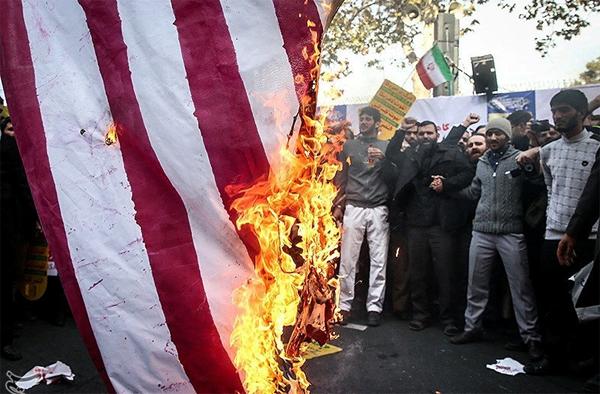 China expresses regret at decision as Teheran vows to bypass embargo
China on Monday expressed regret at the US decision to renew sanctions against Iran, saying the international community is against unilateral sanctions and long-arm jurisdiction.
Foreign Ministry spokeswoman Hua Chunying told a daily news briefing in Beijing that as a multilateral agreement ratified by the United Nations Security Council, the Iran nuclear deal should be implemented comprehensively and effectively.
Despite dramatic changes over the past half year, the existing participants of the agreement have always committed to implementing the deal responsibly and maintained normal economic cooperation with Iran, which is widely supported by the international community, the spokeswoman said.
China hopes relevant parties will "fulfill their responsibilities and obligations and stand on the right side of history", she added.
Following US President Donald Trump's decision to quit the Iran nuclear deal in May, Washington recently vowed to reimpose sanctions lifted under the accord against Teheran and inflict punishments on nations that have business links with Iran. Described by Trump as the "toughest ever" measures, the sanctions took effect on Monday.
All nations that still buy Iranian oil and do business with blacklisted Iranian entities will be punished under the sanctions, except eight jurisdictions that will be given temporary waivers, according to a White House statement.
In response to the fresh embargo, Iran's President Hassan Rouhani said the Islamic republic "will proudly bypass sanctions".
"I announce that we will proudly bypass your illegal, unjust sanctions because it's against international regulations," Rouhani said in a televised speech.
Iran's military was also quoted as saying it would hold air defense drills on Monday and Tuesday to prove the country's capabilities, according to local media's reports.
On Sunday, US Secretary of State Mike Pompeo defended the reimposition of sanctions, saying they will "force Teheran to stop sponsoring terrorism".
Speaking to Fox News Sunday, Pompeo specifically pointed out that the penalties "would not hurt the Iranian people".
Some Iranian experts played down adverse impacts of the renewed sanctions, saying they are prepared for the "worst scenario" as the US is globally isolated in its move against the Iranian international deal.
Sadeq Zibakalam, a professor of politics at the University of Teheran, said "Iran's situation will improve after the sanctions", according to a Xinhua News Agency report.
He said the "psychological impact" of the upcoming sanctions on the Iranian society plays a more important role than the sanctions themselves.
"Everyone is waiting to see what happens after sanctions. But when that day comes, there will not be a catastrophe, and, as a result, a state of peace will prevail which will in turn lead to the resolution of a lot of issues," Zibakalam said.
Meanwhile, some analysts worried that the latest round of sanctions could cause unrest within the Islamic republic's society.
Dong Manyuan, an expert in Middle East research at the China Institute of International Studies, said one far-reaching effect of the sanctions may be that external forces could intervene in the country through tactics such as proxy wars, to achieve the goal of regime change.
But Dong added the "worst scenario" may not take place, as ever since the Islamic Republic of Iran was established in 1979, the country has been learning how to cope with US sanctions.
He said Iranian leaders during the past decades had to deal with the economic hardships that resulted from Washington's blockade and sanctions.
Iran's current financial statistics might suggest hardship, but not likely an economic collapse. What the country needs is to find new and creative ways of exporting oil and attracting foreign investment, he added.
Xinhua contributed to this story.