Realities moderate US hardline policy
By CHINA DAILY | China Daily | Updated: 2018-11-07 07:57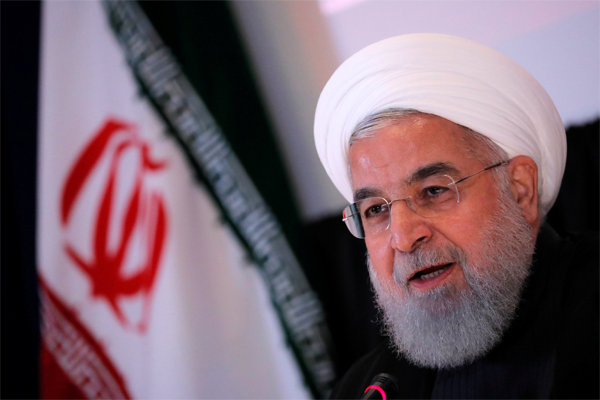 Iranian president warns of 'war situation' as sanctions resume
The United States was caught between allies at home and abroad and the reality of global economics as it reinstated sanctions on Iran, forced to carve out exemptions for some economies and back off on measures that could have been even more punishing for Teheran.
It granted waivers to allow eight countries and regions to continue importing Iranian crude and other petroleum products without penalty, bowing to concerns that a complete end to Iran's exports would cause a major spike in world oil prices and cause other economic disruptions. US President Donald Trump conceded that reality on his way to a last-minute campaign event a day before midterm elections.
"We have the toughest sanctions ever imposed but on oil we want to go a little bit slower because I don't want to drive the oil prices in the world," he said. "I could get the Iran oil down to zero immediately, but it would cause a shock to the market."
The newly reinstated sanctions target Iran's energy, financial and shipping sectors.
The measures restore all the US sanctions that had been lifted under the 2015 accord, known as the Joint Comprehensive Plan of Action, that gave Iran billions of dollars in sanctions relief in exchange for curbs on its nuclear program, a deal that critics had argued was too soft on Teheran.
In reinstating the measures, the US Treasury Department imposed penalties on more than 700 Iranian and Iranian-linked individuals, entities, aircraft and vessels.
Waivers granted
Yet, while the US seeks to cut off Iran's oil revenue, it is allowing China, Greece, India, Italy, Japan, the Republic of Korea, Turkey and China's Taiwan to continue purchasing Iranian oil as long as they work to reduce imports to zero.
"When I look at the list, it's obviously very large economies that still in many ways depend on Iran oil imports and at this time don't have any strong alternatives," said Brian Katulis, a senior fellow at Center for American Progress, a think tank. "This is part of the Trump team's trying to balance its maximum pressure campaign against Iran versus its concerns over where the global prices of oil might go and how that could negatively impact everyone, including America. I don't support this policy, but if you are going down this path, it's a way to lessen the risk of economic blowback in America."
US Secretary of State Mike Pompeo said pressure on countries to stop buying Iranian oil had already reduced its exports by more than a million barrels of crude per day, costing the country $2.5 billion in revenue.
Iranian President Hassan Rouhani said on Monday that the US will not be able to stop Iran's oil exports, adding that Teheran will break the sanctions in an "appropriate" way.
"We are in an economic war situation. We are standing up to a bullying enemy," Rouhani told government officials in televised remarks, invoking Iran's war with Iraqi leader Saddam Hussein in 1980s.
"Yesterday, Saddam was in front us; today Trump is front of us. There is no difference. We must resist and win."
Iran's Foreign Minister Mohammad Javad Zarif said talks with the US over a new nuclear agreement remain open if Washington changes its approach to the 2015 deal.
Turkish Foreign Minister Mevlut Cavusoglu also criticized the US sanctions as unilateral, unwise and dangerous, calling for dialogue and engagement instead.
AP, Xinhua and AFP contributed to this story.